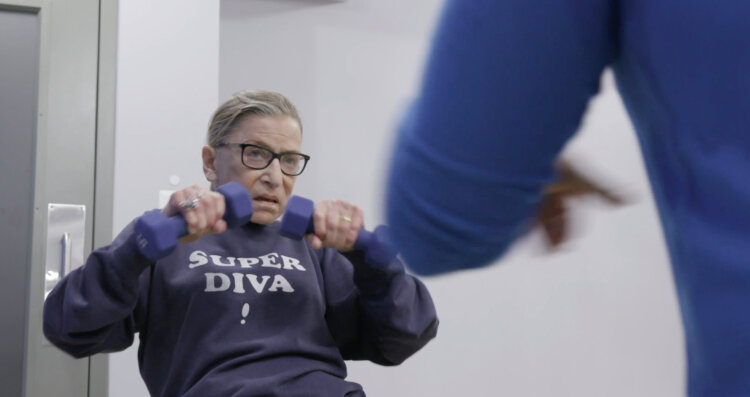 Justice Ruth Bader Ginsburg shows that you can speak softly and still be a trailblazing, change-making badass. The second woman appointed to the Supreme Court, in 1993, by president Bill Clinton, is known as the Notorious RBG, with a 2015 book, a Tumblr and merch devoted to giving the 85-year-old the props she deserves. She wrote a book too, My Own Words, with Mary Hartnett, in 2016.
But long before millennials had taken up the RBG worship–indeed, before they were even born–Ginsberg was fighting to end gender discrimination. She won many landmark cases in the 1970s, as I learned from RBG, a Magnolia Pictures documentary about Justice Ginsburg, which is in select theaters May 4. I've always been a fan, but after watching this film, I'm even more appreciative of all that she has done.
Ginsburg graduated from Cornell and went on to Harvard Law School. She was one of only nine women admitted in 1956. In the film, she recalls how professors never called on female students because they believed women wouldn't be able to stand the pressure. When she entered law school, she was married and had a toddler girl. Her husband became ill, and then got better, and then got a job at a law firm in New York. So she transferred to Columbia and graduated from there, tying for first in her class. She found it hard to get a job, despite her accomplishments, because no one wanted to hire a woman.
Eventually she turned to academia, and taking on cases for the American Civil Liberties Union, becoming a Supreme Court Justice in her 60s. Ginsburg has often spoken and written that the support of her husband, Martin Ginsburg, made her career possible. She says in the film that Martin, whom she met at Cornell, was the first boy who cared that she had a brain. Martin died in 2010, but the film includes footage of interviews, in which he lovingly recounts how he would often have to show up at the court at night to persuade his hard-working wife to come home and eat.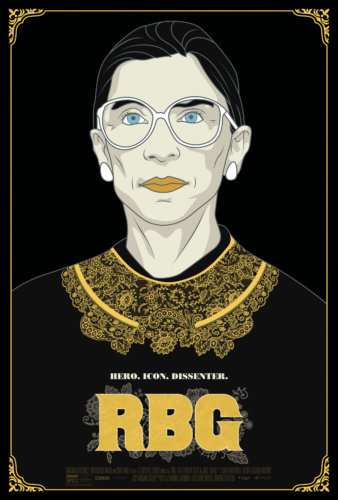 One thing I enjoyed about the movie was seeing RBG display all of the cool collars that she likes to wear with her robes. She explains that she and Sandra Day O'Connor (the first female Supreme Court Justice) decided that since the men wore ties with the robes, they would like to add a feminine touch to theirs. RBG has and always has had a very stylish wardrobe; I'd like to borrow some of her snazzy looks.
Another impressive fact about RBG: She works out with a trainer. The filmmakers show her doing all kinds of hard exercises, and they interview her trainer, who basically says that she is a beast in the gym. Then they interview her two childhood friends, one of whom says, "We can't even get off the floor. We can't even get down to the floor."
I love that Ginsburg was friends with late Justice Antonin Scalia, who was as conservative as she was liberal. They were opera buddies and he often asked her to edit his opinions. "She's smart and she likes opera," said Scalia. "What's not to like?" Pause. "Except her views on the law."
My favorite quote from RBG was in an op-ed she wrote in The New York Times in 2016, in which she shares advice she received from her mother-in-law on her wedding day: "'In every good marriage, it helps to be a little deaf.' I have followed that advice assiduously, and not only at home through 56 years of marital partnership. I have employed it as well in every workplace, including the Supreme Court. When a thoughtless or unkind word is spoken, best to tune it out. Reacting in anger or annoyance will not advance one's ability to persuade."
If only we could all remember these words when the going gets rough.
Purchase tickets to RBG on Fandango.