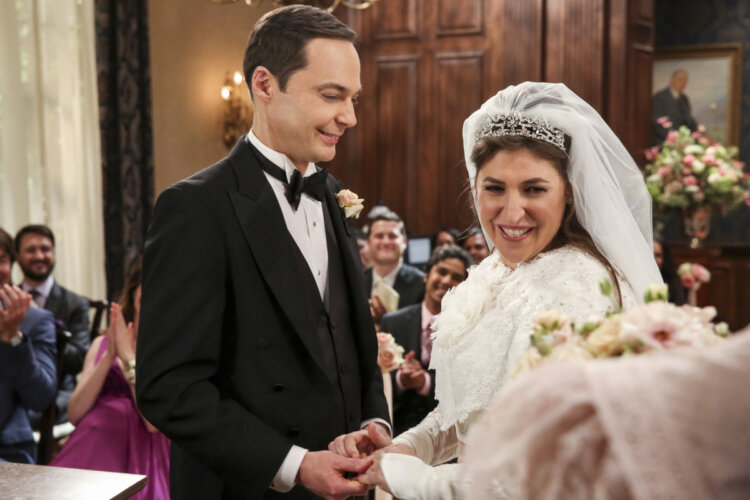 Season 11 of The Big Bang Theory has been building up to one big event: the Shamy wedding. And they finally did it. In the finale on Thursday night, Sheldon and Amy got married (and there were lots and lots of guest stars to watch).
I know everyone is having a lot of feelings about this episode; I'm having them, too. But I also had a lot of emotions while filming the episode. Here, I break down the thoughts and emotions I had throughout the process—plus provide a few behind-the-scene tidbits. 
And please, if you did not watch The Big Bang Theory finale, you might not want to read this yet! There are light spoilers ahead!
FEAR
I was afraid to read the script. I held my breath when it landed in my inbox the night before we started to rehearse it. I had so many expectations and I wanted to have none, but I couldn't help it. Would we go through with it? Would something go wrong? Would there be a cliffhanger? Who was playing all of my family?! After several deep breaths and a heart beating oh-so fast, I read it. Kathy Bates as Amy's mom. Wow!!! What a powerhouse actress to have on this show. And Teller from Penn & Teller as my silent dad!? Hilarious. All of the gang came back, too: John Ross Bowie, Brian Posehn, and my good buddy Kevin Sussman. Plus, the stellar cast playing Sheldon's family. And Wil Wheaton. And…Mark Hamill. MARK HAMILL. Luke Skywalker himself. What a cast. There was nothing to fear.
OVERWHELM
Let's revisit this Mark Hamill thing. As I wrote about here the day after I met him, meeting Mark Hamill is one of those things I will never forget or get over. It will never be like, "Oh, remember that time I met Mark Hamill?" It will forever be: "REMEMBER THAT TIME I MET MARK HAMILL?!?!?!?!?!?!?" To meet and work with a man who is not just a hero or someone I admire; he is an integral part of the experience I have as a Star Wars fan. It was beyond my wildest imagination.
He is professional, funny, kind and approachable. It was so overwhelmingly unbelievable. Still is. He told some stories on set about Ethel Merman and some of the classic actors of Hollywood. I had not really thought of him as an actor even though of course he is; he is so iconic that it's hard to put him in a category with other actors. But hearing him tell funny stories, I realized: He is a performer like me. Like all actors. He wants to be seen. Just like me. Mark Hamill, he's just like us!
THE DRESS
The time finally arrived for Amy to wear a wedding dress with hair and makeup done; not Amy in "Amy mode." This was wedding Amy. Hair extensions, false lashes, cheek highlighter. We had so much fun in the hair and makeup room; how could we not?! For eight years I have had only the barest of make up and the most minimal hairdo. This was an opportunity to pick out styles of hair (something Amy has never had to worry about), levels of curl (tight? Wavy? Loose? Beach wave?) and accessories (veil and tiara was just the baseline!).
Wearing a wedding dress is not comfortable for me. When I myself got married, I wasn't even comfortable with it. Too frilly, too feminine, too… predictable. I wanted to make a statement, so I wore a very untraditional lace Victorian dress with black satin heels, which I took off in order to put on knee-high white Doc Martens for the reception. In addition, as a divorced woman, it's hard to revisit that moment and those decisions. It's still painful to think about putting on the dress you take vows in. The dress that is in every picture of the perfect happy life you think you will have when you're young and getting married. The fairy tale dress, really. Also, as someone who does not like to dress up, it's a challenge for me to sit through fittings and pinning by the tailor and such.
But I did it. I felt nostalgia and whimsy, too. I wondered if people wondered if I want to get married again and if they pitied me. A lot of emotions here, what can I say. I would have been fine in a more "conventional" gown, but our producers really wanted Amy's eccentricity to shine through. And it did! That dress was actually made up of a strapless gown, a lace top with buttons all the way down my back, not one but two capelets, a "horsehair" structured hoop skirt, two jeweled accessories (one over the capelets, one about my waist), and an added grosgrain pink ribbon and lacy flowers. The gloves were white satin as were the pumps. I did not wear Spanx, for anyone who is curious. I felt beautiful. Because Amy felt beautiful.
REALITY
But then I didn't feel beautiful. Because this is real life. I had started losing weight a few months ago. Why? Because I needed to. I was not comfortable at my weight and I started eating much better and exercising and lo and behold; I lost some weight. I felt so much more comfortable in my own skin. And then I got a series of antibiotic-needing bacterial illnesses and was not allowed to work out for a month. And so, I gained the weight back. I wanted to keep losing. And instead I'm back to not being comfortable. So I felt ashamed. I felt like maybe the wardrobe ladies were looking at me like, "Oh, she tried to lose weight and maybe she didn't have the willpower." They probably would never think that–it's my brain thinking that. But that's the truth. I didn't feel my best. And I felt crummy about it. Even though everyone said I looked beautiful, I didn't feel completely beautiful. 
And another thing: I'm a nail biter. Have been since I was a little girl. I wanted so badly to grow my nails for this episode. And I totally thought I could. And would. And it didn't happen. Just didn't happen. If you bite your nails you get it: stress, life, anxiety. If you don't, you think I have no self control or I need to meditate more or whatever. But again: It sucked. When they did a close-up of Jim putting the ring on my hand, I wanted to say, "NO!"—but I can't. And that's just Amy's hands. I am her. She is me. We had an anxious few weeks. Forgive us.
THE VOWS
It is emotional to be an actor. It is emotional to tell someone you love them even when you're acting. The first time I read those lines, I got emotional for real. Because it is my job to embody this character and to feel what she feels. She is me and I am her, I suppose. I love Jim Parsons as my co-worker and friend. Although it's sometimes hard to keep a straight face saying such lovey dovey things, there's no one I would rather say them to than Jim.
WHAT NEXT?
I don't know what happens next! I won't know until August! Everyone is asking me if we're going to have a baby. Gosh, it's just like real life; let us enjoy the honeymoon before pressuring us into having babies! I hope you got a kick out of this star-studded, emotional, gratifying and enormous episode. We sure had a blast making it for you.
—
Before you go, be sure click over to our gallery of behind-the-scene photos. There you can enter for a chance to win a signed photo of Mayim in Amy's wedding dress!