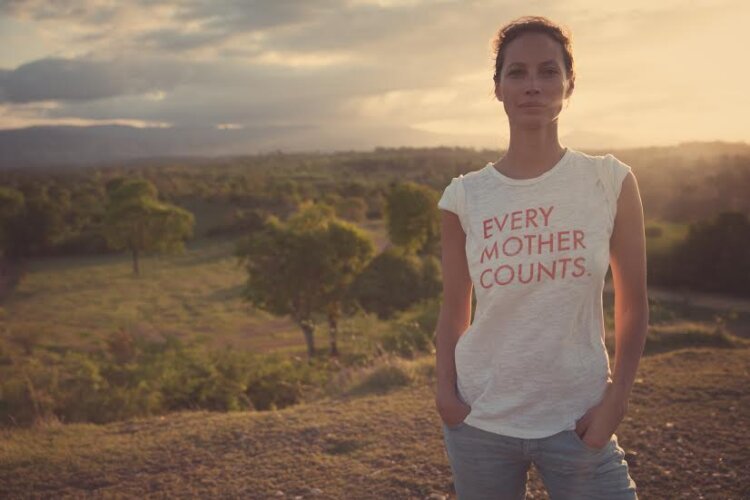 Christy Turlington Burns is a maternal advocate and mother. She may long be remembered as an iconic model, but is her current work that just might have the most impact. While she still models (Turlington Burns was on the cover of Vogue Japan's April issue and is one of the faces of Versace's Spring 2018 line), her time and energy is focused on Every Mother Counts, the maternal health-focused non-profit she founded in 2010. As the CEO of Every Mother Counts, Turlington Burns aims to heighten awareness about the global maternal health crisis. The organization invests in programs around the world to ensure all women have access to quality maternal healthcare. Every Mother Counts, and Turlington Burns are both dedicated to making pregnancy and childbirth safe for every mother, everywhere.
Do you believe in God? Yes. I was raised in a home with a Catholic mother and a Protestant father. I was always fascinated by religion and the ways people worshipped. I studied comparative religion and Eastern philosophy at NYU. The more I studied and experienced different practices of worship the more open my mind was to it all.
What do you think happens when we die? I don't know. I am comfortable not knowing for now. I do know that when someone you love dies, they are still very present.
What were you like as a teenager? Adventurous. Rebellious. Curious. Self-reliant.
You've had an incredibly sustained career as a supermodel. What's one lesson you've learned about *feeling* beautiful along the way? That "being" healthy is beautiful.
Your work with EMC has helped mothers, babies, and families across the globe. What is one thing you wish could be gifted to all this Mother's Day? I wish every mother had access to safe and respectful maternity care and the opportunity to not only survive pregnancy and childbirth but to thrive in motherhood. Every two minutes, a woman dies during either pregnancy or childbirth, but up to 98% of these deaths are preventable! At EMC, we strive to be a part of the solution, and you can be too! Any purchase made through our Orange Rose Collection supports the work that we do, and if you donate before Mother's Day, we'll send a Mother's Day card to the person of your choosing on your behalf.