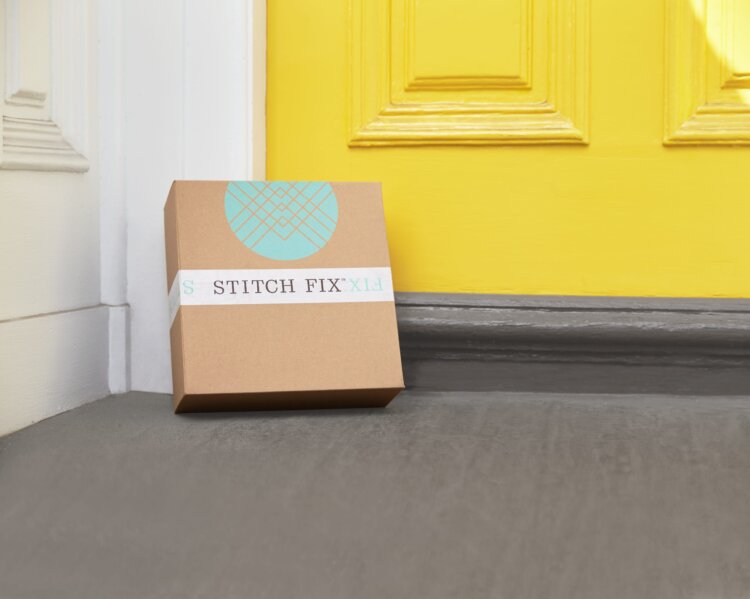 In the world of personalized clothing services, Stitch Fix is certainly the most ubiquitous. Founded by Harvard Business School grad Katrina Lake in 2011, the service has grown exponentially. The idea seems daunting: supply women (and now men and children) with clothing tailored to their own personal style and sizing based on a detailed questionnaire. Customers keep what they love and return the rest. But with over 3,400 personal stylists in their employ, Stitch Fix is making fashion seem even easier.
I was excited to give this personal styling behemoth a try. Surely after 7 years, Stitch Fix has honed its abilities to perfection. I eagerly began filling out my Style Profile, a breeze. One of the nerdiest things about me is that I love filling out forms. Something about it is very calming, so I loved answering the size and style questions.
[Full disclosure: I was sent this box for free by Stitch Fix in exchange for an honest review.]
Once you've indicated what kinds of pieces you like, if you dress more casual or professional, how clothing fits your body, and what colors you like and dislike, you're asked about budget.
Every Stitch Fix box charges a $20 styling fee. If you choose to keep any items from the box, your styling fee is deducted. For example: if you wanted to buy the $40 blouse and nothing else, your Stitch Fix total would be $20 after the application of your styling fee. I feel like that's a pretty good deal! If you get lucky and love your entire box you're also offered a 25% discount.
Here's what it looked like once I'd finished the robust Style Quiz. Looking at this break down, I felt very seen. Though I guess I marked that I only like to flaunt my back which, when put so plainly, feels kind of awkward. "Cover me from head to toe, Stitch Fix, just let that back fly free!" Weird.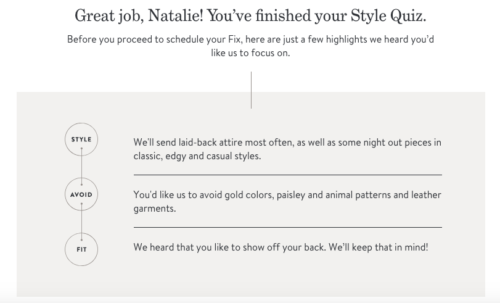 My Stitch Fix box got to me in a few short days, and then I had 3 business days to try on all my options and decide. Fun fact: you can actually extend your checkout date! All you have to do is pop onto the website after your fix arrives and pick a new date—it should let you extend to up to 7 days in the future. This is a very nice feature for indecisive folks like myself.
My fix, chosen by expert (I assume) stylist Nicole, came packed with 5 total items: 2 tops, pants, a dress, and sandals.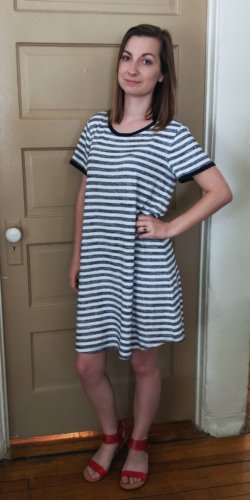 OUTFIT ONE:
I liked this dress as a concept, but in practice, it just didn't quite work for me. The fabric was a little heavier, which would make it a perfect Autumn piece, but it seemed like it would be pretty breathable too. I wish I could have tried on the XS to see if that fit me any better, but I felt like overall it was just a bit too shapeless for me to go ahead and buy it. Fun fact #2: At checkout, you have the option to swap for a different size! Send the original back and the new size will be shipped out to you asap.
The shoes were very cute and fun, and fit me perfectly aside from the part around the ankle, which was too loose. I ended up sending both pieces back.
Dress: Britta T-shirt Dress by Market & Spruce $64
Shoes: Genna Perforated Sandal by Report Footwear $49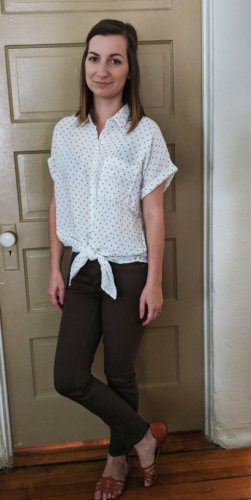 OUTFIT TWO:
These pants are incredibly soft and fit me perfectly. They're petite, which is an option Stitch Fix has and I'm so happy about. If I didn't already have a pair that is almost identical (which, kudos to my stylist for totally nailing something I would like!) I would have 100% kept them.
The tie-front top looks really nice in this picture and is something I would absolutely pick for myself. The price tag is what kept me from buying it, to be honest. I wouldn't normally pay $42 for a casual top like this, so I decided against it.
Top: Serah Tie Front Top by Vixbe $42
Pants: Alex Colored Skinny Jean by Lakeview Denim $40
OUTFIT THREE:
In my style profile I noted that, aside from the regular me who lives in casual wear, I have an alter-ego obsessed with resort wear. I long to be a comfortable retiree in South Florida in kitschy tropical prints. A Golden Girl, basically. My stylist nailed it with this blouse. The split sleeve detail is cute and airy, the pattern is kind of ridiculous, and the fit is loose yet flattering. I ended up exchanging this top at checkout for one size down because I think it'll fit just slightly better that way, and it should be arriving any day!
Top: Melyssa Slit Sleeve Top by WORSHIP $40
Box total: 253.00
With buy all discount 25%: 189.75
Overall, I was really pleased with the look and feel of my fix. If I use the service in the future I will likely change up my sizing slightly, but having the option to exchange for different sizes provides a level of comfort. Stitch Fix is clearly a well-oiled fashion machine. They've thought of every customer service incidental and accounted for all sorts of mishaps. With the option for petite, maternity, plus size, men's and now children's styling you really could leave all your shopping needs in the hands of their capable team of stylists. The more you use the service, the better your fix will be. I'll be looking forward to future arrivals from my Stitch Fix stylist for sure!
Have you tried Stitch Fix? Are there any other fashion subscription services we should try? Let us know in the comments!