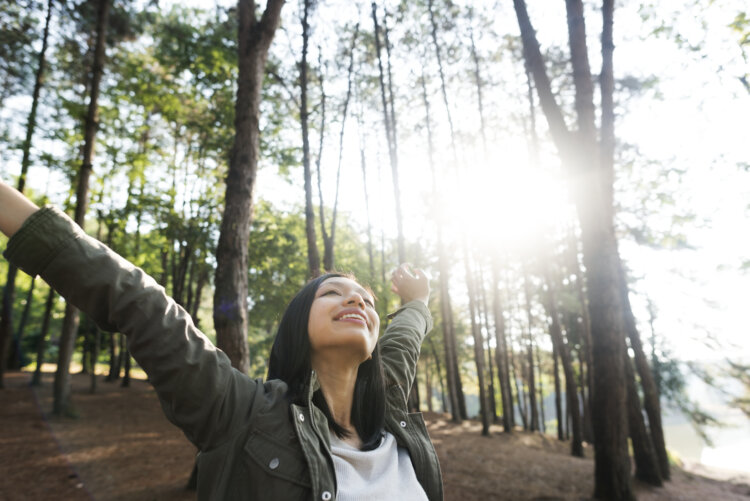 Shinrin-yoku—which literally translates to forest-bath—is a practice that developed in Japan in the 1980s. It means mindfully taking in the forest atmosphere and is often used as a form of preventative health care with restorative benefits. Forest bathing therapy can help people connect to their surroundings, open their senses and feel inspired.
I grew up across the street from a very large forest: Angeles National Forest. I spent my childhood climbing up in the hills and dried out stream beds. I never knew it, but I've been unconsciously experiencing forest bathing under those LA oak trees for years. This is an area that burned in the 2009 Station Fire. Then, an incredibly beautiful thing happened—the forest grew again, and just like me, as I grew older and changed, so did the forest.
In the weeks before the recent fires, I decided to take a personal try up in the Santa Monica mountains in Malibu. Unfortunately, what I experienced may not be possible in the same space for another 10 to 20 years, as the forest was consumed by fire, part of the Woolsey Fire burn area in Malibu Canyon. It is a reminder, if anything, to seek out these natural areas and appreciate them while we can.
I wanted to understand why people take these types of retreats and how I might benefit, soaking up the healing power of nature. I wanted to find company in the trees. I wanted to seek peace. Solace sounded so sweet.
Before I set out on my mission, I spoke with an expert to get a real understanding of why people love forest bathing. Author Hannah Fries uses a balance of art (photography), poetry and science in her book Forest Bathing Retreat: Find Wholeness in the Company of Trees, to describe how there is gratitude among the tall trees that helps us better connect to our senses.
There's just something about nature, she says.
"I think there is something in all of us that yearns for connection," Fries says. "Connecting with nature—and connecting in an unmediated way in general, including with other people—helps us feel grounded again. Also, when we take the time to focus and really pay attention with all of our senses to the world around us, I think we can't help but escape our own egos a bit. It's freeing and refreshing, and it also opens us to experience wonder."
It can begin the moment you walk out the door of your apartment on a busy street, or when you're completely isolated in the desert. You can do it like I did and start with your breath and focusing on where you are. I decided it was time to center myself. I wiggled my toes. I took a deep breath. I wanted to look for inspiration in nature, that kind to draw me closer to my sensory experiences and not appointments, laundry pile(s) or emails.
Stepping out of my car, I planted my feet and breathed in deep through my nose. I looked up at the trees, at the sky peeking above. I began taking deliberate steps toward a lush green path covered under a blanket of cool clouds. I listened to the birds, the wind blowing through the canyon. I looked for different shades, patterns and spotted lizards running across the path. I listen. I breathed the chilled air. I moved quietly. I looked around. I simply stood still.
As Fries explains, it starts with wonder. And it doesn't matter where you live. It has to do with healing, and nature can often be the vehicle for that.
"Taking a breath and a moment to connect with your surroundings is not limited to any particular place or environment," says Fries. "A tree growing in the city, a patch of wildflowers in a vacant lot, a bird flying overhead—any of these can offer a way to shift your attention, even if briefly."
It's good to step out of your head. To stop, look around and see the things and people around you, she says. "Take note of the way the light strikes that building or those tree branches, wonder about the chatter of the crows, try to see the tenderness, beauty, and vulnerability in the strangers around you."
Here are a few things to bring or find when you want to try forest bathing:
Imagination
Imagination is where this escape into forest bathing can start, Fries explains.
"Imagination helps us feel empathy. In the book, I invite you to pay such close attention to the things around you that you can imagine yourself into another body—the body of a tree or the body of a beetle or a deer. We have to remember that we are not the only ones doing the sensing: everything around us is sensing us too, in ways we can't even comprehend. What might it be like to experience the world from that other perspective?"
It's essentially time to let go of ego and pay attention to what's happening. I stared at the clouds rushing into the mountains. I sat down and watched how the shadows fell on the trees and the simple harmony of where I was. I felt really lucky. I felt really happy. Every moment felt like a miracle. Every breath was a gift.
Gratitude
There's a gift in existing in nature in the first place.
"The gifts we get from the trees are pure grace—we do nothing to deserve them," Fries says. "The forest ecosystem is part of what keeps the planet in balance. We breathe in the oxygen the trees breathe out. We abuse our forests, but nonetheless we rely them. Saying "thanks" to something nonhuman may feel awkward, but it can be pretty simple. Before crossing that threshold into the woods (if you are going for a walk, for example), just say a mental thank-you."
I felt open to gratitude. I started to notice where I was, and how at peace everything around me was. Like the trees and the rocks, I had nowhere to be. That's freedom. That's complete joy. I'm in the moment. I know it's literally good for my health to be there, it's shown that trees can help lower your blood pressure. And I feel that. I feel that completely.
Inspiration
You can start by looking around. What do you see?
"I'm looking for anything and everything," Fries says. "To be delighted by something. To be astonished by something. I'm thinking how lucky I am to be alive, how incredibly vibrant and varied this world is, and how tragic and violent too, and how beautiful."
Fries explains that it's about the practice of paying attention, and as a poet, she views it as soul work.
"It might be hip to be cynical and roll your eyes instead of admiring the intricacy of a leaf or the quality of moonlight, but such cynicism is also stifling," she says."If you make it a daily practice to seek out wonder, wonder will find you–even, possibly, in times of grief or frustration. It will connect you to something larger than yourself."
I sometimes think our souls can feel like burn areas, hanging onto traumas and negative self-talk we can't let go. And just like burn areas, it can take us years to recover and grow again. But it's kind of like our own wounds, and as Fries explains, when you take a moment to notice that, or connect with the reality that we all carry wounds. Like nature, and in time, we grow. And there's peace in that.
A tree seals off its wound, and the injured part doesn't go away. Instead, it's contained. Growth forms around it. It's beautiful, mysterious and ever-changing. And after the fires, when the rains arrive, I feel gratitude in knowing the growth is coming.