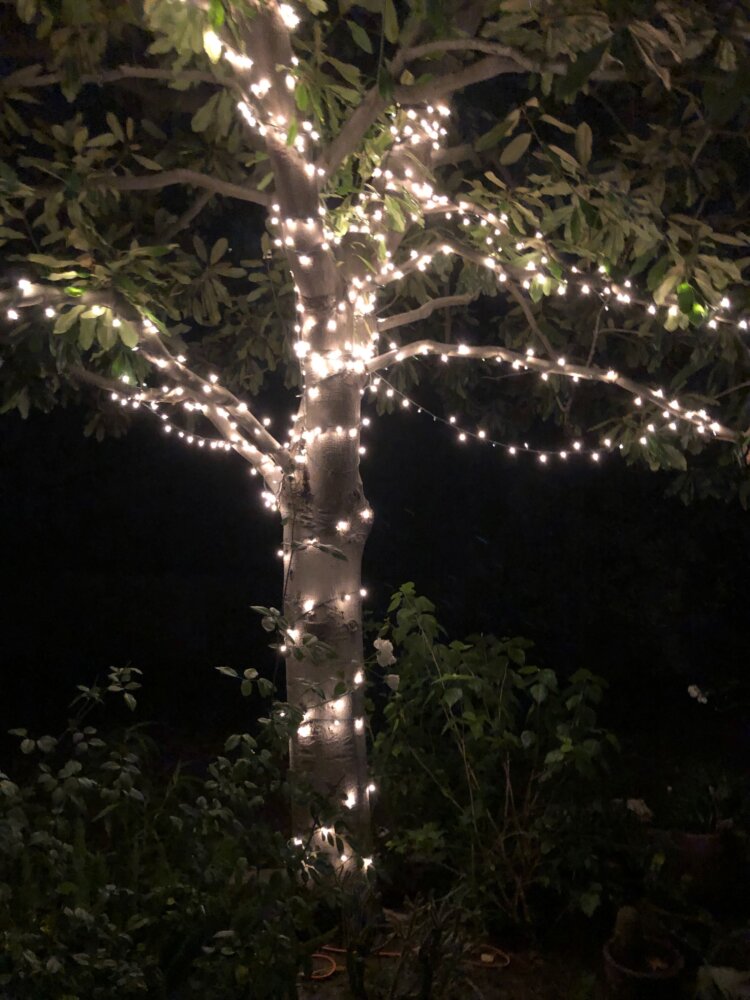 I am a devout and devoted serious Jew. In college, they called me "SuperJew"—lovingly of course. I have been referred to by many as "the most Jewish person" they've ever met, and that's without them even knowing that I am indeed 99.8 percent Jewish (my DNA test told me so).
I have never been confused about Christmas versus Hanukkah. I never wanted to celebrate Christmas. I have partaken of meals with my Christmas-celebrating in-laws at Christmas time, but I have never felt a pull to have a tree or see Christmas as a "secular American" holiday as so many Jews and non-Christians do.
And while I think Santa Claus toilet paper is ADORABLE, I'm very secure in my not partaking in Christmas things.
So why, some might ask, do I have lights on trees at my house?
That's right. For the past five years or so, I have had lights strung around the trunks of two oak trees and a Chinese magnolia tree. The first year I did it, my sons asked why we had Christmas lights up. I told them the following: First of all, they are not Christmas lights. They are white. They are not red and green. Second of all, Christmas does not get to own lights! Christmas may take over shopping malls, city streets, and the hearts of America, but Christmas: You do not own lights! They're for all to enjoy!
These lights are sold in many stores year round, and I have them up year round. Sometimes I light them up all the way into spring. I don't feel less Jewish, more conflicted, or sacrilegious having these lights up.
I have always been entranced by pretty lights, all the way back to my first Lite Brite set. I love driving around neighborhoods and seeing all of the lights people put up for the holidays. And I want to have some of that prettiness for myself.
And so the main reason I have lights on my trees is that: They're pretty. Twinkly lights on trees are pretty. They just are. When I come home at night and the yard is lit up with those lights against a dark sky, something inside of me celebrates. Beauty. Magnificent beauty.
It's so refreshing to remember that small things can make us happy and that's important. Hearing my sons laugh is another such thing. Certain scented candles that don't make me sneeze is another such thing. Sleeping past 7 a.m. is another such thing.
And this time of year, I get a little flicker of joy when I pull up to my house. Because those lights are waiting for me to remind me that there is beauty in this world all of the time. All I need to do is look up.