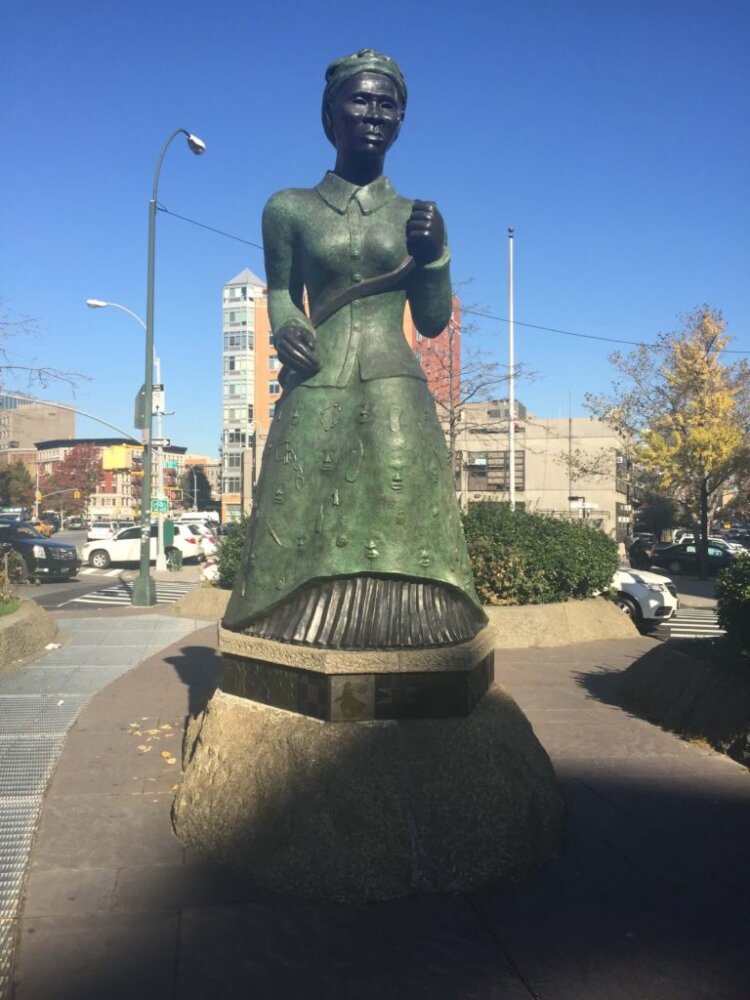 [Photo: The author snapped a shot of this Harriett Tubman memorial on a recent trip to Harlem, NYC]
In case you hadn't heard, Black History Month is now National African American History Month. (I learned this just last week, even though President Obama made the official Presidential Proclamation in January of 2015.) The celebration originated as "Negro History Week," which was created in 1926 by Carter G. Woodson, a noted scholar and historian. It didn't evolve into a month-long celebration until 1976.
While BHM (or NAAHM) is needed, it does tend to focus on the achievements of the same few people, you know—Martin, Malcolm, Rosa, and Harriet—without acknowledging the current contributions of African Americans. And while it is a month about learning and acknowledging history, but I think that we should also make a point to celebrate contemporary contributions by African Americans.
Celebrating African American achievement for one month only is like someone celebrating you once a year, on your birthday, but completely ignoring you throughout the rest of the year. Not cool. So let's not do that to an entire people group; let's celebrate the contemporary contributions of African Americans as well. Here is a subjective – and hardly comprehensive – list of seven Black folk whom you should know (and who you can easily follow on social media):
Here is my list of 8 African Americans You Need to Know:
Luvvie Ajayi, Writer and Author (a.k.a. Awesomely Luvvie) – Poet Langston Hughes was known for writing about every day people in the language of every day people, for he believed that poetry decipherable only to the well-educated was poetry not worth the paper it was written on. Luvvie Ajayi is the millennial everyday people's writer, combining slang, Ebonics, church-speak and standard English with her keen critique of pop culture. Her laugh-out-loud TV recaps of the hit TV show Scandal got the attention of Scandal creator Shonda Rhimes, and now Luvvie has a TV show slated for production in Shondaland. The show is based on her New York Times bestselling book, I'm Judging You: The Do-Better Manual. Keep up with this Nigerian-American writer and activist on Facebook here, on Twitter here and here. 
Will Packer, Hollywood Producer – If you dig movies, you need to get to know Will Packer. I'm sure that you've heard of some of the movies he's produced: Straight Outta Compton and the Roots remake. His films depict the uniqueness and the universality of the African American experience. One of my personal faves is This Christmas. Be sure to stay up-to-date on his current movies here and here.
Kadir Nelson, Author and Artist – Art lovers must bookmark this site. Kadir Nelson is one of the great artists of our time who has perfected a unique, unforgettable style. Besides being the author of We Are The Ship: The Story of Negro League Baseball and Heart and Soul: The Story of America and African Americans, his work is on prominent display at the US House of Representatives and the International Olympic Committee. I don't just marvel at his paintings; I am drawn into them. I'm sure you will be too. His Instagram and Twitter will keep you itchin' for more.
Elaine Welteroth, Editor, Teen Vogue – Two years ago, if you had told me that I'd be purchasing a subscription to Teen Vogue, I would have laughed at you, but two weeks ago I did just that, because Teen Vogue is no longer just about boys, lipstick, and the latest girl-flick. Today it's talking politics and culture, delivering some of the most well-thought-out content on the Internet thanks to its new editor (who happens to be its first African American editor) Elaine Welteroth. With Welteroth at the helm, the magazine has women who are well-past their teen years picking up copies. Follow this trailblazer to see for yourself.
Dr. Marc Lamont Hill, Author and Political Commentator – Like politics? (Okay, well maybe you used to like politics, but now you feel it's more of a duty than a hobby…?) Named by EBONY magazine as one of America's 100 most influential Black leaders, Dr. Hill delivers thoughtful commentary on today's news, examining the intersection of race, culture, and politics. He is also the author of NOBODY: Casualties of America's War on the Vulnerable, From Ferguson to Flint and Beyond. When he's not hosting BET News and VH1 Live, you might find him offering commentary on a CNN broadcast. You may or may not agree with everything that he says, but his opinions are thoughtful and based on real facts, not "alternative facts." Peep what he's talking about here. 
Phoebe Robinson, Writer and Comedian – Like to laugh? Then Phoebe Robinson is yo' girl. This writer/comedian keeps it all the way real and raw, dishing out her hilarious take on sex, dating, and race. She is one-half of the popular podcast 2 Dope Queens, a gig she shares with co-host Jessica Williams, the youngest correspondent to nab a gig on The Daily Show. Phoebe is also the author of You Can't Touch My Hair, a hilarious account of her experiences growing up Black. It's a funny, fast read that I highly recommend. Follow Phoebz (that's what I call her even though we've never met) here.
Shonda Rhimes, TV mogul/juggernaut (Grey's Anatomy, Scandal, How to Get Away With Murder) and Author, The Year of Yes – Most people know Shonda – and her production company Shondaland – from her massive TV industry influence, including properties which feature many juicy roles for women, African American women, and women who are out of their 20s and 30s. But her book is also ushering in a change in how many think about women's achievements. In the book, she writes that women tend to downplay compliments and shy away from attention. She writes about how she couldn't take a compliment, despite having numerous TV shows on the air. While reading I realized that I couldn't either: if someone complimented me, I would compliment them back by saying, "Oh, you're so kind," instead of simply responding, "Thank you." Shonda's year of saying "yes" allowed her to walk in the limelight (click here and here to see how), and it inspired me to do the same. So in the spirit of Shonda…
Chanté Griffin, Writer. In my former life I was a model, a motivational speaker, and a university chaplain. Follow me here and here for my take on race in a post-Obama America and to become IFFs (Internet Friends Forever)!
So there you have it—eight Black folk you can learn about now so that you're not behind forty years from now, when your grandkids are celebrating Black History Month (or National African American History Month or whatever it's called then) in school.
And if you know – or are! – a Black person we should learn about now, add their names and Twitter handles here. Don't be shy – you know Shonda Rhimes would want you to.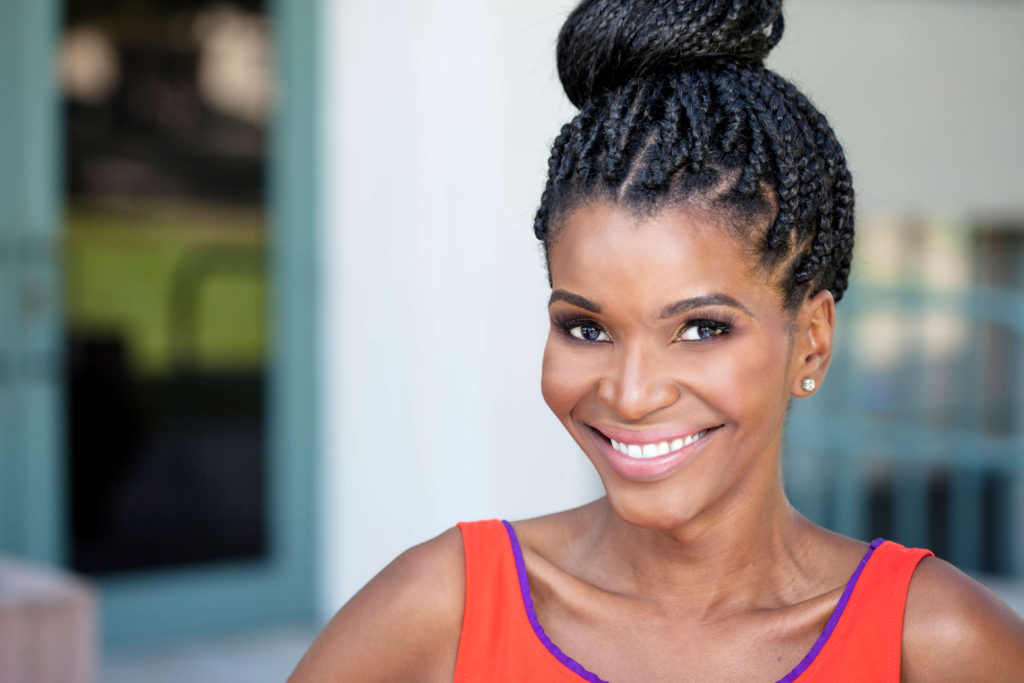 Chanté Griffin is a Los Angeles-based writer and performer. She attended Pomona College and Spelman College as a Media Studies major where she studied how TV, film and other media construct and intersect with race, culture and gender. She's written for The Root, EBONY.com, Los Angeles Magazine and Daily Actor. Additionally, she is the creator of YouTube's 14 Days of Funny. Her work is socially conscious and soul conscious.