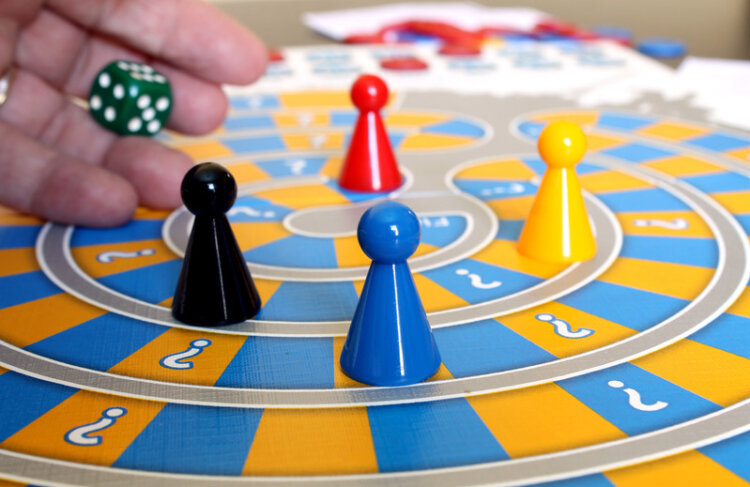 One of the most fun and worthwhile things I do with my 4-year-old daughter and 6-year-old son every day–besides morning snuggles–is playing old-fashioned board and card games. We're together, we're talking, we're interacting, sometimes we're fighting… and we're learning.
Why old-fashioned games? They're not passive, like video games are. They're face-to-face and require active, creative play to participate, which the American Academy of Pediatrics says contributes to brain growth.
It's no secret that your kids learn by playing games. Go into any elementary school teacher's classroom, and you're almost certain to find versions of Scrabble, Connect 4, and Jenga, to name a few.
It's not just academic skills, either, that kids learn from playing games.
A 2013 Stanford panel of education experts found that "non-cognitive skills–that is, not what you know but how you behave–are far better suited to a game context than to a traditional classroom and textbook context.
While some argue that video games have benefits, they don't have the human interaction of board and card games, which force kids to play and react in real time, giving kids the critical skills that they need for academic and personal success.
In the process of playing games, kids practice listening skills, taking turns, asking questions and following directions. They implicitly practice self-control, stress management, leadership, integrity, and patience. The more they do it, they better they get at it.  At least, that's the idea.
LIFE SKILLS LEARNED
Taking Turns
Messing up turn order in my house is like dipping a toe into Dante's ninth circle of hell. Cue the calamity and hysterics, the helpless moanings and chaos.
Taking turns teaches kids the basics of human communication, the back and forth volley of interaction and exchange. Kids learn what a turn means and figure out how to advocate for themselves when they've been skipped. They also learn to tell the difference between when it matters and when it doesn't.
You don't realize it's a skill until someone cuts you off, interrupts you, or bulldozes your idea.
Almost any game will teach these lessons. One we love? Sleeping Queens.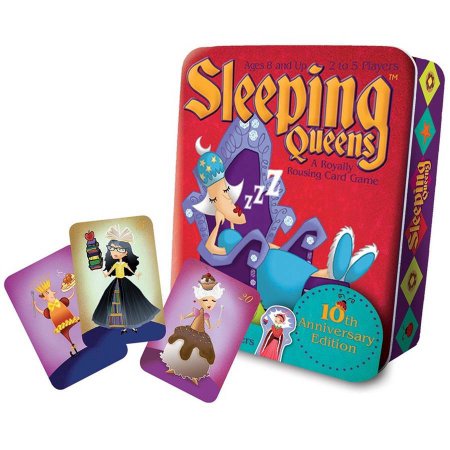 Although the game specifies ages 7 and up, my younger kids play together with minimal help.
Your goal in this game is to be the first player to awaken five queens with kings. Beware the knights who can steal them and the potions that can put them back to sleep. Players need to be smart about using jesters, dragons and magic wands and need to do basic addition along the way.
The turns in this card game are complicated, require critical thinking, strategy, and math, and the kids decide how they want their turn to end.
We also get to talk about the perils of patriarchy, which in my book, is always a plus.
Critical Thinking and Problem Solving
Among the most sought-after skills in the 21st century workforce? According to P21, a 5 million-member strong national non-profit that advocates for "21st century readiness for every student," critical thinking is a cornerstone of the framework for 21st century learning, along with communication (see "Taking Turns" above), collaboration and creativity.
We're starting early with Hoot, Owl, Hoot, an award-winning communal game that requires no reading skills, only color recognition and strategy. The game says for 4 and up, and that's an accurate assessment for independent play.
We collaborate on our collective mission to get the owls back to their nest before the sun comes up. My kids like that we can change the level of play by changing the number of super-cute owls we're responsible for.
Bonus: You get to hoot.
Logic, Math, and Reasoning
"I know what I'm going to do on my next turn," says my son.
"Go ahead," my daughter says. "Do it."
To succeed in today's world, kids need to think computationally, in a way that they can assemble the parts of a problem that allow them—or a computer—to solve a problem.
They need to identify patterns and draw logical conclusions from them.
In game playing, they need to be able to recognize patterns not just in the challenge of the game itself, but also in their opponents. They need to base their actions on the actions of others–and be flexible enough in their thinking to change course.
My daughter regularly calls my son's bluff when he announces he knows his next move. She knows his pattern of actions and adjusts her play accordingly.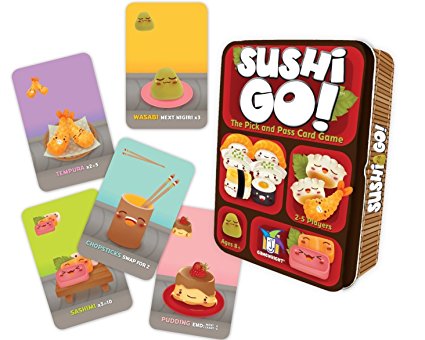 We're starting with Sushi Go, a pick and pass card game that requires thinking ahead, strategic turns, and calculating risk (see #4). The kids like to plot potential points with sashimi, tempura, maki rolls, nigiri, and wasabi cards, and maximize their potentials and probabilities in every hand.
Since it's ages 8+, my kids need some help, but not much. Once they understood the patterns and goal in this game, they were off.
Bonus: cute pudding cards and chopsticks.
Calculating Risk
While there are studies that applaud the benefits of "risky play," kids need to learn how to figure out if a risk is worth taking–which gives them skills in critical thinking, logic, and reasoning (see points above!).
Successful people in any field need to do the same.
In addition to Sleeping Queens and Sushi Go, my kids enjoy Rivers, Roads, and Rails, a matching tile game similar to dominoes. In each turn, you connect only tiles that can match, with special connector tiles, creating a twisty network of rivers, roads, and rails.
You can play this two ways. In the competitive version, the kids can play offensively and defensively, maximizing each play with the least amount of risk. In the communal version, we work together to create a massive city.
How to Win and Lose
Kids–and lots of adults–focus on winning. They want to win. All the time. Some stop at nothing and cheat their way to a win, hoping not to get caught.
In most games, as in most situations in life, sometimes you win and sometimes you don't.
I'm teaching my kids that they need to learn how to do both without gloating and cheating. I'm teaching them how to know when to fight back, how to learn when to speak up, and how to do so thoughtfully.
Here are some more favorites that are helping us get there:
Don't underestimate game playing. It's social. It's educational. It's fun.
Most of all? You get to figure it out together.