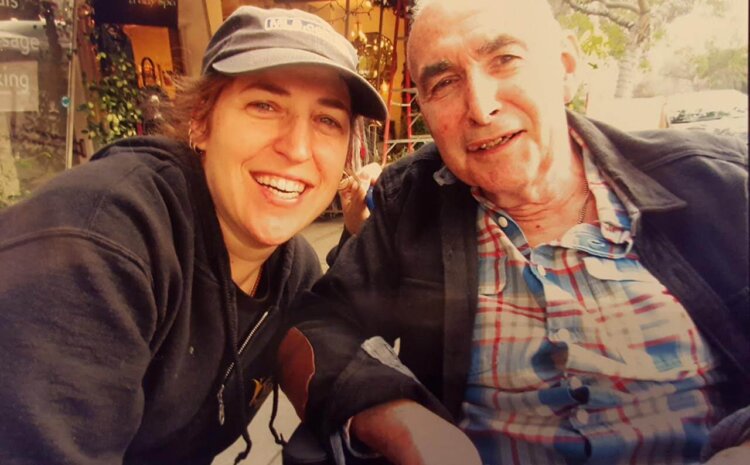 With Father's Day coming up this weekend, we've been reflecting on our favorite memories of our dads. Below,  Grok Nation staff members share special recollections of their dads. Whether funny or sweet, these moments remind us why we love our fathers.
Read through our stories, and be sure to reminisce about your dads in the comments section below.
Mayim Bialik
Founder
My father z"l and I took five father-daughter road trips together across the United States in my teens. Every trip was different and every trip was amazing. Every trip was also not without its challenges: Namely, my father and I were very alike, down to our stubbornness, our tempers, and our struggles with self-loathing and depression. Our trips covered it all.
My father and I took pictures throughout these trips with cameras, not cell phones. We have photos of each other in the Pacific Northwest as we ventured to Seattle; across Glacier National Park, which spans Montana and Canada; through the Midwest across corn fields and into the heart of Bob Dylan's hometown of Hibbing, Minnesota. We climbed Anasazi ladders and bought spices from the Native people in the Southwest.
Because these were the days before selfies, our trips were catalogued in so many moments like this one: me looking at myself in the mirror and my father reflected beyond me. As we were in life, so we are in this photo.
Christina Kelly
Editor-in-Chief
My father was a member of the Don Draper generation, but he was nothing like Don Draper. Unlike most of the fathers I knew, he cooked, cleaned and changed diapers. He took us to the park and taught us to swim and ride our bikes. He might have enjoyed being a stay at home dad, if there was such a thing when I was growing up in the 1960s.
My father liked to watch The Galloping Gourmet on public TV. The Galloping Gourmet was a boozy guy with a cooking show who used wine in his recipes and poured himself copious glasses. I remember my dad watching and trying to replicate the dishes. Mostly, though, he fixed basic meals with love and they tasted delicious. Spaghetti and meatballs was one of my favorites; the next day he would warm it by frying it on the pan, because this was before microwaves, and I liked the leftovers even better.  
On a summer Saturday, we would get up at the crack of dawn to drive from our apartment in the Bronx to Jones Beach on Long Island. When we got there, we'd eat the breakfast he had made at home: peppers and eggs on a kaiser roll. The sun would just be coming up. It might have been 7 or 8 am. The scrambled egg was just so, no brown spots or dryness, moistening the roll a bit and spiced with a bit of salt and pepper. The pepper had been sliced up and fried in oil that morning. The three tastes melded together perfectly, and it was still warm because it was hot out. I remember sitting there on the sand, enjoying my sandwich. "The salt air makes you hungry," the adults always said. 
Fortified, we went down to the water's edge, where my dad and my grandfather each held one of my hands to lift me up over a colony of some bug like crustaceon that lived where the waves broke. I didn't want my feet to touch them.
Dalene Rovenstine
Managing Editor
I remember my mom once saying my dad missed his calling as a gymnast (when we were watching the men's pommel horse in the Olympics, he said, "I think I could do that" and proceeded to leap back and forth over our coffee table—so it's probably true), but I think he missed his calling as an entertainer. Whether at home or out in public, my dad always seems to be unintentionally putting on a show for people… and subsequently embarrassing me, my mother, my brother and my sister. One of hundreds of examples: He once threw bread up into the air on a large car ferry to feed the seagulls; moments later the captain came over the LOUD SPEAKER to admonish the "gentleman feeding the birds."
But my dad's keen ability to embarrass me didn't stop when I became an adult. Recently, his dentist recommended he get veneers (don't grind your teeth, folks!). You might not know this, but before you get veneers, they file down your teeth and then place a temporary fake-teeth retainer to wear for a couple weeks until your permanent veneers are ready. Now, the temporary teeth are supposed to be glued in, but my dad's came loose and he thought it was hilarious to pop them out and show everyone his little nubs. It was actually quite terrifying—here's photo evidence to prove it: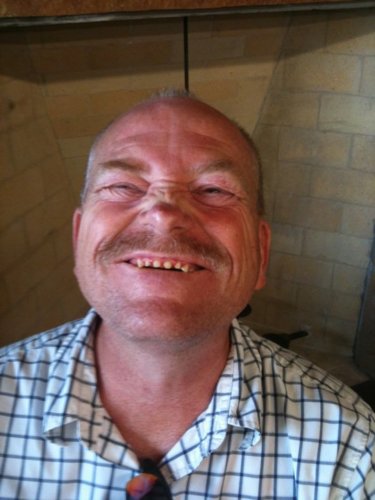 My brother and sister and I were mortified that our dad looked like he had Billy Bob teeth, so of course he took them out in public as often as he could to embarrass us. I still shudder looking at that image. But I will say this: It's never boring when Tom Rovenstine is around.
Esther Kustanowitz
Co-Founding Editor and Contributor
It may not shock you to learn that I come from a creative family. My mother was a writer, and my dad worked for IBM for decades, but he is also a writer and lover of puns as well as of classic comedy, especially Jewish comedy. He wrote Jewish song parodies that were really good, if really niche. He knows how to work an idea into rhyme, Dr. Seuss style, a talent that I either inherited genetically or by growing up in a house where this kind of creativity–mining the everyday to find the comedic and the specifically Jewish elements–was a natural part of life. Pivotal comedic texts included The 2000 Year Old Man, When You're In Love the Whole World is Jewish, The Frisco Kid and George Carlin's routine about "Stuff."
When I first started blogging, my dad could not wrap his head around it: "Why would anyone want to know what anyone else thinks about anything?" he would ask. I would tell him how the media landscape was changing, giving rise to new voices and perspectives that would not have found an outlet in a more traditional framework.
Six years later, my dad told me he had created a blog: JewishHumorCentral.com, where he was posting clips with Jewish and comedic value, with categories like Jewish Traces in Unexpected Places, the Great Jewish Comedians and Israel is a Funny Country. Now he has a mailing list of more than 6,000 subscribers and offers 20 different presentations on Jewish humor to venues throughout the NY/NJ area, in South Florida, Montreal, Canada and in Israel. Seriously, he has already accepted gigs for 2019 and 2020.
Because I introduced him to blogging through my blog, I often say, the tree doesn't fall far from the apple. He likes that phrase and uses it to credit me for having introduced him to this world. And I can credit him for teaching me how to play with language in a way that makes me and those around me smile.
Avital Nathman Norman
Contributing Editor and Writer
My father, Moshe Norman, didn't become a U.S. citizen until his late 20s, when he married my mother and they moved from Israel to the states. Perhaps it was because he was an immigrant curious about his new surroundings, or simply because it's in his blood, but he loved to travel. And he still does to this day. My father has been all across this country and globe, visiting and experiencing the world around him. I have fond memories of being stuffed into the back of our car for road trips that would take us all across the eastern portion of North America: Ohio, Chicago, Montreal, many treks up and down the coast to Florida. We also took trips back to Israel to see my family there, and would go around the area, visiting new places and meeting new people. Like my father, I've developed the travel bug, and do my best to get out there with my son. The best is when we can all take off and explore together.