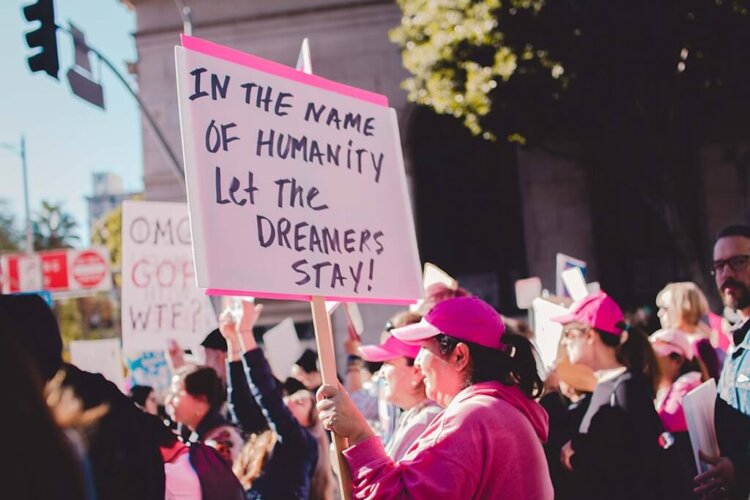 Last year, I went to the Los Angeles Women's March with my sign and best friend, the Jewish half to my Jewslim (Muslim-Jewish) partnership. We wriggled our way to the front of the stage and took in all of the power, speeches and camaraderie of the day. This year, due to work, I couldn't go to the march. But whenever I could, I snuck away to look at post after post of the more than 500,000 Angelenos who did. And while I reveled in the energy, the crowds and the signs from afar, things seemed different this year.
The signs were still brilliant and catchy – from messages about vaginas to President Donald Trump to DACA. I found my attention shifting from the inspiration of seeing everyone together to wondering about the clever minds behind these witty signs. There were still pink pussy hats and catchy signs about "grabbing back" and resisting and voting, but the emerging trend seemed to be: who could post the best selfie with the best pose and the best sign? (There was an actual flower wall at the LA march where people could take selfies).
Though celebrities such as Whoopi Goldberg in NYC and Viola Davis in LA took to the stage, a few women of color groups, such as Black Lives Matter Cincinnati, decided not to attend, saying that they felt the rally was still not inclusive.
Raquel Willis, a black transgender activist and lawyer who spoke out at the national march in Washington, D.C., decided to sit out this year, telling Newsweek that inclusion is a deeper commitment than just lip service. "We must go beyond having trans women speak and share their brilliance for a one-off event…We have to go beyond saying that transwomen are included, we have to show it by putting them in leadership positions and building pipelines to leadership."
And then I saw the one post that made my hopes for the Women's March begin to fade: an Instagram video of three young white girls at the march, dancing on a ledge and singing "Party in the U.S.A." The girls were clearly having a great time and my thoughts began to turn: Is fun at all the point of this gathering? Has this rally become a political Coachella?
What "party in U.S.A."  are we celebrating? This year has been tough – from DACA to the Muslim Travel ban to #MeToo and now in the middle of a government shutdown – a Miley Cyrus anthem doesn't come to mind as the song I would sing or want to be sung at the Women's March: in no way does it capture all that we have faced and the significant fight we have ahead. Everyone has a right to their opinion and experience, but have we turned these marches – birthed from outrage with a mighty cry of "resist" – into the place to be seen and selfied? Was this becoming yet another place for white women to be seen and feel woke while truly not understanding how grave the situation is on a daily basis for people of color, immigrants, people of Muslim faith, the unemployed, the uninsured, etc?
As a Muslim woman of color who considers herself an ally for LGBTQ equality and all kinds of social justice, I began to wonder if their objection shines a light on what may be truly a problem in our country: that people of color feel the weight and pressure of our current climate while white people think it's a party of empowerment?
I love the overarching hope-and-change message of the march, but true hope and change requires more than wearing a pink hat and walking the streets for a single afternoon. Neither an Instagram pic nor a Facebook rant – and certainly not a Miley Cyrus party anthem – will do anything to change the system if we continue to yell into our echo chambers. We must stay focused on the broken and corrupt system that needs to be fixed.
For this brown girl, seeing the video of the three young white girls singing "Party in the U.S.A." or the endless selfie after selfie of people with signs, is a reminder that – although there is certainly power in these large gatherings, many may still be delusional to the real state of the union.
Am I being too cynical? Perhaps that one video is a small blip on the radar of real change that is happening. Or, had I been there, perhaps I would have felt differently? Perhaps the video represents a small minority of people that attend events but don't quite understand the message being relayed? Am I a tired activist who doesn't want to go through another year of seeing the worst after worst unfold across our headline?
I hope that this year's rally will serve to reinvigorate fatigued activists who are tired after a year of fighting. But in the interim, I challenge all of you – DO SOMETHING MORE. Do not let your attendance this Saturday be the extent of your activism. Attend meetings, volunteer, lend a hand or just close your mouth and listen and learn.
Last year was terrible and we cannot let 2018 go down the same path. I'm putting my activist shoes on, turning up Beyonce's "Run the World (Girls)" (a better anthem) and getting to work. Will you join me?
Resources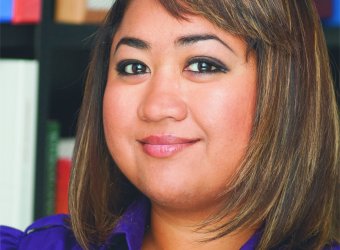 Marium F. Mohiuddin was born and raised Muslim in the great state of Texas, which was no easy task for her parents, who were immigrants of Pakistan. Marium has dedicated her life to working toward helping and advocating for the American Muslim community. Professionally, she has worked in communications and publishing for the past fifteen years. In 201​3​, Marium ​launched her communications ​firm merging her two passions – nonprofit work and communications – and in 2016, she took that passion one step further when she went back to school to get her MBA in nonprofit management.