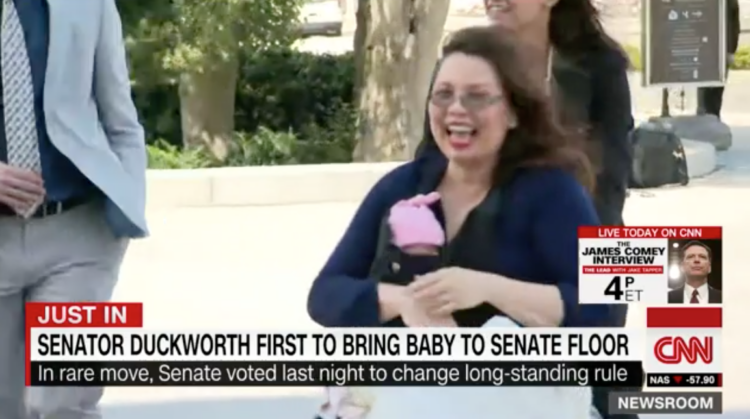 It's April 20 here at the Weekly What?!, and we've weeded out the best stories for this week. So take a hit off this weekly news joint and pass it around… Let's start with the news about a US Food and Drug Administration advisory committee's decision to unanimously recommend approval of an epilepsy drug that would be the first plant-derived cannabidiol medicine for prescription use in the US (CNN). The final vote is in June and cannabidiol, while found in the marijuana plant, does not produce a high. (The more you know…)
Chipping away at the patriarchy: more precise than smashing it…Ladies have made quite the stir this week, making great strides in life, and in Hollywood.
In the "real-life superheroes" category, we've got the fighter pilot who landed the SouthWest jet minimizing casualties. If you haven't read the GN piece about her, now's your chance. 🙂 In Hollywood, there's a (good) disturbance in the Force – while previous Star Wars franchise films were all done by white men, the second unit director on the forthcoming Star Wars: Episode IX (still untitled) will be Victoria Mahoney, an African American woman best known for her work on Queen Sugar, Grey's Anatomy, and American Crime. Mahoney's appointment was announced by Ava DuVernay, who apparently recommended her to J.J. Abrams, the first unit director. According to CNET, "the second unit director is responsible for shooting additional footage that often includes establishing shots, stunts, cutaways and inserts. The first unit director principally shoots scenes with the main cast." There has never been a female second unit director on a Star Wars film, only third unit directors.
Catt's outta the bag. Thank you @ava for putting my name in the #StarWars #LucasFilm hat. Thank you #JJAbrams for inviting me on your ferocious ride. *This one's for the outliers, dreaming big–in small corners of the Earth.
#MaytheForceBeWithYou https://t.co/G6ckWzCIwt

— Vic Mahoney (@VictoriaMahoney) April 17, 2018
And moving from a galaxy far far away to the world of DC superheroes, Cathy Yan has been chosen to direct a forthcoming untitled Harley Quinn movie based on the "Birds of Prey" comics storyline, which features female characters from the DC Universe, including Harley Quinn and Batgirl. Yan will be the first female Asian director to helm a superhero film, Indiewire reported. The script will be written by Christina Hodson, who is also working on a Batgirl script for Warner Brothers.
And lady badassery isn't relegated to Hollywood: in this year's rainy Boston Marathon, Desiree Linden became the first American woman in three decades to win the race, and Sarah Sellers, a nurse, came in second.  Illinois Democrat Tammy Duckworth, having previously broken the glass ceiling as being the first Senator to have a baby while in office, brought her 10-day-old daughter named Maile to work with her, making it the first time an infant was allowed on the Senate floor, the Washington Post reported. Since Duckworth announced her pregnancy, the Senate had been debating if and how to accommodate lawmakers who have children while in office, something they'd never had to consider before. This week, senators voted to allow children younger than 1 to accompany their parents to votes, enabling Duckworth to bring her daughter. As more women become involved in Congress, we will undoubtedly see more discussions and decisions that may alter the way things have run in the past. (Bonus: What does Maile mean? It's from the name of a type of vine that grows in Hawaii and is used in making leis. How can you remember to spell it? Take the "e" off the front of the word "email" and move it to the end of the word! You're welcome.) 
One sad note in the women's empowerment category: now we'll have to learn about our bodies by ourselves…since the 1970s, Our Bodies, Ourselves was the women's health Bible that heralded the arrival of adolescence for many young girls; but the Boston nonprofit home of the book announced it will stop publishing new editions of the women's health book, the New York Times reported. The book was last updated in 2011.
Starbucks makes a Venti-sized mistake: Rashon Nelson and Donte Robinson were waiting to meet someone at a Philadelphia store when they were arrested; Starbucks acknowledged the mistake and announced that it would close 8,000 U.S. stores for an afternoon next month for racial-bias training for 175,000 employees (Washington Post). The challenge is, how do you subvert unconscious bias–or as it's sometimes known–implicit bias? Implicit bias is ingrained over our most formative years. For more, listen to this brief NPR piece about implicit bias here: 

Manic Media Madness: Peele, Prizes and Prince
In this media moment, the line between what is true and what is totally fake is blurring… audio and video can now be easily manipulated to convincingly say what the video's manipulative creator wants it to say. For example, check out this "video of Obama" that's not actually a video of Obama, thanks to writer/director Jordan Peele. Fresh off his acclaim for Get Out (which included an Oscar), Peele isn't content to rest on his laurels: with the help of Buzzfeed, he's holding a mirror up to the media, to show us how easily footage can be faked and urging vigilance against recirculating manipulated footage.
So who can help us through this wild media moment? Those who are committed to truthful expression, justice for the downtrodden and American journalism. Pulitzer Prizes were given out this week: honored in the category of public service was The New York Times, for reporting led by Jodi Kantor, Megan Twohey, Emily Steel and Michael S. Schmidt; and The New Yorker, for reporting by Ronan Farrow. The Washington Post won for Investigative Reporting, for their exposure of Republican Senate candidate Roy S.  Moore and how he made unwanted sexual advances toward underage girls when he was in his 30s. The staffs of national outlets like The New York Times and The Washington Post were recognized for reporting on Russia's influence in the 2016 election, the Trump transition team and the presidential administration. But this year's prizes also honored local journalism, like the staff of Cincinnati Enquirer, in which 60 reporters put together a mesmerizing and horrifying multimedia report covering seven days inside the city's heroin epidemic; during that week 18 people died and at least 180 overdoses were  reported across the area. And this year, a 20-part comic series about the immigration experience by freelance writer Jake Halpern and freelance cartoonist Michael Sloan in The New York Times was the first of its kind to win a Pulitzer (in the category of editorial cartooning). And rapper Kendrick Lamar was honored with a Pulitzer for music for DAMN, which the Pulitzer board called "a virtuosic song collection unified by its vernacular  authenticity and rhythmic dynamism that offers affecting vignettes capturing the complexity of modern African-American life." The album is the first non-classical or non-jazz recording to ever win the prize, and Pitchfork called it "a heady examination of an explicitly black experience, born of a cultural movement that cannot be untwined from its politicized nature."
I was dreaming when I wrote this, forgive me if it goes astray: Prince died nearly two years ago, but new documents have arrived in a Purple Rain of information, probably more than the average person needs to know about or see. But the Purple One had apparently been suffering with illness (and potentially, opioid addiction) for a while before he died. More details are in this Washington Post report. But if you just miss the man and his music, this recording of "Nothing Compares 2U" is a must-listen; we know the song as Sinead O'Connor's, but it was penned by Prince himself. Recordings of him performing it are rare: this one was just released yesterday (footage is from past rehearsals with his band).
Today was also a walkout in memory of the Columbine school shooting 19 years ago – it was expected that students from every state would walk out of their classes today to remember that shooting and all the shootings–and victims–since. After gathering for 13 seconds of silence in memory of Columbine's 13 victims, students will spend the rest of the day making calls to Senators' offices demanding gun reform. This activist response to school shootings has been amplified in recent months after the February shooting in Parkland, FL. Two Columbine survivors also found a way to act, starting The Rebels Project, a nonprofit to support shooting victims.
Remembering…
Barbara Bush died this week after opting for "comfort care" in lieu of ongoing treatment. First Lady to former President George H.W. Bush, she saw literacy as a way to help solve everything from teen pregnancy and inner-city violence to AIDS. "If every man, woman and child in America could read, write and comprehend, we could find easier answers to so many of our other social problems," she said. She was also known for her devotion to family. "At the end of your life, you will never regret not having passed one more test, winning one more verdict, or not closing one more deal," she said. "You will regret time not spent with a husband, a child, a friend or a parent." (NPR.org)
And right before press time, we learned that Artist, DJ and producer Tim Bergling, a.k.a. Avicii, died in Oman at the age of 28. There was no further statement about cause of death, but Variety noted that he had retired in 2016 because of health concerns.
What are you talking about this week? Tell us in the comments. (And as a special 4/20 bonus, here's a video of Mayim interviewing her mom in a "cannabis quiz"!)