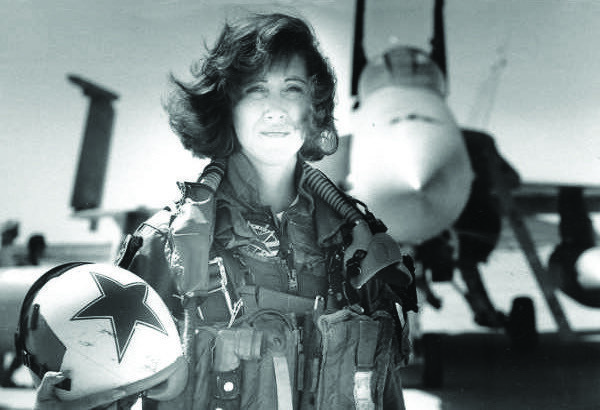 Air travel is famously the safest mode of transportation—there were zero fatalities on commercial airlines in 2017, Reuters reports—but that doesn't mean it's entirely without risks. That's what the passengers on the Dallas-bound Southwest Flight 1380 found out firsthand Tuesday morning when one of the aircraft's engines exploded midair.
After the engine exploded, some of the debris broke through one of the windows, which caused the plane's cabin to depressurize and passenger Jennifer Riordan to be partially sucked out. Other passengers worked together to pull her back in as oxygen masks descended from the ceiling and were successful. (Sadly, Riordan later died from her injuries at the hospital.)
Throughout all of this, pilot Tammie Jo Shults was tasked with trying her best to get everyone back to land as safely as possible. In what was undeniably a high-stress situation, she retained a calm exterior: In a recording of her call to air traffic control, she speaks in an impressively measured, matter-of fact tone as she explains that part of the aircraft is missing and requests that medics meet them on land. Within less than an hour, she landed the heavily damaged Boeing 737 on the Philadelphia International Airport's runway.
"We have a part of the aircraft missing": Listen to the dramatic communications between the pilot of Southwest flight 1380 and air traffic control as plane from NYC comes into Philadelphia for emergency landing https://t.co/CgWfJH1DhY pic.twitter.com/QKmWOXNJ0r

— NBC New York (@NBCNewYork) April 17, 2018
A spokesperson for Southwest Airlines told Grok Nation they're "not sharing details about the Flight Crew" at this time, "though we couldn't be more proud of their actions." However, family members and passengers on the flight have confirmed Shults was the pilot.
One passenger named Diana McBride Self revealed in a Facebook post that Shults spoke to each passenger personally after they landed. "This is a true American hero," she wrote. "A huge thank you for her knowledge, guidance and bravery in a traumatic situation. God bless her and all the crew." Other passengers have similarly praised the pilot, including Tim McGinty, one of the men who helped pull Riordan back in the cabin. "The pilots, I don't know how they did it," he told NBC News, adding that "the flight attendants did an awesome job keeping everyone calm."
To those who know Shults, her persistence—and success—in the face of a great challenge likely isn't a surprise: In high school, Shults expressed her interest in being a pilot and was shot down by a retired colonel who told her "there were no professional women pilots," she recalled in Linda Maloney's 2012 book Military Fly Moms. Despite the lack of encouragement, she didn't give up on her dream, and eventually became one of the U.S. Navy's first female fighter pilots. "She said she wasn't going to let anyone tell her she couldn't," former classmate Cindy Foster told The Kansas City Star. "She did it for herself and all women fighting for a chance."
Shults undoubtedly made great strides in the military, especially given the discrimination against her gender, though she was excluded from certain positions as a result of the combat exclusionary policy, which limited women's participation in combat. That policy was altered in 1993 to allow women more opportunities in aviation. She ultimately became a lieutenant commander before leaving the military in 1994.
Soon after, Shults became a pilot for Southwest Airlines—and, as evidenced this week, a great one at that. Passengers on Flight 1380 aren't the only ones applauding her heroism: Twitter users have been posting about Shults, commending her steadiness in the face of chaos and fantasizing about a future, Sully-style biopic about her.
"I can't wait for our daughters to watch the movie about Southwest Airlines pilot Tammie Jo Shults," user Simran Jeet Singh wrote, "a fearless trailblazer and national hero."
Neither can we.