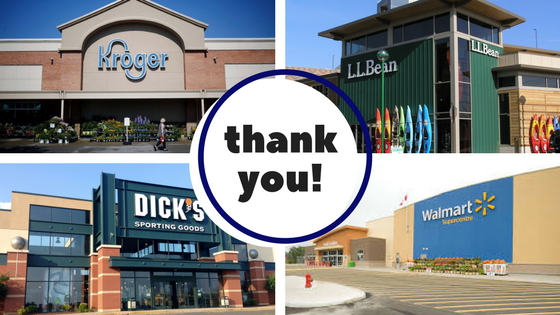 Breaking news: two people were fatally shot today after a gunman opened fire in a dorm at Central Michigan University. The 19-year-old gunman is still at-large. So it's no surprise that as students returned to Marjory Stoneman Douglas High School on Wednesday, two weeks after the shooting, voices demanding gun reform continued to be heard.
Students across the country are gearing up for the National School Walkout on March 14 from 10-10:17 am, with the 17 minutes representing the 17 students and teachers who were killed in the Parkland shooting. While some schools are fully supportive of the action, USA Today reports, others are threatening to suspend or discipline students who participate. Many colleges have stated that any disciplinary actions against students who participate in peaceful protest will not have an impact on admission. There is also a major March for Our Lives scheduled for Washington DC on March 24, with several other cities hosting their own marches and rallies (find a rally or march near you at https://www.marchforourlives.com). The website notes that the kids and families of March For Our Lives "will take to the streets to demand that their lives and safety become a priority and that we end gun violence and mass shootings in our schools today." (More coverage of and information about these marches coming to Grok Nation in the days ahead…) 
Some stores are restricting gun sales: Dick's Sporting Goods was the first. On Wednesday, the chain promised they would stop selling assault-style rifles, stop selling firearms to anyone under 21 and stop selling high capacity magazines. In a statement on their website, they also said that they "never have and never will sell bump stocks that allow semi-automatic weapons to fire more rapidly." They also implored elected officials "to enact common sense gun reform," and pass regulations banning assault-style firearms, high-capacity magazines and bump stocks; raising the minimum age to purchase firearms to 21; requiring universal background checks "that include relevant mental health information and previous interactions with the law"; ensuring a complete universal database of those banned from buying firearms; and closing "the private sale and gun show loophole that waives the necessity of background checks."
After Dick's, Walmart and Kroger's also released statements about new restrictions on gun and ammunition sales: both chains will raise the purchase age to 21. According to The New York Times, Walmart said that it would no longer sell items resembling assault-style rifles, even including air guns and toys. As for Kroger, the Times report noted that they had already stopped selling assault-style rifles at Fred Meyer locations in Idaho, Oregon and Washington several years ago, and said it would no longer sell assault-style rifles in Alaska or accept any special orders of those guns in the state. And L.L. Bean just announced they were raising their purchase age to 21, as well. According to Time, that leaves Bass Pro Shops as the only major retailer continuing to sell the semi-automatic assault-style rifles commonly used in mass shootings.
On Thursday, POTUS and the VP met with Chris Cox from the NRA, which Trump tweeted about with "Good (Great) meeting in the Oval Office tonight with the NRA!"; Cox tweeted that "POTUS & VPOTUS support the Second Amendment, support strong due process and don't want gun control." This follows Wednesday's announcement by the President that – according to The New York Times – "called for comprehensive gun control legislation that would expand background checks to weapons purchased at gun shows and on the internet, keep guns from mentally ill people, secure schools and restrict gun sales for some young adults. He even suggested a conversation on an assault weapons ban." So the confusion over this issue continues and will likely continue as the NRA throws around its political weight and the President makes proclamations that either fall in line with or depart from NRA positions.  
Speaking of confusion in the White House, there's never a dull moment over there: all in the last few days, Jared Kushner lost his security clearance, and Communications Director Hope Hicks announced her resignation. Now, according to Business Insider, Ivanka Trump's international business deals are getting a closer look as US investigators try to determine whether some members of the Trump administration are benefiting personally from their public-service roles. If you're confused about who's in and who's out, or who's mad at whom, CNN has you sort-of-covered, with this chart that's at least current while we're writing this but may have other chartworthy names and squabbles waiting in the wings by the time we publish.
Pop Culture Potpourri: Apparently there's been some online controversy as to whether Baby Groot from Guardians of the Galaxy Vol. 2 is the reincarnation of original Groot, or Groot's progeny. And this question was itself launched from a hypothetical moral situation in which you're given the choice between saving Groot and saving a Porg (those little creatures from Star Wars: The Last Jedi). Here's a very long analysis of the argument and the extrapolated conclusion, which is given away in the title, "We're Sorry to Have to Remind You, But Groot is Dead." I guess that's also a spoiler for anyone who hasn't seen the first Guardians of the Galaxy movie. Sorry, but it's been 4 years, so…
Looking for a little inspiration? Dolly Parton, a country music legend who founded Imagination Library, a nonprofit that donates monthly books to children, from birth through kindergarten, just donated her organization's 100 millionth book.
And for all you Hamilton-heads – or Weird Al maniacs – or the probable intersection of those two groups here at Grok Nation, here's Weird Al's polka medley of Hamilton songs. As a consumer of many of Al's past polka medleys, I will say that this one is not strictly polka as the middle gets a little "slow-jazzy," but thankfully, after that it amps up to the frenetic polka style we're used to.
One more Oscars reminder! I'm live-tweeting from the @GrokNation Twitter account, so join us online (and use the hashtag #GrokOscar) for some narration on the festivities that will range from the snarky to the emotional (because that's my regular range). And to find out where to view the films before Sunday, check out my Oscar nominees viewing roundup here.
So that's the Weekly What??!! for this week. If you liked it, maybe share it with your friends – here's some Twitter language I had the President mock up for you: "Good (Great) post at the Grok Nation website today with EstherK!"
What else are you talking about this week? Let us know in the comments…
Sources: