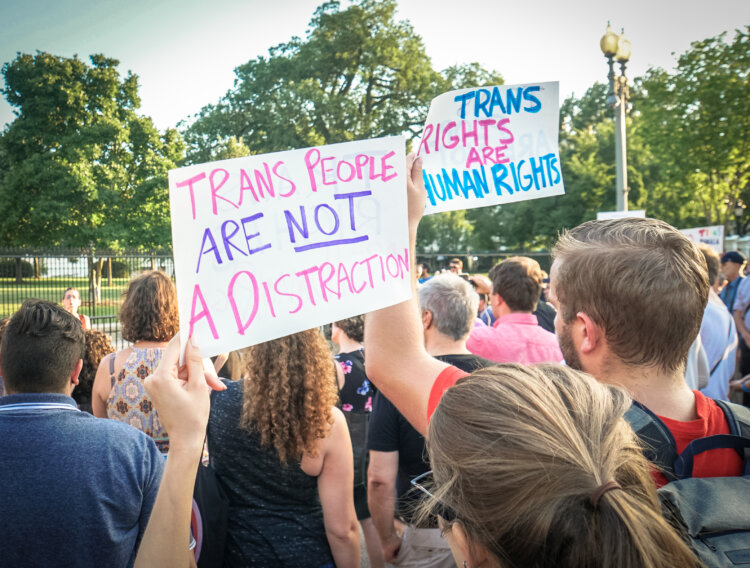 Over the weekend, The New York Times reported that the Trump administration is considering ways to limit the rights of transgender people in the U.S. A Department of Health and Human Services memo included an effort to limit the definition of gender to what is assigned at birth (based on sex characteristics) and to ensure that assignment never be changed. Essentially, this administration insists on a narrow binary and refuses to recognize trans individuals, limiting their rights as people.
The Obama administration expanded and strengthened protection for trans individuals under the law, and little by little, all of these advances are being undone. Whether it's trying to ban transgender folks from enlisting in the military, removing questions about gender from the U.S. Census or removing health care and housing options, the Trump administration has made its agenda on transgender people clear: It will do what it can to strip trans people of their civil rights and protections.
So it's up to us to protect our trans neighbors, friends and family. But how? There are many ways to help, and you can get started today.
VOTE!
Midterms are right around the corner and it's time to show your elected officials where you stand. Vote for representatives that will fight for your interests. Make sure that they will protect trans rights. Also, check to see if you have any relevant ballot questions. For instance, if you live in Massachusetts, join me in voting YES on 3! Vote to keep our law that protects trans people from discrimination. The law—already in place—affords trans individuals protections in public: restaurants, hotels, retails stores, parks, theaters, public transit, public restrooms and medical offices. The law ensures transgender people have equal access to these spaces without fear of their rights being infringed. If you know people who live in MA, remind them to vote Yes on 3!
Contact Your Representatives
Find out who represents you and how to contact them here. Find out what trans-related legislation is up for a vote in your state and voice your thoughts!
Put Your Money Where Your Mouth Is
Social media posts are all well and good, but why not donate $5, $50, or $500 to a trans-run organization? Most of these organizations are doing incredible work fighting for trans rights on a shoestring budget. Donate your money (and/or your time) to a locally run organization or one of the following to start: Casa Ruby, Sylvia Rivera Law Project, Audre Lorde Project, Trans Law Center, Familia: Trans Queer Liberation Movement, Trans Lifeline.
Do Something Visible
My son's school has a "makerspace" with lots of neat equipment. They recently started using the laser printer to carve wood plaques. After testing it out on locker name tags, they've decided to do some research and come up with signs for the school bathrooms that ensure they are welcoming to everyone, of any gender. This is one small change, but these baby steps add up.
If you own a business, find ways to be more inclusive. It's great to know in your heart that you're an ally, but making sure you're actually following through and doing something about it will not only bring about change, but let others know it's okay to join in. If you want to join in on rallies, follow the National Center for Transgender Equality to see where local actions are taking place.
Follow the Lead of Trans People
While you may be fired up and want to help change things now, remember that trans individuals fight these battles at the personal and larger level every single day. Don't talk or shout over them. Instead, provide them a platform to speak their truths, amplify their voices, and lead the way. There are many trans folks on social media right now letting people know what they can do!
If you're a trans person who is running a crowdfund for any reason, reply to this thread and I will RT it.

Cis people, here's a tangible, immediate way to support trans people right now in this moment, with your money.

— Katelyn Boo-rns (@transscribe) October 21, 2018
"Well, actually sex and gender aren't the same thing." is not a helpful way to support trans people right now unless you're just trying to agree with the Trump administration's approach.

— Parker Molloy (@ParkerMolloy) October 22, 2018
What YOU can do to TAKE ACTION by the brilliant @chasestrangio: https://t.co/gm0fflW2vJ #WontBeErased

— Janet Mock (@janetmock) October 22, 2018
As we continue to exist, resist, and fight current and future administrations, it is also vital to protect gender nonconforming/non binary people. All of us or none of us. #OurExistenceIsResistance

— Jennicet Gutiérrez (@JennicetG) October 21, 2018