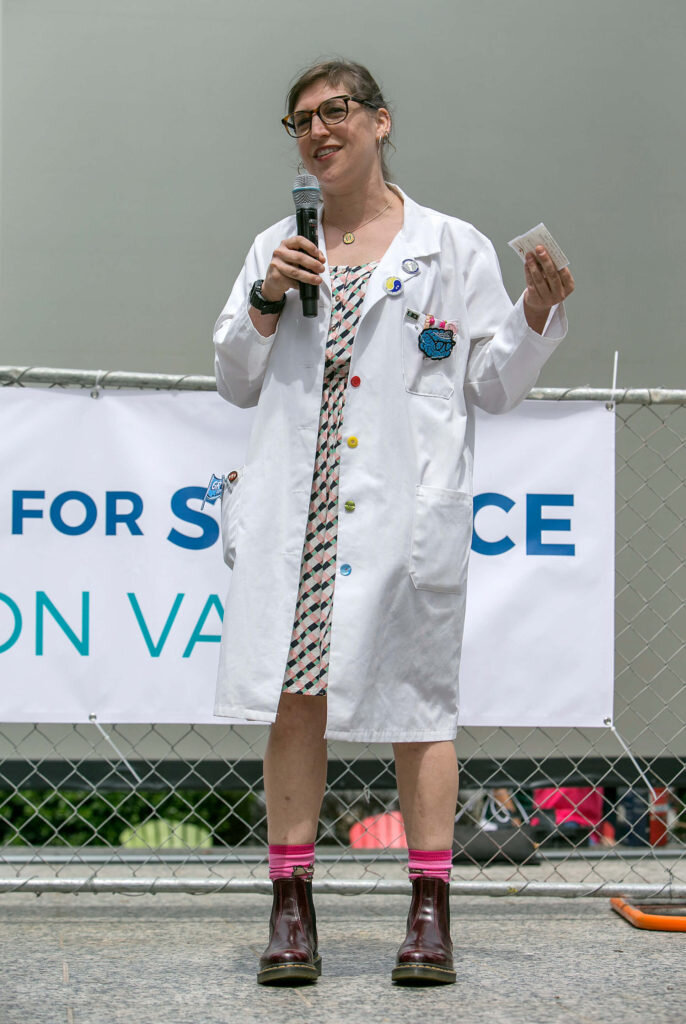 I don't typically do events on Shabbat, but the Science March was incredibly important for me to participate in. And since I don't post pictures or use social media on Shabbat, I didn't post anything—but I'm happy to share with you some photo highlights of the day now! Plus, I want to address a few questions, like why was I in Silicon Valley/San Jose and not L.A.? 
My ex's folks are in Silicon Valley and some of my family, too. San Jose is probably the place I spend the most time besides L.A., so this felt like a great march to be a part of. Plus, my ex-mother-in-law's birthday is today, so it was a win-win for me and my ex and my kids to participate and be with her.
How did it compare to the Women's March?
San Jose is a large city, but there was not the kind of turnout we had for the L.A. Women's March (which I wrote about here). It was not as structured or "organized" and the crowd was generally older than the Women's March crowd was (with shirts carrying slogans like, "In my day, there were 9 planets!"). There were plenty of clever signs such as "There is no PLANet B" with pictures of the earth, Neil DeGrasse Tyson quotes (such as "You don't have to believe in science for it to be true") and a ton of adorable shirts such as this DNA-themed one on this pixie-haired genetics-loving woman I befriended.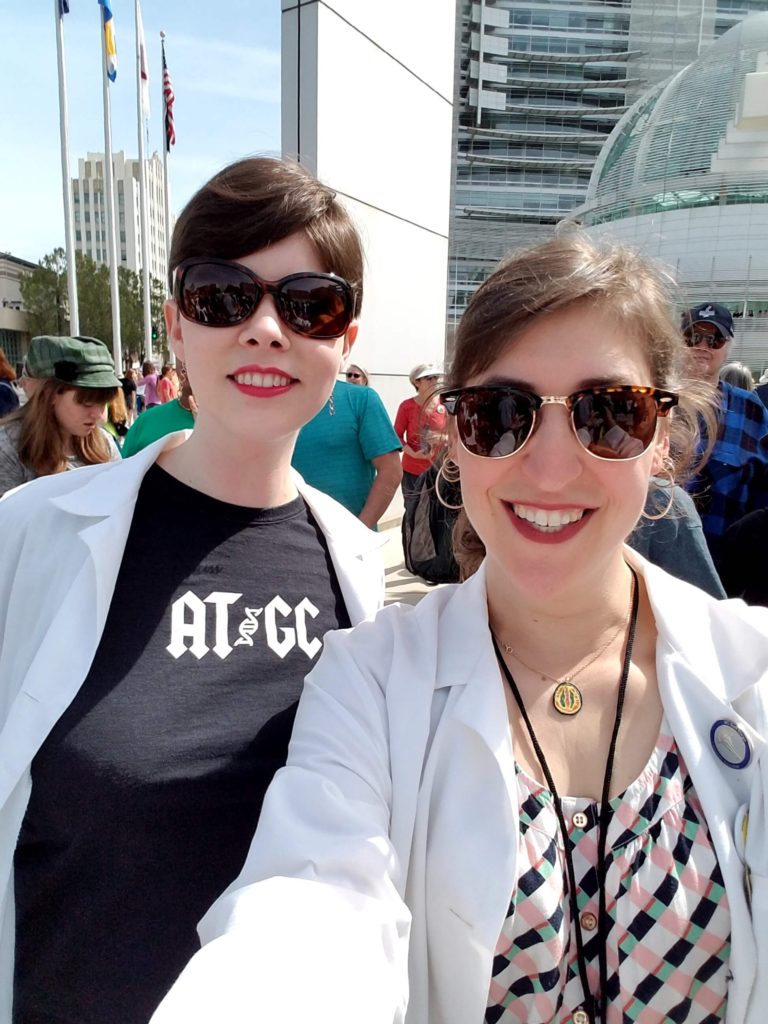 What did you do at the march?
Well, I wore a lab coat. Here is me in my beloved lab coat, which I've had since I was 19. It is normally decked out with colored buttons and rose decorations, but it is specially decked out for the march with my ex-mother-in-law's union pin for Engineers and Scientists of CA (shout out to IFPTE Local 20!), my Lactation Educator Counselor certification pin from UCSD, Grok Nation patches, and a variety of science-y pins and buttons and my Wonder Woman pen. I love showing my personality with my lab coat all of the time, but this venue was an especially good time to do it.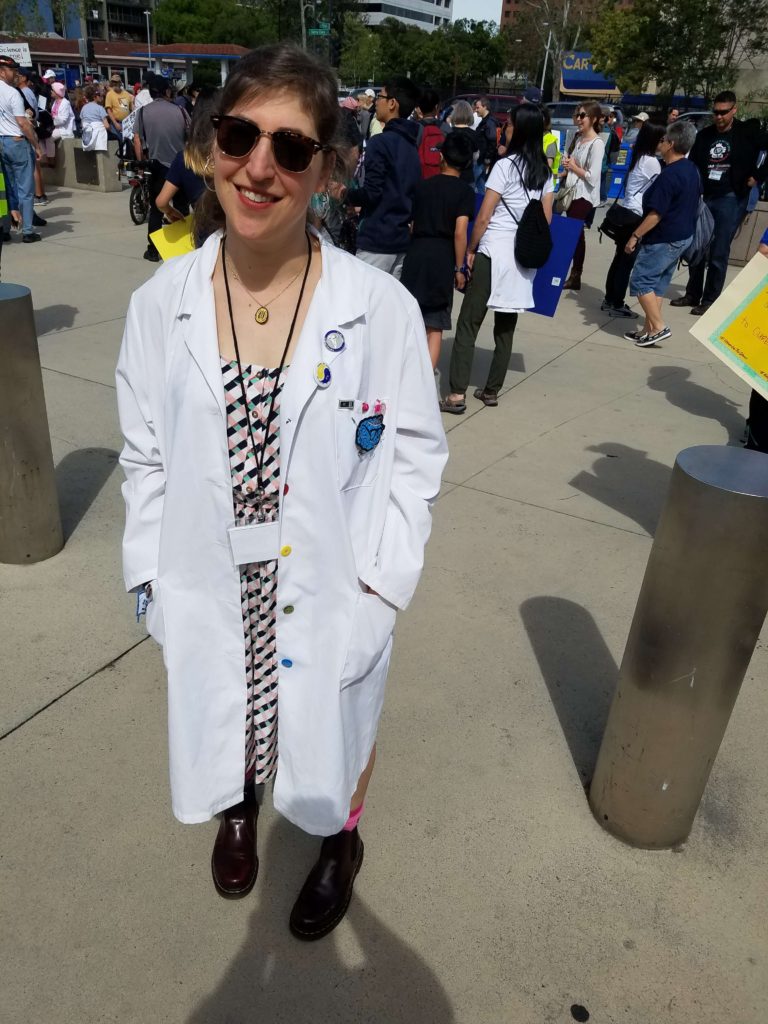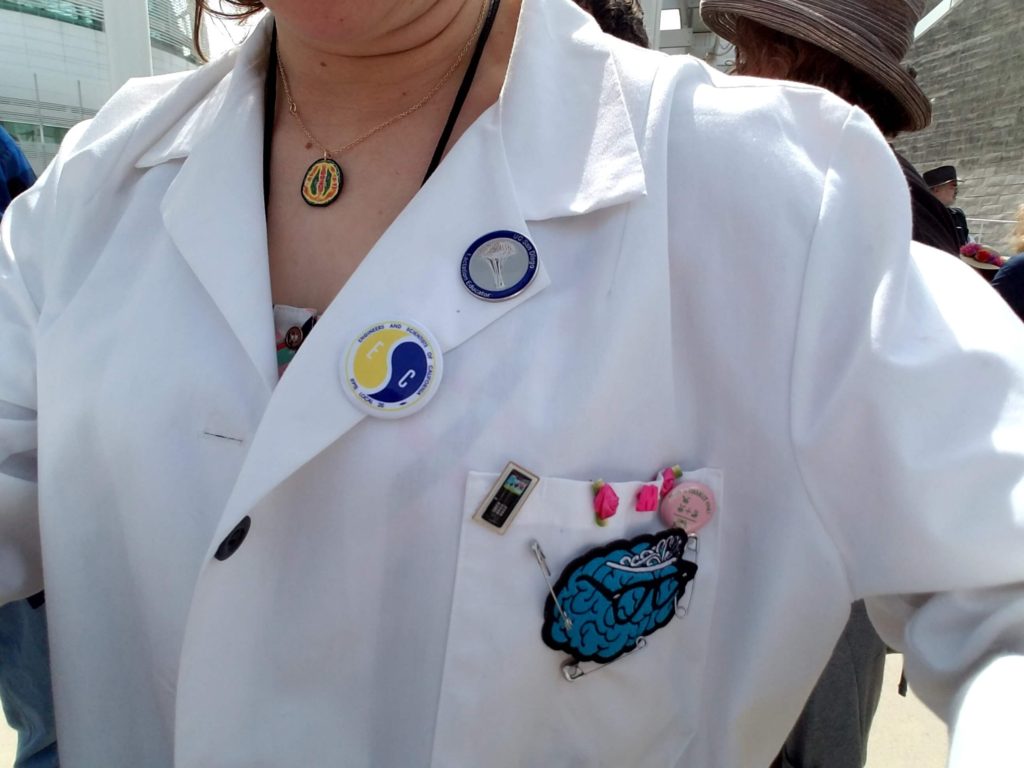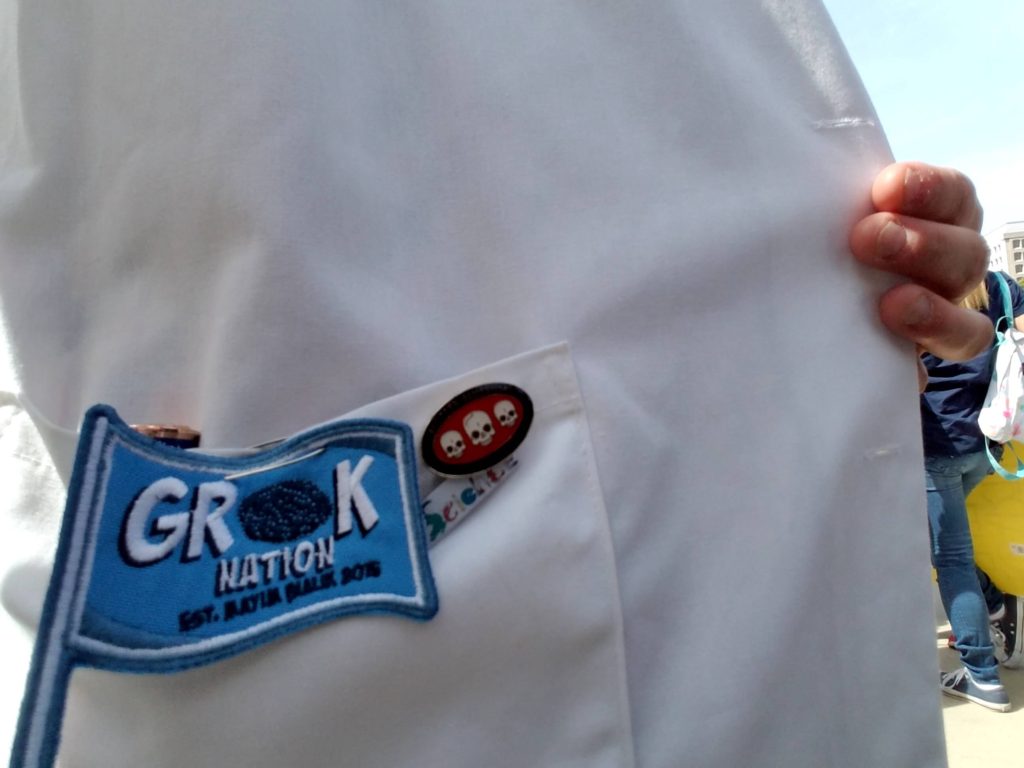 I was one of the speakers brought up by emcee (and friend of mine) Rachel Bloom (of Crazy Ex-Girlfriend). She did a great job riling the crowd up with chants such as "Science is too nuanced, For a simple chant!"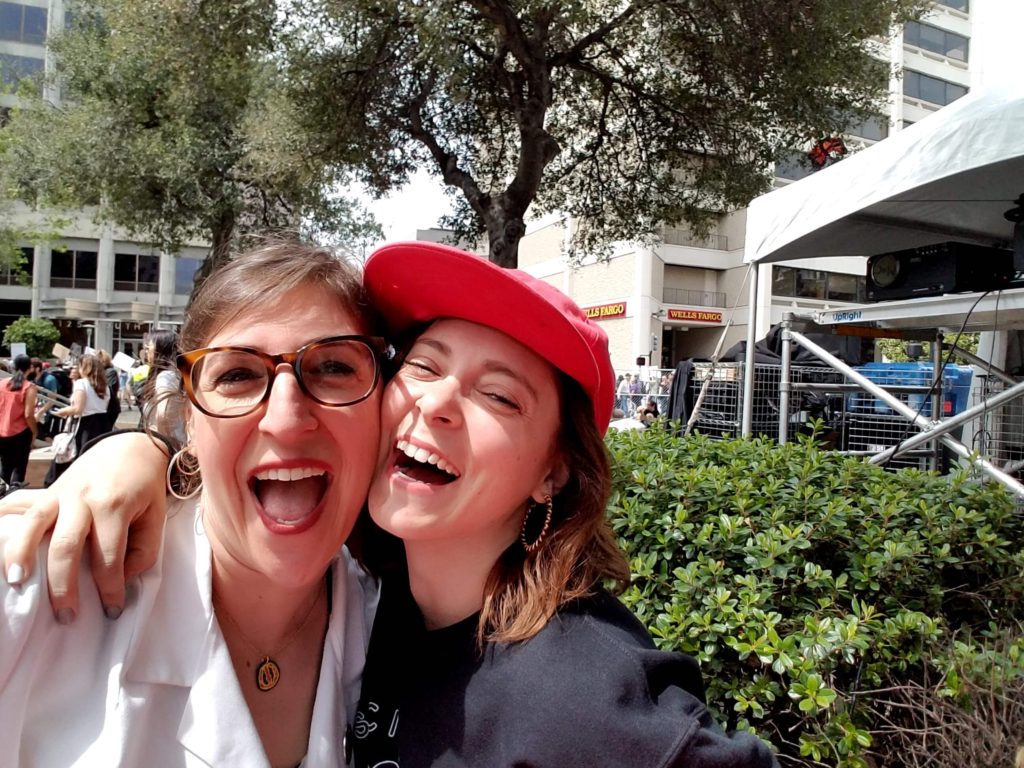 Other speakers included local activists and advocates for Black Women Coding, local politicians, and even Nobel Prize winner William Moerner (who won the 2014 Nobel Prize in Chemistry for his role in developing microscopy techniques to view molecular processes in real time). Here's me with Bill before I went on:
What did you speak about at the march?
We were given a few minutes each to speak, and we were instructed to make our talk brief, non-partisan, and positive. I decided to take notes and share about why I was there. Here are the highlights of my talk:
I spent 12 years of my life as a student of Neuroscience; in laboratories and wearing the very lab coat I wore for the march. I learned to set aside emotion and feelings in favor of reasoning, research, experimentation, hypothesis-formation, and honesty.
I spent five years after getting my PhD teaching young people neuroscience, chemistry and biology; raising the next generation of scientists who have to speak out on behalf of our communities, our families and our children to encourage the government to make science a priority. Teaching science is an incredibly important way to be a scientist; for those of us who excel at being 'science communicators,' it is our duty to help others be a part of our world.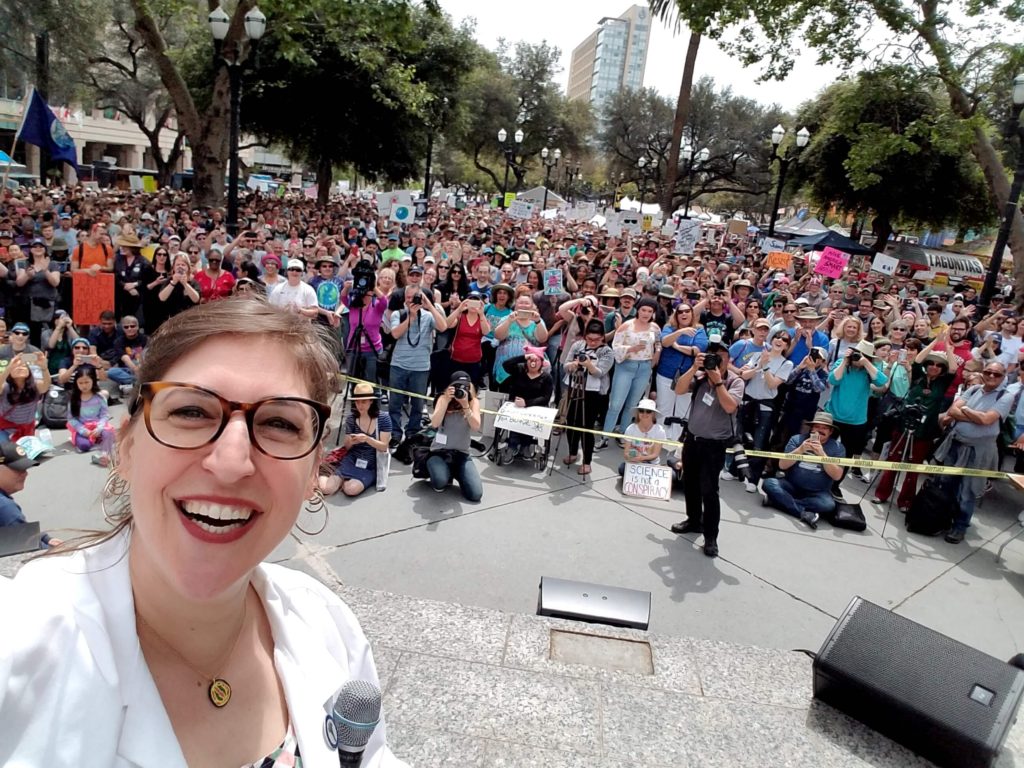 I have spent 12 years of my life as a mother to children who will inherit this planet and all of the problems we create for it. I get to teach my children the values my scientific training has given me so that they can make the world better.
I am a person of faith (as detailed in my YouTube video "Science and Religion") and I see no conflict between being a scientist and being a person of faith. I have faith in gravity, torque, pressure, and all of the wonders of the natural world. There is nothing wrong with being any kind of scientist you are passionate to be – even a religious one.
I am grateful to my ex for bringing our sons to our second family march and I am grateful my uncle and my in-laws came, too. It was a very calm and meaningful march, and it was an honor to stand up for science.
May Science continue to bless us all. And may our government place as a priority the values, principles, and ethics that the scientific world provides for us in order for us to lead productive, healthy, and meaningful lives.