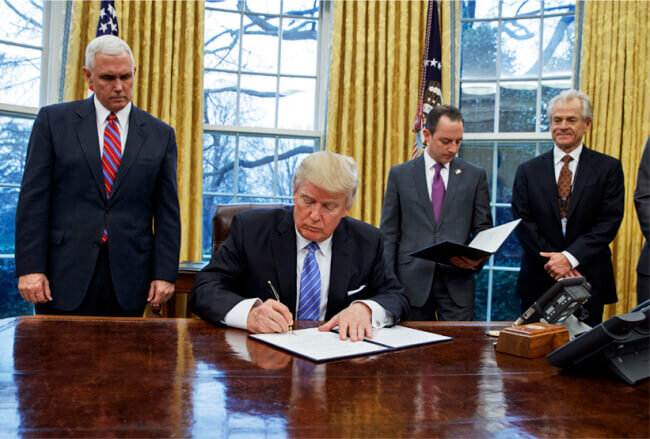 [Photo via AP/Evan Vucci]
On his third day in office, President Donald Trump reinstated the Global Gag Rule, an executive order that bans US foreign aid from going to any nongovernmental organization (NGO) that offers abortion services, or discusses abortion with its patients as part of family planning services. This order has the ability to negatively impact the lives of women and families all over the world.
It's important to note that federal funds, given to organizations both in this country and worldwide, are already banned from covering abortion. The Hyde Amendment — which is now  permanent — prevents the U.S. government from funding abortions domestically, and the Helms Amendment prevents it from funding foreign abortions (something Press Secretary Sean Spicer lied about in a press briefing).  
So, if the US already does not fund any abortions overseas, what is the point of the Global Gag Rule? This order goes even farther by forcing health organizations to stop offering their patients education on abortion as part of family planning services, or risk losing all the money that the U.S. provides for other medical services. So, even if the organization does not actually provide abortion services, they can still lose funding if they mention abortion while discussing family planning with patients. This will have a far-reaching and devastating impact on women and families everywhere.
We don't actually have to wonder how this will impact women worldwide. When George W. Bush reinstated this rule, women ended up having less access to contraception and abortion rates actually went up!
And, not only will abortion rates rise again, but unsafe ones will as well. Almost half of all abortions worldwide are deemed "unsafe," with almost 70,000 women dying from complications due to unsafe abortions (which account for 13% of maternal mortality rates). With less organizations providing medically safe abortions with trained doctors, women will have to seek other, potentially deadly, alternative methods. We know that outlawing abortion does not stop abortion. It only stops safe abortion.
PAI documented the effects of the last time the Global Gag Rule was reinstated under Bush; the impact was swift and devastating. In many countries, clinics closed and those that remained had to cut services and increase fees. The Gag Rule also led to a shortage of contraceptives including condoms and long-term birth control like Depo-Provera. Because of the lack of access to birth control, the abortion rates in many countries, particularly in sub-Saharan Africa, increased. Here is a video of Wendy Turnbull, Senior Adviser to International Advocacy at PAI, explaining how the Global Gag Rule impacted Ghana.
Put plain and simple: The Global Gag Rule not only prevents abortions, it causes the rate of them to rise significantly while also contributing to a rise in maternal mortality.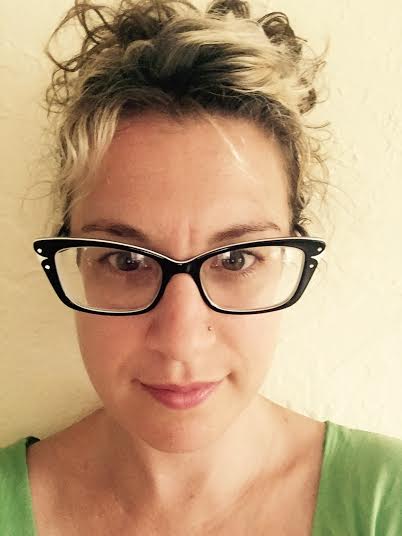 Avital Norman Nathman is the editor of The Good Mother Myth: Redefining Motherhood to Fit Reality, and a freelance writer who reports on everything from parenting to pop culture and pot. Her work has been featured in the New York Times, Cosmopolitan.com, The Daily Dot, The Establishment and more. Avital also curates the Feminism 101 column for GrokNation.