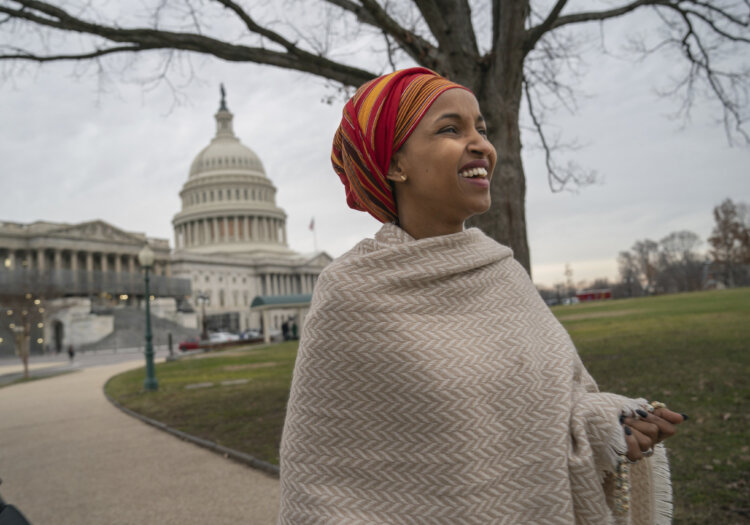 In November, a record number of women ran for various seats across the country, and won! With a new legislative session starting, swearing in ceremonies at the city, state, and national levels took place last week. It was during this time honored tradition that many of the new representatives took the opportunity to express themselves—and we applaud them all.
Whether it was Congresswomen who were sworn in wearing outfits that paid homage to their cultures and identities, or those who used books other than the traditional Christian Bible to take their oaths, these women are a visible testimony to the fact that our representatives are becoming more reflective of the populations they serve. These women are letting you know that they are here, and are ready to do their jobs, while remaining true to who they are.
Deb Haaland, Representative for New Mexico's 1st District
New Mexico's Deb Haaland, who is a member of the Laguna Pueblo tribe, wore traditional Pueblo regalia for her swearing in, including a special dress, necklace and boots. Her ancestry and Native status is not one that Haaland ignores. In fact, one of her main talking points on the campaign trail was how the fossil fuels industry has destroyed ancestral homelands and continue to damage the environment.
Rashida Tlaib, Representative for Michigan's 13th District
I used my own *personal Quran* that my best friend of 25 years gifted me to use for the ceremonial swear in (basically a photo with Speaker Pelosi).

*Note: I did not use Jefferson's Quran as reported. I wanted it to be more personal (and my own). pic.twitter.com/DRTn3EuB8y

— Rashida Tlaib (@RashidaTlaib) January 6, 2019
In addition to using her own Quran to swear on, Representative Rashida Tlaib chose to wear a traditional Palestinian thobe, partly in honor of her mother, who would hand stitch thobes at home. But the garment had more meaning for Tlaib, who told Elle: "Throughout my career in public service, the residents I have had the privilege of fighting for have embraced who I am, especially my Palestinian roots. This is what I want to bring to the United States Congress, an unapologetic display of the fabric of the people in this country. This is why I decided to wear a thobe when I am sworn into the 116th Congress." Her mindful fashion choice also inspired the #tweetyourthobe hashtag, where Palestinian-American women showed off their own gowns in support.
Ilhan Omar, Representative for Minnesota's 5th District
From my family to yours, thank you, thank you, thank you!#116thCongress pic.twitter.com/OfyTOiMMff

— Ilhan Omar (@IlhanMN) January 4, 2019
Already under scrutiny as the first hijab wearing congressperson, Representative Ilhan Omar showed up to her swearing in wearing a bright orange head covering and placed her hand on a Quran to take her oath. Later on Twitter, Omar noted how especially poignant this moment was for her daughter, Ilwad, as well as the importance of representation, writing, "somewhere in the world, young girls and women who look like us are learning to believe that they too can change the world and that no dream is too big."
Alexandria Ocasio-Cortez, Representative for New York's 14th District
A quick note to you all.

Let us never, ever, ever give up. pic.twitter.com/DqIOXj2DUB

— Alexandria Ocasio-Cortez (@AOC) January 6, 2019
Wearing a bright, white suit, large gold hoops, and a pop of red on her lips, New York Representative Alexandria Ocasio-Cortez had a message. The white suit paid homage to all the women who came before her, and all the rest yet to come, from the suffragettes to Shirley Chisholm. Her lips and hoops were inspired by Supreme Court Justice Sonia Sotomayor, who was told to tone herself down for her own confirmation, so she showed up in bright red polish. In addition, Ocasio-Cortez responded in the most perfect way to the supposed outrage over the resurfacing of a college video, where she danced: More dancing!
Kyrsten Sinema, Senator from Arizona
Arizona, let's get to work! pic.twitter.com/9NUnG5ggLc

— Kyrsten Sinema (@SenatorSinema) January 5, 2019
Kyrsten Sinema is the first openly bisexual senator, making her election a groundbreaking moment in the LGBTQ community. So it was with a delicious sense of irony that she was sworn in by Vice President Mike Pence, known for his anti-LGBTQ legislation and rhetoric. As the only person in Congress to be listed as religiously unaffiliated, Sineman declined to be sworn in on a bible, opting instead for a law book that contained both the U.S. and the Arizona constitutions. Her outfit also had folks talking, with some claiming her as a "bisexual fashion icon." And in fact, her sartorial choices were on point, though the gray faux fur stole, sleeveless top (she dared to bare shoulders!), and boldly printed skirt certainly was a departure from the more conservative attire for Congress.
If this swearing in proves anything, it's that this new class is anything but traditional.