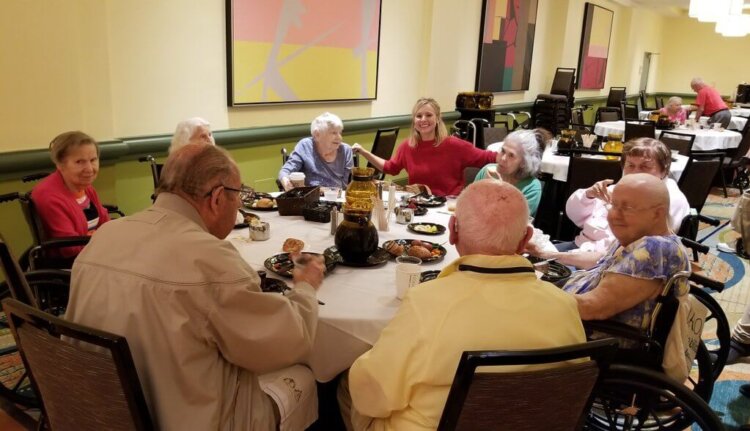 [Photo source: Twitter]
Hurricane Irma forced many in Florida to evacuate, but not everyone was able to leave, including actress and all-around-good-person Kristen Bell. Bell is in Orlando filming a new movie and was unable to evacuate. She sheltered in place at a hotel that also happened to be hosting thousands of seniors who were evacuated from their assisted living home. Instead of holing up in her hotel room to ride out the storm, Bell made the best of it by hanging out with the seniors and bringing some smiles while Irma swept through the state.
Known by many for playing the character of Anna in Disney's hit Frozen, Bell managed the seemingly impossible as Irma loomed near. Before sticking to sheltering at her hotel, Bell found a piano and someone to play it so she could put on a little impromptu performance for the kids and adults that were sheltering nearby at Meadow Woods Middle School in Orlando.
Thank you @IMKristenBell for stopping by today! @DrFritzler_OCPS @DrTrimble_OCPS @BethSharpeFL pic.twitter.com/HP5wqYZEl6

— Meadow Woods MS (@meadowwoodsms) September 10, 2017
Back at the hotel, Bell called some bingo games, made new friends, participated in wheelchair races (spoiler: she lost, but it was a close one!), ate meals with her new friends, and doled out lots of hugs.
Guys, Corey cries when she's happy too!!! #soulmates #HurricaneIrma #besthurricaneever #atriaseniorliving pic.twitter.com/NvFMg6XyZd

— Kristen Bell (@IMKristenBell) September 10, 2017
And, it probably didn't hurt that Bell found a fellow singer to serenade her as they waited for the storm to pass. Bell tweeted this video of John, letting her husband Dax Shepard know she found herself a hurricane side piece.
Dear @daxshepard1, this is john. My side piece in orlando. I hope u understand. Im powerless over a man who serenades me. #Irma2017 pic.twitter.com/YkT0MCDL7J

— Kristen Bell (@IMKristenBell) September 10, 2017
While riding out hurricane, especially when you're far from home, can be scary, Bell showed us that you can truly make the best of it. Bell's cheer, joy, and expert bingo skills are just some examples of the ways folks have been pitching in and doing what they can to help with Irma. Now, in the aftermath of the storm, the state is picking up the pieces and doing what it can to move forward.
And, just like Bell, you can pitch in and help, even from far away! You don't need to be sheltering in place with a hotel full of folks in order to make a difference. Many larger organizations are being stretched thin, especially since they are still in crisis mode, helping those impacted by Hurricane Harvey. There are many that can use a boost of donations so they can keep on helping.
National Organizations:
If you want to help with more local relief, Go Fund Me has created a landing page compiling all the individual campaigns raising money for folks impacted by Irma. Below are links to organizations in Florida and the Caribbean that are in need of donations.
Local Organizations:
Experts are cautioning against sending clothes and other supplies at the moment, as volunteers are already inundated with sorting through donations. Instead, if you're nearby and able, perhaps offer up housing for folks who may not be able to return to their homes at the moment. Or if you're an animal lover, offer to foster pets that can't be with their families. If you have a special set of skills that you think will be of use during the rebuilding in the aftermath of both Harvey and Irma, get in touch with organizations that are in need.
Whatever you choose to do, take a note from Kristen Bell: Put a lot of love, heart, and joy into helping!