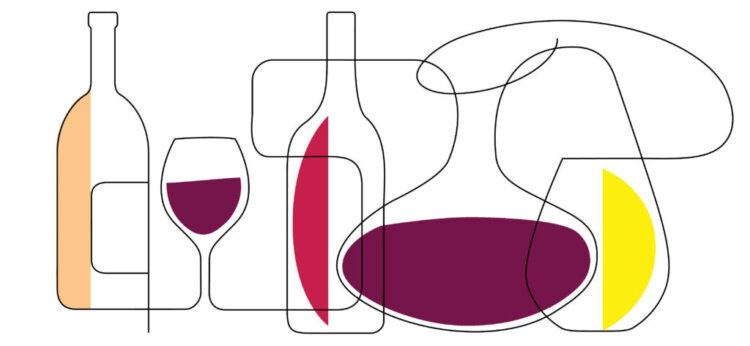 Winemaker Alicia Wilbur grew up around wine. Her family drank it at dinners and during the holidays—but it was the "boxed refrigerated variety or the syrupy sweet Kosher variety." It wasn't until she started bartending at upscale restaurants in her early 20s that she was introduced to fine wine.
"It changed everything for me," Alicia says.
Around the time of that revelation, Alicia was also becoming more interested in her Jewish heritage. She said it was as if the "stars aligned" and she saw her future: "I decided I would make kosher wine."
After switching her major to Enology (she had been attempted both Fine Arts and Zoology), she interned at a small winery in Sonoma—and she knew this was what she was meant to do. "The science combined with the artistry and physicality of winemaking called deeply to my soul," she explains.
After receiving her B.S. in Enology from Fresno State University, Alicia moved to New York for her husband's career, where they had three children, and she became a certified sommelier. She worked on the restaurant side of the industry, but in 2012, she received a call from Herzog Wine Cellars' head winemaker, Joe Hurliman, asking her to return Cali. She packed her bags.
Alicia is an assistant winemaker for Herzog, where she oversees the Jeunesse program, "a slightly sweet, youthful, fun wine program, meant to be enjoyed chilled and super fresh," in addition to Herzog's Variations project, a tour of the best Cabernet Sauvignon growing regions (appellations) in California. She spends her days "dashing between the cellar and the lab, running analysis, tasting with the team, blending wines" and more.
And being a kosher winery only adds to that workload: "We work around the Jewish holidays, a definite challenge (harvest is smack-dab in the middle of our High Holiday season)," Alicia explains. "Kosher winemaking truly provides the opportunity for creativity and out-of-the-box thinking."
Alicia took the time out of that exhaustive winemaking process to give us her wine of the week pick … Herzog Lineage 2016 Choreograph.

About the wine: "Our Lineage Choreograph is a red field blend. We went into the vineyard and saw this gorgeous, ripe block of many different grape varieties and harvested it all together. Roughly 12 different varieties were harvested and co-fermented."
The story behind it: "It started as a happy accident in 2014, something we did without really knowing what it would become or where it was destined to live in our lineup. Joe, my co-winemaker Barry Henderson, and I were tasting through the fermentations, tracking Brix (the sugar levels in grapes), and when we got to this tank we all stopped, looked at each other, and said 'Wow!' It was one of those magical moments when we all realized what a special wine we had on our hands."
Why it's good right now: "Yes, it's red. Yes, it has gorgeous structure. And I'm picking it because it embodies the best things I like about a summer wine—unpretentious, approachable, perfect for sipping on your porch while you watch the sunset."
How she'd pair it: "This is delicious served with anything grilled—vegetables, poultry, meats… and it's an excellent first course wine with meze."
Other wines she recommends: "I love to see the obscure, overlooked grapes and styles, the underdogs, come back into focus. We recently released a Herzog Sauvignon Blanc from the Musque clone, a rare clone of Sauvignon Blanc—aromatic and wholly different from New Zealand style Sauvignon Blanc. I love the opportunity to work with these unique clonal types. Also, Brothers Shimon and Gabe Weiss of Shirah Wines out of the Central Coast of California are making really interesting white wines (like Furmint!) and beautiful reds. Their current Grenache is very exciting."
Purchase Herzog Lineage 2016 Choreograph from Herzog Wine Cellars for $20.
For past picks, read all our Wine of the Weeks here.