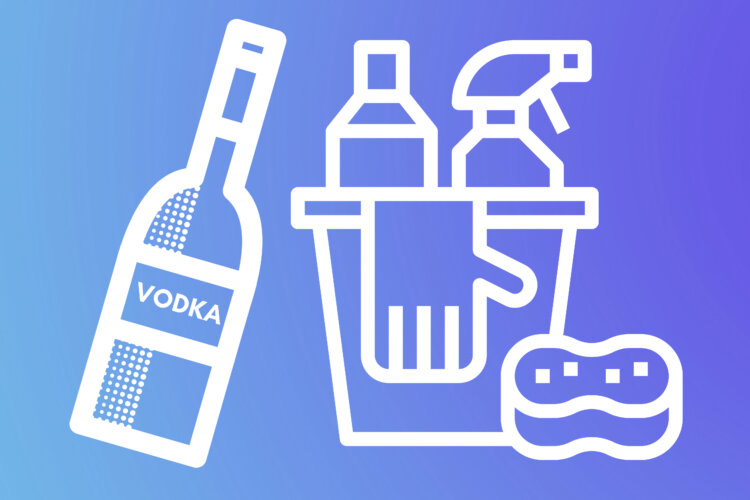 Vodka is a versatile alcoholic beverage. With its mild, smooth flavor, it goes great with something as simple as soda water or as complex as a spicy bloody mary mix. But it also has a diversity of benefits you may not have know about. In honor of National Vodka Day, we've rounded up our favorite uses for vodka in the non-traditional sense. Cheers!
Create a cleansing vodka tonic
Keep a cheap brand of vodka mixed with water in a spray bottle and you'll be amazed how often you'll need it around the home. Spray it on mold and mildew in your bathroom; let sit for about 10 minutes and wipe clean. Mist it on glass and mirrors; wipe down with a newspaper for extra shine. And spritz it on worn-in jeans, last-night's clothing, smelly shoes or musty couches for a fragrant refresh.
To make DIY vanilla extract
Have you ever really thought about the price of a tiny bottle of high quality vanilla? It's expensive! Doing it yourself at home is easy—you just need to build in waiting time. All you'll need is a large jar, a dozen vanilla beans and a bottle of vodka. You'll want at least 70 proof alcohol. Slice your vanilla beans lengthwise and drop into the jar with a cup of vodka or more until beans are fully submerged. Seal tight; shake jar once or twice a week. After eight weeks, the vanilla extract will be ready, but the longer it sits (some recommend leaving it six months), the richer it will get. Pro tip: Buy cute jars and give your creation as gifts.
Keep your paperwhites standing tall
Paperwhites, with their white floral blooms, are a beautiful indoor winter plant. The problem is the taller they grow, the more top-heavy they get, and they'll flop over. By placing a bit of vodka in with your regular watering, you can keep the blooms from growing too tall so they stand strong. And it's not just an old wives' tale: Research at Cornell University proved its true. The Spruce recommends using a 4-6% solution.
Get out stains
Have a grass, lipstick or blood stain on your clothing? Put a high-proof vodka on a rag or cloth. Blot on the stained clothing item. Make sure you don't wash the item in hot water or dry until the stain is completely out. If all else fails, take the garment to the professionals and pop that bottle of vodka for yourself.
Make it saucy
Who doesn't love a good vodka sauce? The tomato and cream is balanced by the vodka. Employ a mild, clean vodka that's at least 80 proof like Smirnoff, Skyy or Stolichnaya, and try out this recipe from Chowhound.
Soothe your toothache
Alcohol can take away your pain—but not in the way you think. If you find yourself with a toothache or swollen gums, vodka can help. Take a shot of vodka and swish it around your mouth like mouthwash for 30 seconds to a minute and spit out. You can also apply vodka to a cotton swab and dab affected areas. The alcohol should numb your pain, but we recommend making a dentist appointment either way.
RELATED: Cocktails for a crowd in 6 easy steps
Bling your rings
Vodka is great for cleaning jewelry, especially the sparkly kind. Put a little in a ring dish, and give your baubles a soak. If the item is really tarnished, leave it longer and scrub it with a toothbrush.
To lighten up pie crust
This use for vodka requires you to make your own pie crust—which too few people do these days (including myself). Using equal parts water to vodka will give you an extra flaky crust, in a way that water alone can't. Don't worry: The alcohol burns off and you won't notice a difference in taste. Try this recipe from the The Kitchn.
Know any other non-alcoholic uses for vodka? Let us know in the comments below.