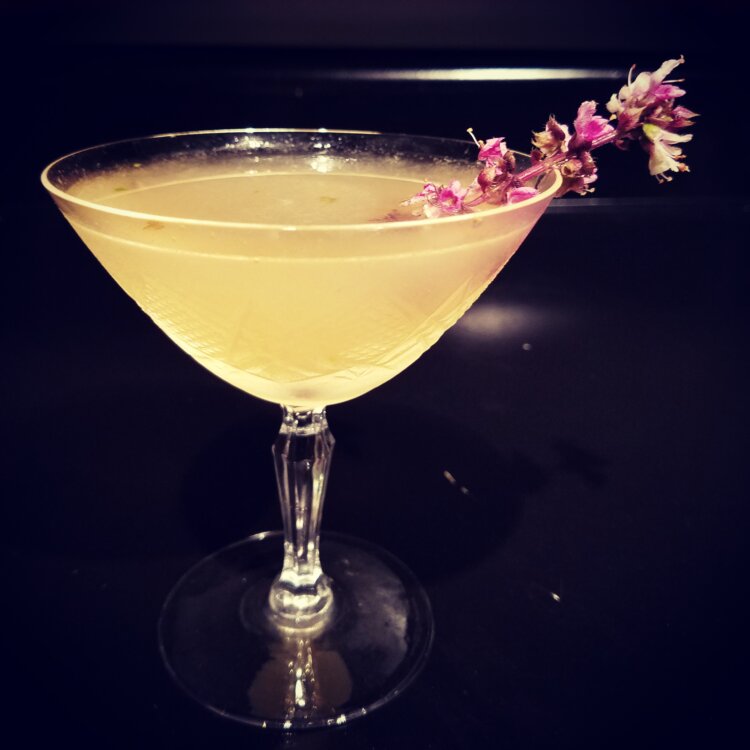 When the weather gets warm one of the first things I want to do is throw open my patio doors and invite all of my friends. I love having the chance to welcome my guests, enjoy some quality time together – and, let's be honest – make them a little jealous of my drink-mixing skills. But as much as I love hosting, having more than two guests means I'll spend all of my time in the kitchen or behind a bar. Thanks to years of overextending myself and inviting people with no regard to space or resource limitations, I've developed a few super easy tricks to streamline the cocktail-making process. Here are some of my favorites – and a recipe or two to keep in your back pocket!
Curate your bar.
When you invite folks over for a dinner party you don't take individual meal orders, do you? Why would you do the same when serving cocktails? Instead of stocking a full bar, I choose one or two cocktails to serve. It's far more economical and it saves so much effort. Rather than buying absurd amounts of lemons, limes, oranges, grapefruits, cherries, and any number of garnishes, I pick one or two cocktails whose ingredients overlap – and drinks that I can batch. (See below for two of my favorite mixed cocktails as examples.)
Batch 'em up—but hold the ice.
There's no rule that says freshly made cocktails have to be made one at a time. Sure, making a punch or batching your cocktails won't give you a chance to show off your incredible arm muscles as you shake drink after drink, but it will allow your guests to serve themselves and free you up to enjoy their company (or worry about the food). Most batched cocktails do really well if they're made a few hours in advance and if you follow one major rule: don't add any ice to your pitcher: add a few splashes of water instead.
Why water? Won't that dilute the cocktail? No…cocktails are shaken to partially chip ice and force it to melt into the cocktail. Water helps "open up" the flavors of alcohol because it changes the chemical structure. Adding ice not only helps cool down the drink but when it melts, the flavor of the cocktail gradually changes, too. (That's why whiskey drinkers often add a drop or two to their glass, too.)
To make sure your cocktail tastes great straight from the pitcher, adding a splash or two of water will take the place of the shaken ice and ensures the mixture isn't watered down by melting ice. I like to keep an ice bucket nearby and have my guests add it to their own glasses as they serve themselves.
Keep the soda separate.
I love to finish off a punch with a splash of soda water or a bubbly wine. But since bubbles dissipate pretty quickly, I like to leave the bottle to the side and invite my guests to top their glasses off with a splash as they build their own drink at the bar. It's a fun little touch to keep folks involved in the process and it'll make sure the the effervescence you're after doesn't disappear.
Prep the details in advance.
Ask any bartender what they spend the majority of pre-service prep time doing, and they'll tell you it's juicing fresh citrus. Now if you're expecting me to say just switch out fresh citrus for the bottled stuff, well, stop: fresh citrus juice is what turns a fine cocktail into a really great cocktail. Frankly, it's non-negotiable.
So take a cue from all of those busy bartenders: juice your citrus in advance. Fresh citrus juice lasts in an airtight container for about a day. Try to make your last-minute cleaning a little less last-minute and take the "right-before-party" time to juice your citrus instead. It'll be worth it.
Get the good glasses. And don't forget the garnish….
Of course we shouldn't judge a book by its cover, but presentation matters. Choosing a fancy glass can make your frat party cocktail look like Hollywood royalty. If your cocktail is served over ice, choose a rocks glass. If your cocktail is served without ice, serve it in a glass with a stem, like a coupe (an old fashioned champagne glass) or a martini glass. And creating a garnish – a fancy cherry on a toothpick or some thinly sliced lime wheels – are always great additions, showing that you took the extra care to assemble a delicious drink that also looks great.
Put your skills to the test.
Here's the fun part. Here are two of my favorite batchable recipes for you to put to the test: prep them in advance of your next party, so you can join your guests in sipping, noshing and enjoying..
Sparkling Black Plum Punch
Serves 6
Ingredients:
9 ounces rum (any kind you like, just not spiced)
6 ounces fresh lime juice
3 ounces fresh lemon juice
4.5 ounces black plum syrup*
2 ounces water
Sparkling Wine (such as Prosecco or rose)
Hibiscus bitters (optional)
Instructions:
Combine all of the ingredients (except the sparkling wine) in a large pitcher. To serve, pour into a rocks glass over fresh ice and garnish with a lime wheel or a small plum slice. Top with a large splash of sparkling wine.
*To make the plum syrup: Combine 5 diced black plums (skins on), 1/2 cup of sugar and 1 cup of water in a sauce pot and bring to a low boil for 10 minutes. Cool the syrup and strain it well. It will last about two weeks in the refrigerator.
Thai Basil Daiquiri
Serves 6
Ingredients:
12 oz. rum
6 oz. fresh lime juice
6 tablespoon sugar
1/4 cup water
A large bunch of Thai basil leaves
Sprigs of basil flowers to garnish
Instructions:
Muddle the basil leaves, sugar, and water together gently in the bottom of a pitcher. Add the lime juice and rum and let the leaves steep in the mixture. Place the pitcher into a tub of ice or in the fridge to chill. Strain into a stemmed glass (no ice) and garnish with a sprig of basil flowers or a few smashed basil leaves.