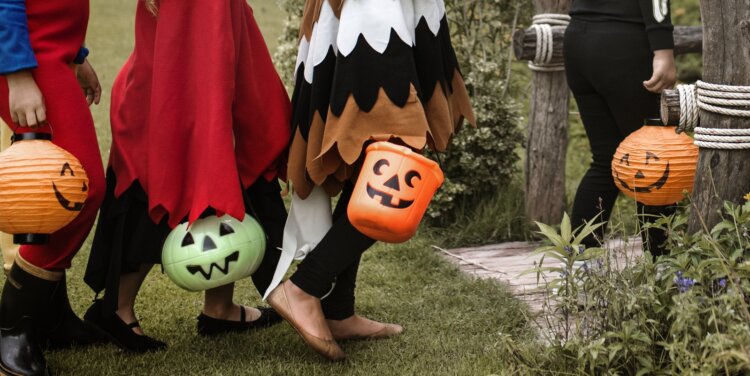 Halloween has always been my favorite holiday. As a kid, I dressed up as a cat and went trick or treating with my sister in Toronto. When I was a teenager, I hit some rockin' house parties with high school friends. In my 20s living in Hollywood, I went to the spookiest and loudest parades and gawked at incredible costumes. In my 30s, when my son Noah was born, I carried him up and down the street trick or treating before he could walk and dressed him up as my kitten. For the next decade and leading up to now, our Halloween traditions have included carving pumpkins, roasting pumpkin seeds, decorating our home in flashy dollar store decorations, and eating tons of treats.
Flash forward to present day: We have been vegan for more than seven years. I became a vegetarian at 7, when I realized cows, pigs, and chickens are killed for food. I raised Noah, now 12, as vegetarian, but when he was 5 I began to learn the truth about the dairy and egg industries and was horrified. Noah is passionate about helping animals and even at that young age refused to participate in their suffering after I shared basic age appropriate information with him. So I organized a "vegan weekend" and researched new foods, proteins, calcium, B-12, and other health info. Then we did the 30-day vegan PETA challenge. I stumbled many times, but Noah inspired me to keep going with his passion and love for all animals.
But what about Halloween? A huge part of our favorite holiday was trick or treating and gorging on mini chocolate bars all made with dairy. What's a vegan mama to do? Here are some tips that got us through the past seven Halloweens happier than ever.
Sort and switch
You don't need to give up trick or treating. I stock up on vegan goodies, some healthy and some junky indulgences. On our first vegan Halloween, we sorted Noah's loot into two piles – vegan and non-vegan. It was also a good way to teach him about hidden non-vegan ingredients like gelatin. I created a mini store in our kitchen where he happily exchanged his loot for vegan items. It was fun and he got to barter for the better treats. It costs him several handfuls at my store to gain one Cleo or Snap Go Max Go vegan chocolate bar or rice chocolate Sun Cups from Free2b.
RELATED: A junk food lover attempts being vegan for a week
Let kids trade their loot
I heard through the Halloween grapevine some parents let their kids trade non-vegan items for plant-based treats with neighborhood kids. There are plenty of things to trade for such as chips, pretzels, candies, and accidentally vegan items such as Twizzlers, Nerds, Sour Patch Kids, Skittles, and classic Rockets from my own childhood that have actually been vegan for almost 50 years. This plan works if your kids understand and read ingredients.
Other parents exchange treats for handmade tickets—each handful or bag of non-vegan treats gets them a ticket. Then they use the tickets to get a spooky-themed Halloween toy. It doesn't have to be expensive, in fact buying Halloween toys after the holiday reduced for clearance is a win. Other small items could be hockey cards, mini Lego packs, books, small animal figures, and arts and crafts.
Donate everything non-vegan
Throwing out Noah's non-vegan loot was never an option. For the past eight years we have been making sandwiches several times a year to bring to people living on the street. So it seemed like the perfect solution to pack up his non-vegan treats and give them out to familiar faces, and new ones. Sometimes we add little touches like inspiring notes, stickers and gift bags tied with ribbons. One year to be funny I included mini toothpaste and toothbrushes and it ended up being hugely successful with everyone smiling. Other ideas include donating the non-vegan food to shelters, community centers, or taking everything to work and letting your coworkers dig in.
Organize or attend a vegan Halloween party
Angela Shintani-Sandrowicz, a Toronto vegan mom of kids ages 8, 5 and 2, hosts a Halloween party. "I love having the opportunity to share delicious vegan treats with kids!" Angela says. "Being inclusive to non-veg kids with food allergies is important to me, too. As is making sure that chocolates are fair-trade and treats are palm oil free."
Angela continues, "I hold a Halloween party every year. This gives vegan kids a chance to freely eat whatever treats they want and just enjoy themselves! We've also used it as a time to collect money to give back to our community. In the past the kids voted on Wishing Well Sanctuary!"
Anouk Frolic, vegan mom to 4-year-old Marin, explains, "We've gone to the all vegan Halloween parties that Angela hosts because it's a safe place for the kids to eat whatever is put out for them and they don't have to feel left out of the general Halloween indulgences."
These parties are organized through Facebook groups and are also a great way to meet like-minded families. If there isn't a vegan party in your neighborhood consider hosting one. If you don't have the space, request families chip in and rent a room in a community center or go to a park.
Lead by example
We live in a building where handing out treats isn't possible. But if you live in a house, it's a great opportunity. I asked Anouk what she hands out. "Skittles, some of the Maynard candies, bags of Old Dutch chips, and this year I bought a box of mini Made Good bars from Costco, also Spookies from New Moon Kitchen," she shares. "I also buy stickers or bags of small toys from the dollar store to give out."
Another idea is the Teal Pumpkin Project. It was created for kids with food allergies but is something wonderful that anyone can participate in. The idea is to encourage inclusion of all trick or treaters and provide non-food treats for kids. To participate just place a teal pumpkin in front of your home as a sign you are giving out non-food items such as stickers, pencils or small toys. It's slowly becoming a worldwide movement and the more people that participate the better!
If you want to make your own vegan Halloween goodies there are lots to choose from including these delicious vegan pumpkin chocolate chip muffins by Minimalist Baker and mouth watering pumpkin oatmeal squares by Oh She Glows. Or for a spooky themed treat The Lazy Vegan Baker has created gut-sy spider cupcakes perfect for a ghostly surprise. See our favorite candy picks below. And if you have a favorite vegan Halloween treat, let us know about it in the comments. (You can click on the comment icon at any time to jump straight down there!)