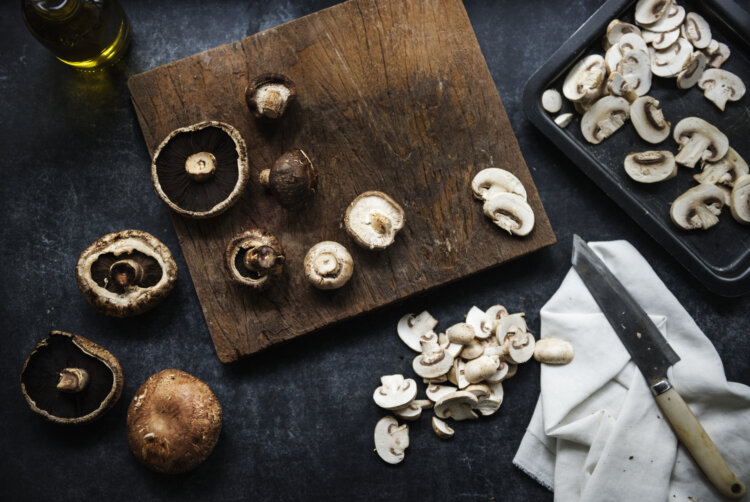 As we make our first steps into 2019, many lists will be created that attempt to forecast the year to come. And while best cars, cell phones, and must-see TV all sound great, we have what literally everyone needs to live: food! We looked at the stats and spoke to some experts to find out what edible trends we'll be seeing in the new year. While healthy eating is the biggest trend, there's still some room for a little indulgence. Whether you're a foodie or just a lover of life, you'll want to give some of these a try.
Here are 15 trendy food items worth adding to your shopping list this year.
Small Bites
Snacking is going to become a posh affair in 2019. Look for demi-baguettes, single serve cheese boards and charcuterie for one. "Charcuterie boards will continue to be popular in 2019, but I have seen a switch over to meats like Iberian ham from Spain instead of Prosciutto," says Alexander Attart, director of operations Tapa Toro and Taverna Opa Restaurants in Orlando, Florida.
Retro snacks like mini cheese or peanut butter sandwiches, and marshmallows are going to be making a comeback but with an upgraded look. Check out Smashmallow's far out flavors like root beer float, or their Smashcrispy, a flavorful spin on the traditional Rice Krispie treat.
Anti-Aging Foods
"These will become increasingly popular in the next couple of years as we embrace the ongoing research into longevity," says Isabella Abrams, M.A., NNT, and BACH nutrition expert.
Stock up on vitamin-rich fats such as olive oils, avocado, fish, eggs, unprocessed grains, and nuts.
Colored vegetables will continue to grow in popularity. "A mix of yellow and red veggies mixed with high-quality cold pressed olive oil is not just Mediterranean heaven, but also a massage for the skin," says Golan Raz, Head of Global Health Division at Lycored.
Heirloom tomatoes dressed with olive oil support the skin's resilience to environmental stress. "Tomatoes contain a natural mix of carotenoids that are scientifically shown to support healthy skin," says Raz.
Meatless Alternatives
2019 will see an increase in plant-based products in our diets.
One trendy alternative is jackfruit, which has started to see a recent rise in popularity, and will continue to inspire vegetarian tables in the new year with dishes like BBQ Pulled Jackfruit Tacos and Teriyaki Jackfruit Sushi Bowls. "There are more customers asking us for vegan choices," says Attart. "So our chef will tweak our recipes."
Faux meat products like "pork" rinds and fake bacon will be featured in various recipes from snacks to high end dining.
Mushrooms are a great meat alternative, and they offer the bonus of contributing to our tummy health because they have prebiotic qualities and improve the growth of good bacteria. "Awareness around the microbiome in the gut and mouth has grown in the last couple of years," says Abrams. "Mushrooms are an excellent choice of prebiotics to help stimulate and improve gut health."
Sea Vegetables
These have become the latest food items to be enshrined into the superfood category.
"Sea vegetables are a rich source of vitamins, minerals, and phytonutrients," says Abrams.
Add nutrient-rich seaweed to your grocery cart next time you head to the store. It is great in a salad or in lieu of lettuce on a sandwich.
For those wanting to curb their cravings for carbs, Abrams suggests Arame, Dulse, Hijiki, Kombucha, Nori, Wakame. "Use only 1 teaspoon on a daily basis for long-term health benefits," says Abrams.
Beverages
Now that 33 states have legalized marijuana in some form, CBD extracts will be showing up in the commercially produced drink market. For folks who are interested in lowering their stress and anxiety, keep an eye out for CBD infused beers, teas, and even coffee.
Not a fan of CBD in your morning Joe? No worries butter, or "bulletproof" coffee will continue making a splash. When made with high-quality coffee and healthy fats like butter, the drink is not only tasty, but can banish brain fog, balance gut bacteria, and helps reduce caffeine jitters.
And for the tropical drink lover, guava, dragon fruit and passion fruit will be the En vogue choices for your smoothies and late-night cocktails such as this creamy adult beverage:
Mount Guava  
1.5 oz of Mount Gay Black Barrel Rum
1 Part Guava Juice
1 Part Cream of Coconut
Combine all ingredients in a shaker with ice. Shake and strain into a highball glass with crushed ice.
Sweets
Artificial sweeteners continue to be phased out, while individuals and companies turn to more natural sources.
Monk fruit, which is also known as luo han guo, was introduced into Starbucks a couple of years ago. Look for it to be more readily available in 2019. This ultra-sweet-tasting fruit can be used instead of table sugar.
To satisfy a sweet tooth, Golan says that true dark chocolate will be a must-have. "It the earth's tastiest secret," he says. "Pick one with a minimum of 85 percent cacao."