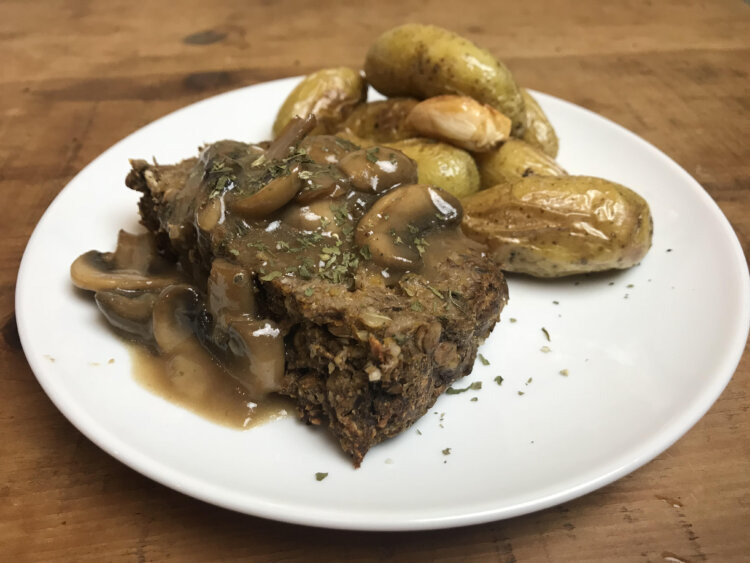 It's that time of year where everything is coming up pumpkin spice! But did you know that pumpkin and other winter squashes can be used in all kinds of recipes, not just pies, cakes and lattes? You can put winter squash such as butternut, honeynut, delicata, kabocha, sugar pumpkin and acorn in dishes where you would add sweet potato, beets or other root veggies. They are hearty, sweet and packed with vitamins. I like to put them in curry and stew, and they are a stellar addition to this vegan veggie loaf.
Growing up, my mom's meatloaf with mushroom gravy and a side of whipped potatoes was my favorite dish. But since I've moved to a plant-based diet, I decided to see if I could create a veggie-packed version that would satisfy my taste buds and my nostalgia—and this does the trick!
This veggie loaf is moist with a nice crusty outside and is packed with flavor. It's filling and hearty thanks to the flax and walnuts; copious amounts of mushroom gravy poured on top definitely doesn't hurt. This is a great dish to curl up to on long fall and winter nights. It's also a great, non-traditional use of pumpkin!
Pumpkin Veggie Loaf Recipe
Ingredients for Loaf:
1 cup of roasted and mashed flesh from pumpkin or other winter squash
1 cup of cooked green lentils
3 cups (about 22 oz.) of minced mushrooms (I used a combination of crimini and shitake, but you can use button or any combination you like.)
1 small onion
3 cloves of garlic
1 teaspoon of dry thyme
1 teaspoon of dry parsley
1 teaspoon of dry sage
1/2 teaspoon celery salt
1 teaspoon sea salt
1/2 cup of minced walnuts
1 Tablespoon of Tamari
1 cup of oat flour
1 cup of Panko breadcrumbs
1/4 cup of ground flax
Ingredients for Gravy:
3 dried porcini mushrooms
2 1/4 cups of boiling water
16 oz. sliced button or crimini mushrooms
2-4 Tablespoons of vegetable oil (canola, safflower, grapeseed, etc.)
2 Tablespoons of all-purpose flour
1 Tablespoon Tamari
Salt to taste
Instructions for Veggie Loaf:
1. Preheat the oven to 370° F.
2. In a food processor; mince the mushrooms, onion and garlic. Depending on the size of your processor you may have to do this in batches. Or you can always chop by hand!
3. Put mixture in a large bowl with remaining veggie loaf ingredients and mix with your hands. It should feel like a moist dough.
4. Lay a strip of parchment paper into a loaf pan so that it is easier to lift out after cooking.
5. Spoon the veggie loaf mixture into the loaf pan and place in the oven to bake for 50-60 minutes.
6. Remove it from oven and let cool for 10 to 15 minutes. Carefully remove from the loaf pan and slice into 1-inch slices.
7. Serve with gravy and roasted or mashed potatoes.
Instructions for Gravy:
1. To make mushroom stock: In a heatproof bowl, add the dry mushrooms and pour the boiling water over them. Let the mushrooms steep for at least an hour. Then puree the hot water and mushrooms in a blender and strain through a fine mesh sieve. You should have two cups of
mushroom broth. (You can also use store bought mushroom stock.)
2. Pour 2 Tablespoons of oil in a large saucepan and heat on high heat. Add the sliced mushrooms and brown on each side. Make sure not to crowd the pan or they will steam instead of browning. You may have to do this in batches and add oil in between batches.
3. Add enough oil to pan so that there is 2 Tablespoons of oil (if not enough remains). Then add the flour and let it cook for a couple minutes until the flour has deepened slightly in
color. Then add the mushroom broth and whisk vigorously to prevent lumps from forming. Then add back the browned mushrooms and Tamari.
4. Taste and add salt if needed. Cook until gravy is nice and thick.
Scheherezade Daftary is lead instructor and owner of Delightful Table, a plant-based zero-waste cooking school in Los Angeles and online. She offers delicious, vegan, organic cooking classes that focus on zero waste and ecological and sustainable farming practices. You can find more of her vegan recipes and info on classes on her website.