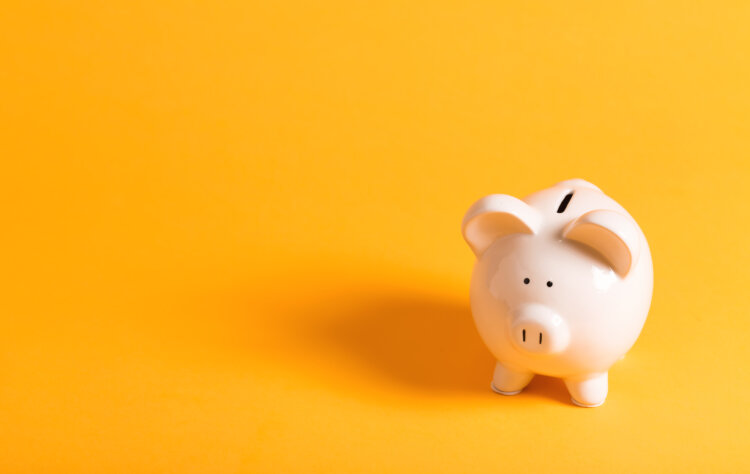 I've never had much of a budget. Since I work hourly and my paycheck varies week to week, I deemed it impossible to stick to and unnecessary to create. And somehow that ingenious plan worked for about a year. It probably helped that I don't buy expensive things often; I'm more into food, drinks, and beauty products. For a splurge, I might buy an eyeshadow palette from Sephora or the occasional pair of shoes if DSW is having a sale.
And then one day, my fly-by-the-seat-of-my-pants "budget" stopped working. Because I had been an independent contractor for a third of year and had taxes taken out the other two-thirds, I thought it would all even out and I wouldn't owe much. I was very wrong. I ended up owing about $4,500—which cleared out my savings account and then some.
Needless to say, to keep my account in the black, I needed to make some changes. And not being one for moderation, I decided my only option was to stop spending completely… or almost. The rules were simple: I would only pay for the necessities—rent, utilities, cable (which isn't a necessity, but I split it with my roommate sister so I can't really cancel it temporarily), a Metrocard, MoviePass (again too hard to cancel temporarily) and Planet Fitness (not that I really go to the gym, but I can't have even more of a reason not to go).
Other than those necessities, I allowed myself $30 for groceries each week. If I spent money on anything else, it had to come out of the grocery budget or I had to find a way to pay for it other than my bank account. I planned to babysit—or sell some blood plasma if I got really desperate.
My goal was to do the spending freeze for at least two weeks, but I really wanted to go the whole month of May.
The first day I was feeling great. How hard could this be? I was thinking about what groceries to buy with my $30. Then I get a text from my sister telling me that our laundry came back from the wash and fold, and I owed her $34. And there went my grocery budget for the week! For the extra $4, I had just sold two items of clothing on Poshmark to cover it. Luckily, we had enough random food in the freezer and cabinets—cans of tuna, frozen chicken nuggets, etc.—for the week.
How hard could this be?
That Friday my friend invited my to a press event for an opening night of a springtime bar. Free drinks and hors d'oeuvres sounded like a perfect outing for someone not spending money. But after quite a few free drinks, everyone wanted to eat at a restaurant across the street. Keeping to my fast, I told them I couldn't go. But it was a family-style restaurant, so they offered to just share some of their food. I think once the $300 bill came, no one was happy about that scenario except for me.
The next day, I went to a friend's birthday party. My fridge was running low, so I was never more happy to see snacks at her house. I don't think I've ever eaten so much at a party. On Sunday, I made a risky choice and decided to go on a date. Normally, I would offer to pay for my share, but I told the guy about my spending plan ahead of time and he offered to share a popcorn and coke at our movie. (I used MoviePass, so the ticket was free.) He even took me for drinks and guac after the movie. I was starting to think maybe I should just go on a bunch of dates throughout the month…
The next week, I went to the grocery store and realized I am terrible at mental math because I was $4 over my $30 budget at check out. Other than that, I planned to have a week of zero expenses. Then I get an email saying my birth control had auto-shipped, which I forgot about, so I was out $45. Then later in the week, my job told me I needed to renew my TB test (required by the state to work in a school). Obviously this was a necessity and I'd lose my job otherwise. I searched around to find the cheapest PPD skin test since my insurance didn't cover it. CVS had the best prices, but not only did I have to shell out $35 to get the test, two days later I had to pay $30 for them to read the test.
During this time, I started seeing a lot of stuff about matcha tea. I desperately wanted to try it since all the Instagram models I follow (like The Blonde Files and Downshiftology) drink it. It obviously wasn't in my budget, but then I remembered the one perk of my private insurance provider: They give me $1 on an Amazon gift card for every day I walk 10,000 steps. I was able to buy the matcha with the money I had accumulated—but it was severely disappointing. It tasted like ground up leaves, which I realize is what tea is, but it still shouldn't taste like it! I should have known since the Instagram models had tricked me into thinking an Aperol spritz would taste good, too. (By the way, I have a ton of matcha left. Anyone know a way to make it taste good? Will it help if I buy the little stick thing, so it isn't lumpy?)
I was starting to think maybe I should just go on a bunch of dates throughout the month…
I didn't want the spending freeze to wipe out my social life, so I stuck to my monthly Harry Potter bar trivia. (I'm actually quite bad at it, but I enjoy the company.) It was a little sad drinking water while everyone else got to have a frosé, but I survived. That weekend a friend came over for a dinner and movie night, so I was able to be somewhat social without cracking out my debit card or salivating over other people's frozen drinks.
Target is a little farther from my house than other grocery stores, but I decided to do my grocery shopping there for the third week since I could use their coupon app, Cartwheel. I was $10 over with all the food I had in my cart (essentials like Oreos and a frozen pizza)—but with the coupons, I was able to come in just under budget. The week was fairly uneventful, with no pop-up expenses. And my third weekend was very boring: My friends were either out of town or doing things that involved money–but at least I had my junk food to keep me company.
That weekend I had a genius plan to get a free pizza from my Domino's Piece of the Pie rewards. (Yes, I live in NYC and order from Domino's. Don't judge me.) But I ended up adding cinnamon bread twists—I can't resist—and with delivery, I spent $16! So really it was not a "genius plan." And then, I needed some ice cream and Cinnamon Toast Crunch and spent another $10. This left me with $4 for groceries on week 4. How was I going to survive on $4 for a whole week!? It was a mystery. And a mystery that was never answered…
My friend had previously invited me to her birthday dinner, but I declined because of my spending plan. However, I felt bad saying no to a good friend's birthday party, so in the end I went, spent $150 more than I would have liked, and broke my fast.
Even though my spending freeze didn't last the full month, I think the exercise was definitely needed. If nothing else, I was able to build up my savings a bit (over $700!) in the process. But more than that I'm trying to keep to my budget—yes, I actually have one now! Even though I still get varying paychecks week to week, I budget based on the minimum I expect to receive. Then whenever I make more money than that, I either put it straight into savings or allocate it to something else I need. Would Dave Ramsey or Suze Orman approve? Who knows? But it's working for me so far.
For the most part it's helped me be more mindful of my spending. Yesterday, I bought three pairs of sunglasses at Marshall's, but I didn't let myself buy any beauty products. And if that isn't financial growth, I don't know what is.