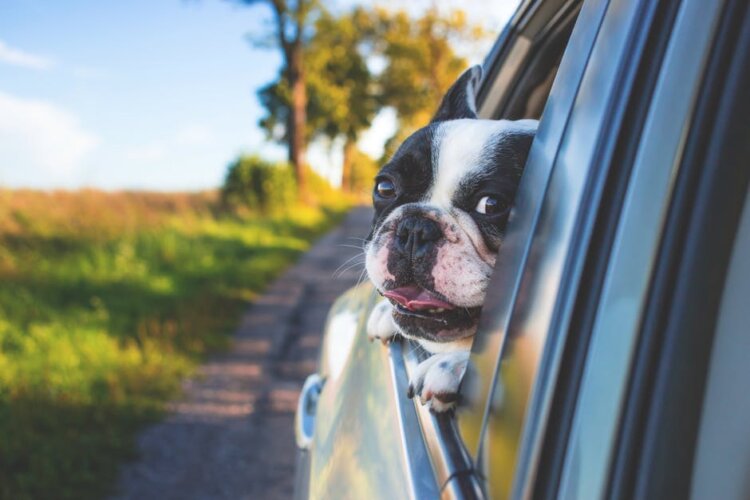 I am the first one to admit that I'm an over-the-top dog person. My first word may or may not have been "dog." I have five large, visible tattoos about/for my dogs. I spent my teenage years competing with my dogs in obscure canine sports (making me very popular at my high school). Now my partner and I share our home with three cats, and three dogs ranging in size from 6 to 100 pounds, and 21 months to 18 years old.
I'm also a certified trick dog instructor and spend my free time teaching dogs silly tricks (my two youngest have Elite level and Champion trick dog titles) and taking the dogs on fun adventures at the beach and in nature. Let's just say that doesn't make me the typical New Yorker…
Animals are the only children that my partner and I have any intention of having, so most major decisions we make revolve around what is best for them. Two years ago, when our co-op apartment building began to initiate some anti-dog policies (like wanting all dogs over 40 pounds to be muzzled in the hallways and trying to ban dogs from using the building's elevators) we put our apartment on the market and moved.
Our middle pup Charlotte is a former street dog/special needs rescue who struggled with the stress of living in a high-density apartment building. As our building became less dog friendly, we re-evaluated our priorities and moved. My partner and I were able to buy a townhouse—in a decidedly un-sexy neighborhood in outer Brooklyn (the only place we could afford a house) with a small yard that felt like an oasis. Yet, it was a neighborhood that was perceived as being so far out of the city that most of our friends refused to come visit. Sad, yet for us, the trade off was worth it.
Charlotte's life became measurably better when we were able to move her to a house, but it didn't fix the weather systems in the region, namely the frequency with which New York experiences thunderstorms. Charlotte has a severe thunder phobia and is most impacted by changes to barometric pressure. Even being heavily medicated (yes, my dog has a Xanax prescription among other psychiatric medications), wasn't enough to eliminate the self-harming behaviors that happen thunderstorms. This summer was frequently stormy, leaving my partner and I mostly housebound in order to keep Charlotte safe (thankfully we both work from home).
Then, our youngest dog Sirius, a 21-month-old Newfoundland, tore ligaments in both of her knees, and requires major reconstructive surgery, something that's just not doable in a 1930s townhouse with practically vertical stairs. Consulting with surgeons confirmed that the best option to provide ideal post-surgery recuperation was to move.
Even before the idea of surgery was brought up, we weren't living in our house the way it was meant. Because of Sirius's knees, she's unable to use the stairs, and at 100 pounds she's not that easy to lift, so we slept on an air mattress downstairs to be with her. Even though we love our home and had renovated most of it, our family comes first. So this month, my partner and I did the only thing that felt logical: We put our house on the market and prepared to move the entire family—dogs and all—cross country.
RELATED: A not-so-great dog grooming at home story
Our Brooklyn townhouse is up for sale and we have rented a one-level ranch with a big yard in Portland, Oregon. Moving to Portland is about meeting the immediate medical needs of our big dogs, but it's also about making a larger lifestyle decision that has been coming for a long time. Beyond the health issues of our animals, this move is about centering my pet focused values –and way of life– by moving to an area where we have easier (and cheaper) access to outdoor adventures in nature, and where we'll have more of a peer group who are less interested in going out on the town, and more into going for a hike on the weekend.
The logistics of our move took all six animals' preferences and emotional and physical needs into account. Because of the number of pets, as well as their varied sizes and ages, flying was not a safe or humane option, so we ended up planning a cross country drive.
I'm actually writing this from a hotel room in Laramie, Wyoming, having just finished day five of what will take eight days to drive cross country. Our route and how much we can travel in a day revolves around the needs of our cats and making sure they have ample time every afternoon and evening to come out of their carriers to relax in the hotel room (and also give the dogs daily down-time). We could most likely make this drive in about four days, but for the safety of our elder cats, it's taking us double that. Putting their needs first also means that either my partner or I run out to grab take out each night so that the animals are never alone in the hotel, and foregoing all sightseeing to avoid leaving any of the animals alone in the car during the day.
NYC can be a great place to live and I loved the 12 years we spent there: It enabled me to jumpstart my literary career, I had amazing access to artistic opportunities, and most importantly the area brought our three youngest fur-babies into the family. Ultimately though, I feel like I accomplished everything I wanted to do in New York, and while I was able to work really hard to build a quality and enriching life for my dogs in the city, NYC is a challenging place to raise happy and well-adjusted dogs. This is especially true in trying to access to nature, training, and sport classes, all of which matter a lot to me and my dogs.
I know that prioritizing my pets when making big life decisions might be seen as excessive to some people, or may be more extravagant than others can manage, but I think anyone with a pet can and should think more about how to center those animal's needs and wants when making decisions. I believe this is true when it comes to small lifestyle choices like deciding if you're going to meet up with your coworkers for drinks after work, or committing to weekend plans that let you spend time with your dog, as well as big lifestyle decisions like where you live and what kind of home you buy or rent.
Dogs shouldn't just be accessories to improve our Instagram presence, they deserve our focus and attention not just when we're taking a cute picture. Dogs do so much for us: they bring constant joy and fun to our lives, and research has even showed their companionship is healthy for us, lowering our blood pressure, and reducing stress. I think it's the least we can do to rearrange our lives and living situations to make them more comfortable, and accept them for the individual animals with likes, dislikes, needs, and wants. Don't you?