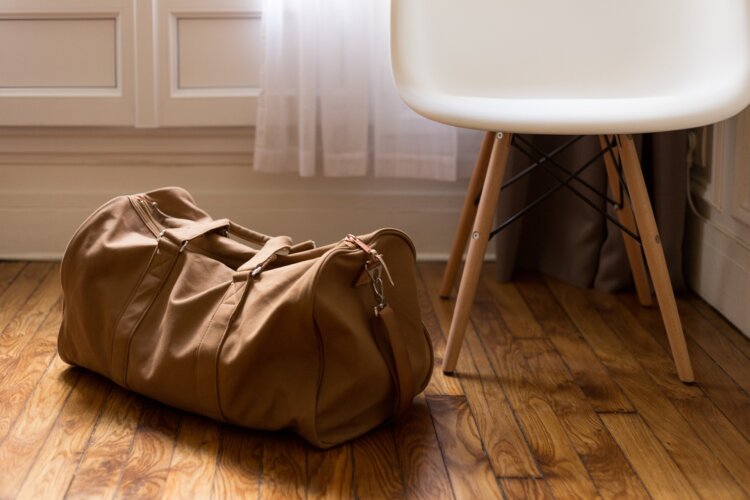 If you've recently returned from a trip, chances are you set your luggage on the ground. Frequently. Also, germ-infested hands probably grabbed the handles at the hotel and airport. And don't even get me started on the interior, which holds your dirty shoes and sweat-stained clothes. In short, your suitcase and carry-on bags are disgusting.
But when was the last time you cleaned your luggage?
If you're like most people, the answer is never. It's not something most of us think about. But once you start, it's hard to stop. The bacteria and germs associated with travel are well-documented. In fact, a recent study found that the security trays at airports carry more cold and flu germs than toilets. I don't want to gross you out, but last time I checked, avoiding the security tray isn't an option if you're travelling with a carry-on bag, You have no choice but to expose your poor luggage to those germs. Yuck.
It's important to banish those germs before they make you sick. Fortunately, cleaning your luggage is quick and easy. Here's how.
Handles, straps and bottoms
Studies have shown that handles are often the germiest part of your purse. Logic would dictate that the same principle applies to the handles of your suitcase. In addition, straps and bottoms are at risk if you set them on the ground or your hotel room floor, which has also been proven to carry high rates of bacteria. Enter Isopropyl Alcohol. It's inexpensive and a great disinfectant. You can even use a little vodka (just don't break out the good stuff).
If you're using Isopropyl alcohol, mix it with equal parts water first. Next, dampen a microfiber cloth with the mixture and run it firmly across your handles, straps, and bottoms. Be sure to work it into any grooves, cracks, or crevices. If your suitcase has wheels, give them a thorough wipe down while you're at it.  
Interiors
The interior of your luggage needs attention, too. Especially if you don't use laundry bags for your dirty shoes and clothes. Not only can dirt and germs spread from the bottom of your shoes to your suitcase lining, but body oils and dead skin cells can transfer from your clothes and start to smell, just like it would with unwashed clothes or towels. Luckily, it's not hard to clean.
To start, remove any detachable lining pieces. Next, vacuum the lining with a hose attachment or handheld vacuum to remove the dust, dirt, and particles of who knows what. Don't forget the pockets.  
If you're on the road and don't have a vacuum handy, turn it over and give it a few good shakes until the debris falls free. Just don't do it over your bed or bathtub. The plan is to get rid of those germs, remember?
For a deeper clean, mix two to three drops of mild dishwashing detergent with one cup of water. Wipe the area thoroughly with the solution. If there are any lingering stains, kick them to the curb with a shot of upholstery cleaner. Leave the luggage open so it has a chance to fully dry before you return it to storage or use.
Tip: To avoid staining and damage to the interior of your suitcases, be sure to pack liquids and toiletries in airtight plastic bags to prevent leakage. And always place shoes and dirty clothes in a laundry bag before returning them to your suitcase.
Leather exteriors
Water is the best cleaner for leather exteriors because many cleaning products cause leather to dry and crack. Luckily, water is inexpensive and something you generally have on hand. Simply moisten a microfiber cloth and wipe the surface of your luggage, pressing firmly to remove dirt.
For stains and dirt that won't budge, good old-fashioned saddle soap works wonders. Use it to spot clean grimy areas with a microfiber cloth or brush, as directed by the manufacturer.
Tip: If the exterior of your leather luggage is starting to fade or dry, follow up periodically with a good leather conditioner to keep it in tip-top shape.
Cotton canvas exteriors
Although cotton isn't normally used for suitcases, it's frequently used for duffle bags, totes and carry-ons. These need to be cleaned, too!
Cotton is easy to clean. In most cases, you can pop it into the washing machine with laundry soap. Just be sure to avoid the hot water cycle so it doesn't shrink. Afterward, throw it in the dryer to extract some of the moisture. Remove it while it's still damp and hang it to air dry.   
Tip: Be sure your cotton or canvas luggage is completely dry before you put it into storage. If it's even a little bit damp, it could develop mildew.
Nylon, polyester and other synthetic exteriors
Nylon, polyester and synthetic fibers should be cleaned with a mixture of equal parts baking soda and water. The mixture will form a paste. Apply liberally with a slightly dampened microfiber cloth. When finished, use a second cloth dampened with water to remove any remnants of the mixture and wipe the area clean.
For tough stains, use a little bit of upholstery cleaner with a stiff bristled brush. Allow the bag to air dry.
Tip: To repel stains in the future, apply a good fabric protector across the surface periodically.
Plastic or vinyl exteriors
Plastic and vinyl clean up quickly and safely with a solution of two or three drops of dishwashing liquid and a cup of water. Once again, you'll want to use a microfiber cloth to avoid scratching the surface of your luggage. After you've finished, wipe the surface dry to avoid water spots, this is especially important with shiny exteriors.
Tip: In most cases, plastic and vinyl exteriors dry far quicker than fabric and can be stored immediately after cleaning.
Parting Tips:
Read the manufacturer's guidelines and follow their instructions whenever possible. Some luggage pieces may require special care.
Always perform a spot test with a Q-tip before using any sort of cleaner—DIY or otherwise—to ensure no discoloration or damage occurs.  
Now that you know how to clean your luggage, only one question remains. Where are you planning to go on your next trip?