It's National Cookie Month! But, let's be honest, do we really need an official holiday to celebrate these delicious treats? We're HUGE cookie lovers in my house, and it got to the point where I was no longer okay with buying so many processed packages of them all the time. So, I instituted a family rule: If you want cookies, they have to be homemade.
We don't eat as many cookies as before, but the ones we do are worth the time and effort it takes to make them. Plus, family baking time equals kitchen dance party to our Will Smith Pandora station. It's a win all around. When we started our experiment, we purchased Martha Stewart's Cookies cookbook and worked our way through it. We eventually found recipes that we returned to more than once, and others that became solid favorites.
Sure, we still might purchase the occasional rare cookie (I have yet to perfect a homemade version that rivals regular old Oreos), but I've come to really appreciate our home baked ones. Store bought or homemade, whether you like them soft and chewy, thin and crispy, or fluffy and cakey, let's raise our glasses of milk to these tasty treats!
Read on to find out which cookies our staff loves, then share your favorite ones with us, down in the comments!
"Cream Cheese" Walnut Cookies
I've wanted to veganize this recipe for years, and I finally figured it out, with tremendous results. These cookies may not win a prize for healthiest cookie on the block, but they may win for the tastiest. —Mayim Bialik, founder
Ingredients:
1 pound (4 sticks) vegan margarine, at room temperature
6 ounces vegan cream cheese, at room temperature
1 1/4 cups sugar
2 Tablespoons plus 1/2 teaspoon vanilla extract
4 cups all-purpose flour
1 1/2 teaspoons salt
2 1/2 cups walnuts, chopped and toasted
Instructions:
1. Preheat the oven to 350 ℉. Line two baking sheets with parchment paper.
2. In a small bowl, whisk together the flour and salt.
3. Using a rimmed baking sheet, toast the walnuts for 8 to 10 minutes, watching closely. You could also use a toaster oven until the walnuts start to darken or sauté without oil in a small pan until they brown and become fragrant, about 5 minutes. Remove and set aside.
4. Blend the margarine and cream cheese until pale and fluffy. Add the sugar and vanilla. Mix for another 2 to 3 minutes. Add the flour and salt, and then add 1 1/2 cups of the toasted walnuts.
5. Transfer the dough to a clean floured surface and divide it in half. Shape each piece into a log about 8 inches long and 2 inches wide. Wrap each piece in parchment paper and freeze for 30 minutes.
6. Remove the dough from the freezer. Unwrap each log and roll in the remaining 1 cup of walnuts. Cut the logs into 1/4-inch rounds and place about 1 inch apart on the prepared baking sheets.
7. Bake for 18 to 20 minutes, until the cookies are golden around the edges, rotating the cookies halfway through. To rotate the cookies effectively, turn the pans and switch the trays to the other oven racks. Remove from the oven and let cool on a wire rack.
Toll House chocolate chip cookies
When I was growing up, my mother did not bake. We had many good bakeries near our apartment in The Bronx, so she probably did not see the point. I didn't find out that baking was a thing people did in their homes until I was in high school, and my best friend's mother baked chocolate chip cookies. They were way better than the Chips Ahoy I had grown up on. So that's when I started baking. I don't want to make it sound like it's a thing that happens often in my kitchen, but I'll do it if the spirit moves me.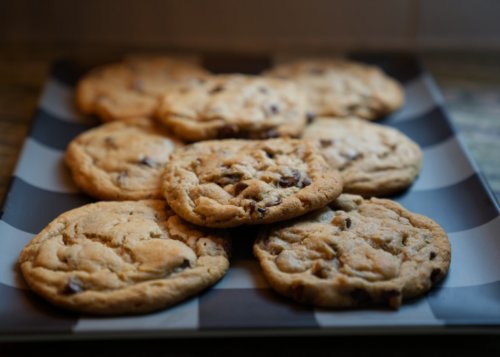 I make the classic Toll House chocolate chip cookies and everyone loves them! My family especially enjoys them during the holidays. I always go to a cookie swap in December and bring home delicious Christmas cookies of all kinds but my kids and husband only want my chocolate chip cookies. —Christina Kelly, editor-in-chief
Chocolate Peanut Butter No-Bake Cookies
I love all kinds of cookies, but when I'm craving something quick, my go-to is an easy Chocolate Peanut Butter Oatmeal no-bake cookie. My mom made these growing up with white sugar (until my brother was born with a peanut allergy and ruined the fun). I found a "Paleo" version online a few years back and have now convinced myself these are a healthy snack. I modified the recipe to make a very small batch so I don't indulge too much. And when I say small, I mean it only makes 4-5 cookies, depending on how large you spoon them. Double or even quadruple this recipe to make a normal-size batch. The recipe is highly adaptable: You could add coconut sugar or coconut flakes if you want a little more flavor or sweetness; you can use either crunchy or smooth peanut butter depending on your preference; and you can swap maple syrup for the honey to make it vegan. You can even go really crazy and do a pinch of sea salt on top! —Dalene Rovenstine, managing editor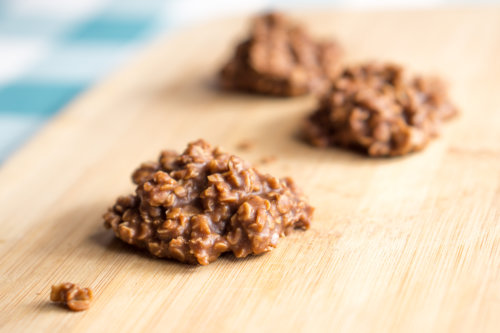 Ingredients:
1/4 cup peanut butter
3 Tablespoons honey
2 Tablespoons coconut oil
1/2 teaspoon vanilla
1/2 cup + 1 Tablespoon quick cook oats
1 Tablespoon + 1 1/2 teaspoon cocoa powder
Directions:
Melt peanut butter, honey, and coconut oil in a small saucepan. Turn off heat and add in vanilla, oats, and cocoa powder. Once fully integrated, drop spoonfuls onto wax paper. Let cool in the fridge (or if you're really impatient like me, the freezer).
Aunt Linda's Chocolate Chip Mandels
Ever since I was a kid, my aunt has made chocolate chip mandelbrot, similar to biscotti because it is baked twice. Mandelbread is traditionally made with almonds, but her version was nut-free. She gave me the recipe and I tweaked the recipe to bring out new flavors in a less guilt-ridden recipe (less oil and fewer egg yolks, if that's an issue for anyone). It doesn't taste exactly the same, but it's a good substitute that I've made my own, and this way, her recipe remains hers. I wouldn't dare to duplicate it. —Esther Kustanowitz, co-founding editor and contributor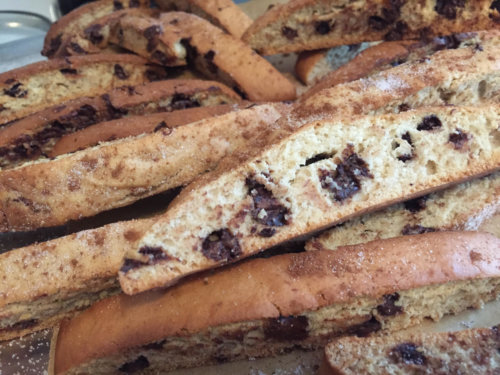 Ingredients:
3 eggs (or 4 whites)
1 cup (or less) sugar
3 teaspoons any flavor liqueur (chocolate, Sabra) OR 1 teaspoon vanilla extract
1 teaspoon baking powder
2 cups flour
1/4 cup vegetable oil
1/3 cup applesauce (if sauce is sweetened, cut back on sugar)
1-2 dashes of cinnamon
8 oz. chocolate chips (or more, no judgment)
Directions:
1. Mix all ingredients, shape in loaf form (or two loaves if you want shorter pieces). Optional: shake a cinnamon and sugar mixture over the top before baking.
2. Bake until slightly brown at around 375° F.
3. Take out of oven, cut into the desired size, separate pieces and bake another 5-10 minutes.
4. Put pieces on baking rack to cool.
Grammy's Chocolate Cookies
I love any sort of salty and sweet combo, which is why my twist on Martha Stewart's Grammy's Chocolate Cookies is my favorite. Follow Martha's recipe as is, but right before you bake, sprinkle a smidge of sea salt on the balls of raw dough. They come out with the perfect sweet to salty to decadent chocolate balance! You can also add a handful of crushed nuts if you want to add an extra layer of flavor. —Avital Norman Nathman, contributing editor and writer
Pillsbury Ready to Bake Cookies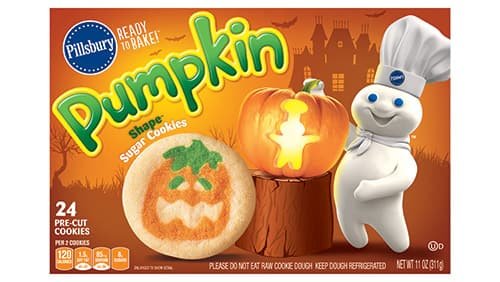 I don't have a lot of patience for baking things from scratch. When I want a fresh cookie I want it right away, which is why I love the ready to bake options from Pillsbury, especially the Pumpkin Sugar Cookies. They totally taste better than the other seasonal options! —Natalie Koch, social media manager