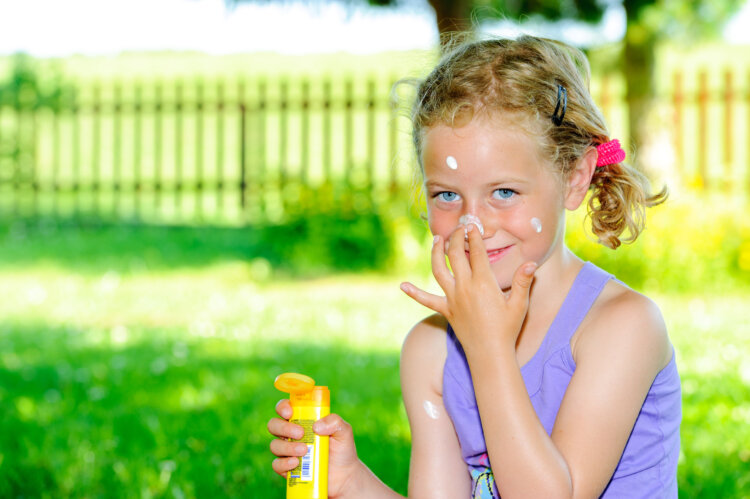 If you're like me, you slather sunscreen on yourself and your kids before you leave the house every day, rain or shine. If not? It's time. This time of year, the sun shines brighter and hotter every day, and with it come ultraviolet rays–UVA and UVB–that harm your skin.
According to the National Cancer Institute, melanoma, the deadliest form of skin cancer, accounts for about 1.5% of all cancer-related deaths. There will be an estimated 91,000 new cases of melanoma this year alone.
But before you reach for that tube, bottle, or spray-on, take note: there are two different types of sunscreens, and one of them is not only potentially harmful to you, but also to the environment, particularly coral reefs.
Last month, Hawaii banned the sale of chemical sunscreens that harm coral reefs. The Hawaii sunscreen bill, set to take effect on Jan 1, 2021, prohibits the sale of sunscreen containing two chemicals: oxybenzone and octinoxate, the two most common ingredients in chemical sunscreens, which can be found in a lot of popular brands like Banana Boat, Coppertone, and Neutrogena, so make sure to look at the back of the label to avoid them.
The New York Times reported that Haereticus Environmental Laboratory found that the 14,000 tons of sunscreens deposited into oceans annually caused excessive reef damage in Hawaii and the Caribbean. At a popular snorkeling spot on Oahu, swimmers dropped over 400 pounds of sunscreen daily into the ocean. The report partly attributes the degradation of the reefs to the presence of oxybenzone and octinoxate.
What are oxybenzone and octinoxate? And if they're that dangerous to reefs, what are they doing to us? Chemical sunscreens work differently than physical ones, which provide a mineral-based protective coat on your skin and offer the safest and best protection. Look for zinc oxide-based sunscreens.
Physical sunscreens sit on top of your skin, scattering, reflecting, and absorbing UV rays. Zinc oxide-based sunscreens offer a safer alternative.
Chemical sunscreens, on the other hand, act as UV filters by neutralizing the UV rays through a chemical reaction, but your skin absorbs them, which means that your bloodstream may absorb them, too. Scientists have expressed concern about oxybenzone and octinoxate–the two predominant chemicals in sunscreens –because they may also function as carcinogens and endocrine disruptors. And your body absorbs them everywhere, including in breastmilk.
Your read that correctly: the chemicals in sunscreen that you apply to prevent skin cancer may cause other types of cancer, in addition to other problems.
Additionally, oxybenzone damages coral reefs. Just one drop of oxybenzone in an area of water the equivalent of six Olympic-sized pools is enough to damage coral reefs.
"Most [sunscreens] are chemical sunscreens, which work by absorbing the UV rays before they penetrate the skin," explains Arizona-based dermatologist Dr. Jennifer Haley, a Fellow of the American Academy of Dermatology (FAAD). "The longer you are in the sun, the more quickly these chemicals break down, becoming ineffective. They also do a poor job at blocking the UVA rays. The physical sunscreens, zinc oxide and titanium dioxide, are insoluble particles that effectively reflect both UVA and UVB away from the skin."
Rebecca Hamilton, Badger Balm Family Owner and Vice President of Research and Development, says that zinc oxide does a better job than titanium oxide because it blocks UVA and UVB rays. Titanium oxide blocks UVB and only some UVA rays.
How much is enough? Hamilton instructs folks to "…put on as much as you possibly can." She adds her general rule of thumb, which is a shot glass-sized amount for an average adult.
A caveat for some physical sunscreens: while non-nano zinc oxide sunscreens are safe and effective, they also whiten your skin. There is good news for those that don't want to resemble Casper the Friendly Ghost at the beach. Over the past several years, Badger and several other brands developed clear zinc oxide formulas that are safe and effective.
"Our specialized clear zinc oxide formula consists of zinc oxide nanoparticles bonded together to form aggregate non-nano clusters," Hamilton explains. "No detectable nanoparticles exist in the final product. This clear formula meets the Haereticus Laboratory's standard for non-nano materials."
This means that clear zinc-oxide formula is safe for you–and for coral reefs.
Hamilton explained that there's no evidence that the aggregated nanoparticles of clear zinc oxide will separate, or have a negative effect on coral reefs.
Your takeaway: physical sunscreens are not absorbed into your skin or bloodstream, they don't harm coral reefs, and they are 100 percent effective if applied correctly.
Try a zinc-oxide based mineral sunscreen with an SPF of 30 or higher, apply lots and often, go forth, and enjoy. Not sure where to start? Check out a few of our favorites!