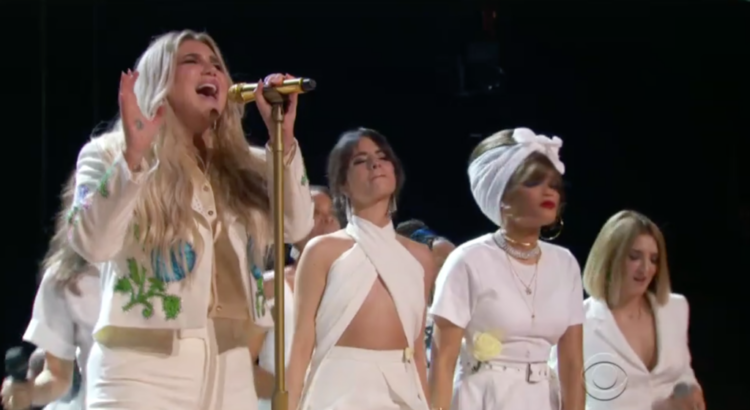 Whatever music you like, there was something for you at tonight's Grammys – the politically charged awards show rewarded eclectic musical styles ranging from Broadway to rap and hip hop, and focused on women's equality and racial politics. Here are some of the things you may have missed, as documented by GN editor Esther and social media manager Natalie. What did we leave out? You tell us…
White Roses for #MeToo. The nominees, presenters and performers wore white roses on their dresses or suits in tribute to the #metoo movement. Lorde – who was the only woman nominated for Album of the Year and the only one not offered a performance slot – came to the show with what she called "her own version of a white rose" – an excerpt from Jenny Holzer's "Inflammatory Essays," which read:
"Rejoice! Our times are intolerable. Take coverage for the worst is a harbinger of the best. Only dire circumstance can precipitate the overthrow of oppressors. The old and corrupt must be laid to waste before the just can triumph. Contradiction will be heightened. The reckoning will be hastened by the staging of seed disturbances. The apocalypse will blossom."

Kendrick Lamar gets political. The show started with a powerful and high-energy opening number, invoking political themes and images, and mobilizing the talents of Bono and The Edge from U2, as well as some commentary from comedian Dave Chappelle.
Bruno Mars was the night's big winner, much to the dismay of some.
Song of the Year: That's What I Like by Bruno Mars. Arguably his most boring hit. Meh. #JusticeForDespacito #Grammys #Grokmmys

— Grok Nation (@GrokNation) January 29, 2018
Kesha performing "Prayer," introduced by Janelle Monáe. Kesha, who had filed a suit against her producer Dr. Luke alleging emotional and sexual abuse as well as career manipulation, performed the powerful song accompanied by the Resistance Revival Chorus (which was founded after 2017 Women's March) with backup singers including Cyndi Lauper, Camilla Cabello, Julia Michaels, and others. Kesha was introduced by Janelle Monáe, who charged the industry to take charge of efforts toward equality and safe workspaces. (Full remarks here.)
Kesha's emotional performance of 'Praying' will give you chills #Grammys pic.twitter.com/drFf8d7Oyl

— NowThis (@nowthisnews) January 29, 2018
"Just as we have the power to shape culture we also have the power to undo the culture that does not serve us" – Janelle Monae introducing Kesha

— Jenna Wortham (@jennydeluxe) January 29, 2018
Chris Stapleton and Emmylou Harris sang Tom Petty's "Wildflowers" as the musical lead-in for the in memoriam montage. The tribute also included pictures and songs from music industry folk we lost this year including Chester Bennington from Linkin Park and Chris Cornell from Soundgarden.
Ben Platt (Dear Evan Hansen, Pitch Perfect) singing the hell out of "Somewhere" from West Side Story, followed by Patti LuPone on a balcony singing her iconic "Don't Cry for me Argentina," from Evita. Both performances were in celebration of Leonard Bernstein and Andrew Lloyd Webber's accomplishments.
In case you ever go on vacation with me, know that if we're ever in a hotel room with a balcony, I'll have to go out there and sing #DontCryForMeArgentina. Not like #PattiLuPone, but just embrace it, it's happening… #GRAMMYs #Grokmmys

— EstherK (@EstherK) January 29, 2018
The show ended with a moving version of 1-800-273-8255. Logic, who performed the suicide prevention-themed song with Alessia Cara and Khalid, ended the performance with a speech calling for love and equality, as well as invoking the words of Statue of Liberty poem poet Emma Lazarus that reinforces America as a haven for immigrants.
"Black is beautiful. Hate is ugly. Women are as precious as they are stronger than any man I have ever met. And onto them I say stand tall and crush all predators under the weight of your heart that is full of the love that they will never take away from you. Be not scared to use your voice especially in instances like these where you have the opportunity. Stand and fight for those who are not weak but have yet to discover the strength that the evil that this world has done its best to conceal. To all the beautiful countries filled with culture, diversity and thousands of years of history, you are not 'sh-tholes.' And lastly onto the half of those who fight for equality and a world that is not equal, not just and not ready for the change we are here to bring. I say onto you bring us your tired, your poor and every immigrant that seeks refuge. For together we could build not just a better country, but a world that is destined to be united. (via Just Jared)
There were lots of other cool moments. U2 performing in front of the Statue of Liberty. Sting and Shaggy teaming up – in promotion of their new album – to sing "Englishman in New York." James Corden presenting a video of celebrity auditions for Fire and Fury's audiobook.
We know we left some things out – but don't look at us like DJ Khaled's son looks at the red carpet interviewer…just tell us: what essential Grammys moments did we miss?
This look from Assad (@djkhaled's son) is everything. #Grammys #Grokmmys pic.twitter.com/9W7DfIEM2G

— EstherK (@EstherK) January 28, 2018