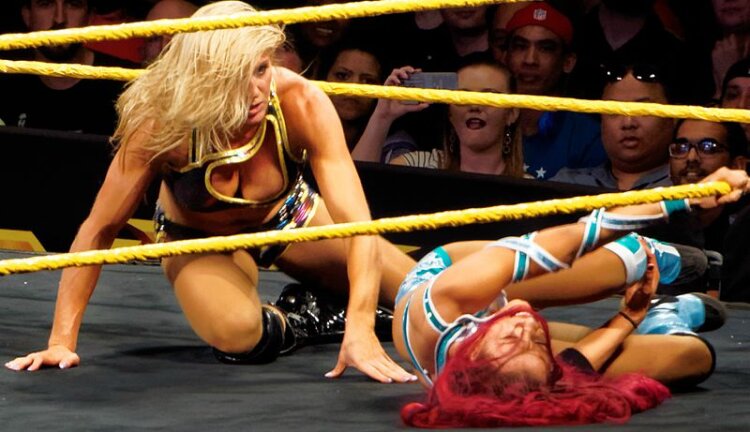 One of the reasons Netflix's GLOW has succeeded, other than the fact that it's very funny and boasts one hell of a cast, is the fact that it came around at just the right moment. The past two years or so have seen issues of representation on television move into the spotlight in a significant way. From speeches at awards shows to creators speaking up about diversity in their writers rooms or on the screen, slow progress is being made, and there's an awareness that's encouraging.
GLOW is the story of representation, as a band of misfits try to find their place in a world typically dominated by men. It's powerful because it's a show that reflects our culture, that understands the struggle for women to find complicated, fleshed-out roles. Tammé Dawson's "Welfare Queen" persona is a perfect example of the message, her wrestling "gimmick" both offensive and empowering. GLOW revels in that contradiction.
While the show has the benefit of compacting its message about stereotypes and representation into episodic storytelling, it's taken the real world of professional wrestling a lot longer to catch up. The largest, most visible and successful pro wrestling promotion, the WWE, is only now—in 2018—starting to understand the message inherent in Netflix's GLOW: That women can go just as hard as the men, and deserve the opportunity to do so.
RELATED: How 'GLOW' won over Emma Caulfield Ford
Two weeks ago, WWE announced that on October 28, it will be running its first ever all-women pay-per-view event, titled "Evolution." It's a massive, long-time-coming step forward for the company, and acts as the culmination of months of small steps in the right direction. Typically speaking, the women of WWE only get a fraction of the TV time the men do, and then get slotted into one or two matches at a PPV, which tends to run anywhere from three to four-and-a-half hours. Boasting a roster stacked with talent, including homegrown favorites Bayley and Sasha Banks, plus UFC import Ronda Rousey and the incredibly athletic Charlotte Flair (daughter of 17-time world champion Ric Flair), the news couldn't come at a better time.
To understand how significant this announcement is, and why it's important to not just the industry of professional wrestling—or "sports entertainment," which is WWE's preferred term for their product—but also television production, you have to look back at WWE's history and how it's treated women. Simply put, it's not good.
The late '90s and early '00s, known as the "Attitude Era" and largely accepted as the creative heyday of the company as they turned out stars like The Rock and Stone Cold Steve Austin, are filled with representations of women that make GLOW's "Welfare Queen" look like a feminist vision. Women were hardly booked as wrestlers; more often than not they were eye candy, or put into the roles of romantic interests. Their personality or in-ring ability didn't matter; it was looks above all else. Highly sexualized and objectified personas was the entire creative strategy. Former wrestler turned Attitude Era commentator Jerry Lawler was known for shouting "puppies!" every time a pair of breasts appeared on screen, and WWE was running "bra and panties" matches, which involve women trying to strip each other down in order to "win" the match, well into the 2000s. Like I said, the history is horrifying.
Things started to change in the late 2000s and early 2010s though. Stars like AJ Lee and Beth Phoenix started to redefine the role of women within WWE, balking at WWE's insistence of using the name "Divas" to describe the entire roster of women. Trailblazers such as Lita and Trish Stratus had worked to make women's wrestling more compelling during the Attitude Era, but this felt different. AJ Lee, in a live promo that walked the line between being scripted and real, ripped into WWE's portrayal of women and how their storylines were constructed to benefit the company's soapy reality show, Total Divas, resulting in storylines built around catty relationships and romantic drama rather than the tests of athletic ability and long-lasting beefs the men were given.
Now, we have "Evolution," the title itself an extension of what WWE has called the "Women's Revolution." As is often the case, that branding co-opts a loud protest, as the past few years have seen fans chanting for "women's wrestling" while getting the hashtag #GiveDivasAChance trending on Twitter. It was a way for fans to express their outrage that the talented women in the ring were often wrestling matches that clocked in under two minutes while the men got 20 to tell their own story.
Since then, WWE has been breaking down barriers; of course, it's barriers they created and enforced, but progress has to start somewhere. The women of WWE now compete in matches typically reserved for the men, like "Hell in a Cell" or this year's "Royal Rumble," both of which were offered to women for the first time only recently. Sasha Banks, a diehard WWE fan who grew up to become one of the best wrestlers in the women's division, has lead the charge, and it's her story that encapsulates why this movement, and "Evolution," is so important.
Banks isn't shy about her wrestling fandom as a kid. On social media she's shared notes written as a child about how she hoped to someday compete for WWE in matches "just like the men." Now she's living that dream, and that's why "Evolution" goes beyond wrestling; it's an important step in tackling the issue of how women are depicted on television. WWE stripping away the "divas" label and referring to all of their talent as "superstars" is the kind of simple, easy move that also feels momentous. If young girls like Sasha Banks are going to be encouraged to step into roles in male-dominated feels, to see themselves as equally deserving of opportunities afforded their male peers, then those figures need to be on TV. They need to be given their own PPVs and substantial time in the ring. They need to be headlining huge shows like WrestleMania, and promoted as the face of the company in ways similar to their male counterparts.
Banks' story, which is shared by so many other performers and aspiring wrestlers, is exactly why the addition of "Evolution" is so notable, not just within the world of wrestling but across television. It's an acknowledgment of past mistakes and an active effort to change things for the better. Hashtags and empty promises aren't enough when it comes to representation on TV, when it comes to inspiring institutional change. It's real, highly visible actions that matter. WWE and the TV industry still have a long way to go, but "Evolution" is a necessary step in the right direction.