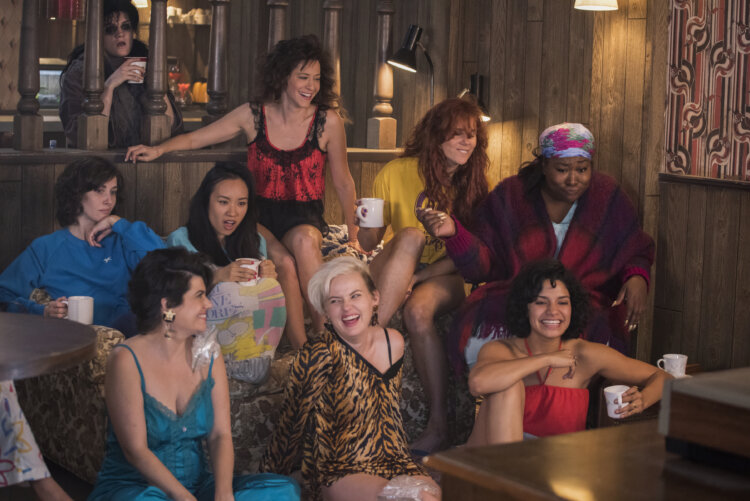 Full disclosure: I've never been a fan of wrestling. I'll double down by saying I think staged wrestling is ridiculous. I understand that for millions of WWF or WWE fans my opinion is downright heretical. But how am I expected to root for someone who is literally pulling their punches? Where are the stakes in a scripted match? Where's the drama?
It is for this reason that I didn't watch GLOW (which stands for the Gorgeous Ladies of Wrestling) when its second season dropped on Netflix in June, despite rapturous reviews. But then a nasty heat wave hit LA and the rest of the country (CLIMATE. CHANGE. IS. REAL Y'ALL). There is only one thing to do when all you feel motivated to do is lay like a lizard and pray your AC doesn't succumb to a rolling blackout.
Cue Netflix season 1 of GLOW and my internal grumbling which sounded something like this:
Ugh, heat.
Alison Brie. She's good.
Ugh, the heat.
I'll watch five minutes, that's it.
Did my baby just wake up? Please wake up so I don't watch GLOW.
Damn. Still asleep.
Okay, let's glow this, Emma.
Cut to two hours and four episodes later and I was hoping baby would sleep for a while longer. She didn't. But I knew what I was going to do later when she went to bed. I was going to GLOW and GLOW and then GLOW some more. I rinsed and repeated this action the next day (go heatwave) until I finished season 2. And, though my feelings about wrestling haven't changed, I can watch the ladies of GLOW wrestle all day long. I don't like being wrong, except for when I love being wrong. I should know better than to dismiss a show or film outright because of personal feeling about the subject matter. Silly Emma. I won't make that mistake again….hopefully. So, let's 450 Splash into the gloriousness of GLOW and why it's worth watching.
The cast: Awesome, particularly Alison Brie as Ruth, Betty Gilpin as Debbie, Marc Maron as Sam Silvia, Kia Stevens as Tamee' Dawson, and Chris Lowell as Bash. The chemistry between this motley crew is bottled magic.
RELATED: GLOW star Jackie Tohn on season 2, portraying Gilda Radner, music and more
The writing: Hilarious, honest and fierce. It's nearly impossible to say which of these characters are given the best lines when the zingers fly as fast as they do on the show. But I'm leaning toward either Sam or Debbie. Here are some of my favorites:
"I mean, babies are boring. They don't party, they haven't travelled, they have no sense of irony." —Sam
"I've been baking pies at home. PIES OF RAGE!!" —Debbie
"Don't swear in front of Randy. I'm kidding. Of course you can swear in front of him, he's a fucking baby." —Debbie
"Did I say cunt punches? Okay good." —Sam
"Don't play dumb, homewrecker! Husband-fucker!" —Debbie
"Maybe. Or 'cause I don't like your face or your ass. I-I-I don't know. Maybe I like both of them too much. I-I don't… I don't have to explain myself. That's the beauty of being a director. You're out." —Sam
Nonfiction/Fiction: It's based on the real-life Gorgeous Ladies of Wrestling and the show GLOW from the 1980's. A fact I was totally unaware of until about halfway through season 1. The show takes dramatic license, of course, but knowing that there is a wicked cool real-life inspiration for the fictional GLOW increases the payoff of fictional and nonfictional aspects of the viewing experience.
Everything Else: I'm convinced that anyone who doesn't appreciate the glamour, color, music, and films from the '80s are bad aliens from a crap planet. GLOW captures all of these elements brilliantly. There is plenty about the '80s that was disastrous, but I think it's safe to say that about any decade. What that time seemed to have in abundance were fun and balls. Metaphorical balls for the real and fictional ladies of GLOW, as well as all the other emboldened women of the time. Despite their many obstacles, again both fictional and real, these women put their oppressors in a Cross Rhodes/The Queen's Crossbow, often in high heels or roller skates.
I finished the show feeling inspired by its nearly flawless execution by the creators, crew and cast. I equally felt inspired and proud of my real life sisters from times recent past. I have intentionally not researched what happened to the real GLOW or to its ladies. I want all the surprises and punches to land on me like a Curb Stomp. (Yes, I know that move is fake.) But when you truly invest in the outcome of the players and people involved, the weight of that stomp, kick or drop lands as real as climate change. Nothing fake about that.