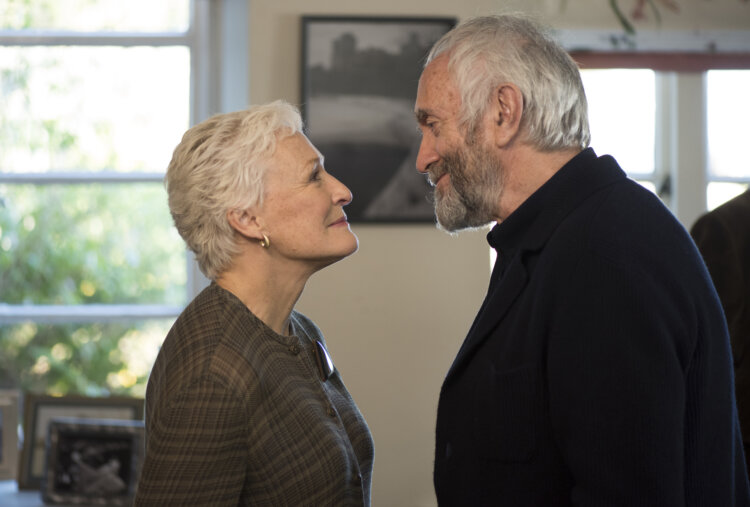 Even if you haven't seen The Wife, which hit theaters in August, you've probably heard of it, thanks to star Glenn Close's numerous wins in the awards season so far and her subsequent impassioned speeches about supporting women in helping them achieve their dreams.
The Wife is the story of Joan Castleman, who is portrayed by both Glenn Close and Close's daughter Annie Starke, over 40 years. The hero of the film is self-effacing, shy, and filled with love and devotion for Joe, her professor-turned-husband. What becomes more obvious over the course of the film is how many troubling cracks there are in the couple's decades-old relationship and the tremendous sacrifices Joan made.
Spoiler alert: Joan Castleman is a woman who tragically not only subverted her world-changing talent, but gave her husband full permission to take absolute credit for it, because she was told that her gender was an insurmountable roadblock in the path to becoming a literary rockstar herself. Joan is a fictional character created by New York Times bestselling author Meg Wolitzer in her 2004 novel, and then adapted for screen by Emmy winning screenwriter Jane Anderson, but she's an amalgamation of many women.
During a recent, intimate roundtable interview in Hollywood, Meg, Jane, and Annie sat down with Grok Nation and other members of the press to discuss the inspiration for Joan Castleman. Wolitzer shares that Joan definitely wasn't based on a "particular woman." "I love invention, I really love making things up," she explains. "That said, I grew up with a mother who's a writer, Hilma Wolitzer, who is now 89. And when she published her first book, one of the headlines was, 'Housewife Turns Into Novelist,' and she's made this joke before that it was as if she was Clark Kent, going into a phone booth, and becoming a superhero. The idea that a sort of ordinary woman could have profound things to say seemed at the time something that made no sense."
She notes that her mother was published for the first time when she was in her 40s, and the title of her first short story betrayed the tone of the day. It was called "Today a Woman Went Mad in the Supermarket." "It was a very different time for women," Meg says.
The novelist says she knows there have been women like Joan "who have been invisible, who have kept themselves back because of the culture or something in themselves." Hilma's journey both blazed a trail and empowered her daughter to follow her dreams as a writer. "She gave me absolute permission," Meg shares. "The world will whittle your daughter down, but a mother never should, and mine never did."
For her portrayal of young Joan, Annie says she pulled from her grandmother's experience. "[After reading the script], a lot of overwhelming emotions came to mind. My two grandmothers came to mind. They were both married quite young and took a backseat to my grandfathers. My dad's mom, in particular, had an extraordinary career. She was a chemist in the 1940s, she actually worked on The Manhattan Project, and when she got pregnant, she got fired. She also—side note—worked for GE and was part of the team that literally invented fluorescent lighting and had she not been a part of GE, she could have had a pretty gorgeous patent, I'm sure!"
Annie recalls how while she was growing up, she had "very profound, private conversations" with her paternal grandmother. "She still had all of her documents and buttons from The Manhattan Project that she would get down from a high shelf in the closet, and I think I was one of the only grandchildren that saw this stuff, and I was almost ashamed that I had no idea how incredible she was. It just wasn't really talked about in our family."
Her maternal grandmother, Glenn Close's mother, Bettine Moore Close, was married at 18 to famed surgeon William Close. "I love my grandfather, but he was an incredibly difficult person to be married to," Annie shares. "My grandmother was never ever once encouraged to do anything for herself. She never went to college. She was truly one of the most brilliant women I ever had the honor of knowing. … The vast amounts of knowledge this woman had is still, to this day, staggering to me."
Annie recalls how it wasn't until Bettine was about to pass that she told Glenn and Annie, "I haven't done anything with my life." "I get heart pangs when I think about it," Annie confesses.
It was because Annie saw the film as "an homage" to who her grandmothers were that she signed onto the project, noting, "Honestly, this was a project that made me just think about the incredible women that I have had the honor of saying I'm related to."
When writing the screenplay—especially one of the most emotional, climatic scenes, which takes place at the Nobel Prize ceremony—Jane pulled from her own experience. "[It's] the basic condition that screenwriters have, that we've spent six months to two or three years crafting this thing, and then the director is given all the credit," she shares. "It's a common feeling that us screenwriters have, and that's why it was so easy for me to write this.""I
Jane says Joan's story hit close to home for her, given her own trials and tribulations as a woman in the film industry.  identified with the perpetual feeling of doing enormous amounts of work and not being recognized for it," she shares. "That's what appealed to me when I read Meg's novel. Meg writes about deep and angry things without being bitter."
Although the Joans of today may feel less frustration when it comes to pursuing their dreams, the making of The Wife points to the uphill battles women still face in telling their stories: The film took 14 years to make. "No American studio would finance this," Jane shares.
But she believes the tide is turning, observing, "With Glenn getting all this incredible attention, they can also see people love movies about women."
And perhaps thanks to the power of the The Wife's message and the dynamic talent and heart of the film's team, audiences will come out for women's stories that are long overdue to be told.
The Wife is now available on Digital, Blu-ray, and DVD.