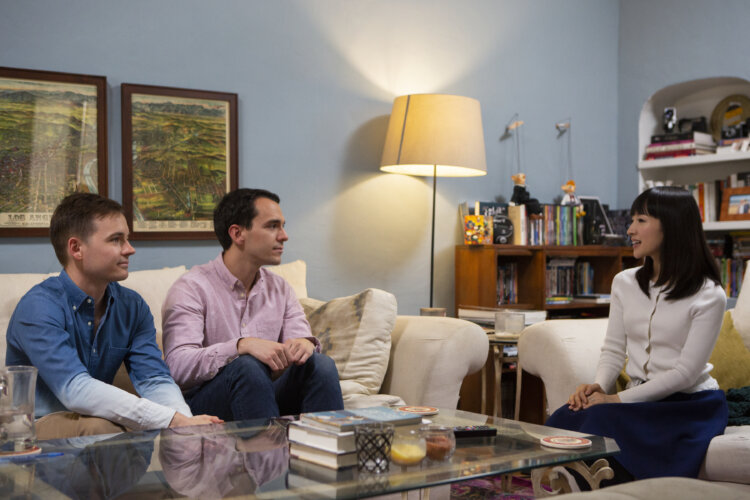 It's a brand new year, the season for transformations, and the perfect time for Netflix to premiere the new reality series Tidying Up With Marie Kondo.
Let's pause for a second to get the full cultural impact of that: A person who helps people get all their house-stuff in order has a Netflix series? But if you read Mayim's post about Kondo-ing her home, you know that Marie Kondo is no ordinary personal organizer. And when you watch her Netflix series, you may wonder if she's even an ordinary human being.
Kondo's book on her unique approach to organizing, The Life-Changing Magic of Tidying Up, became a worldwide phenomenon, selling millions of copies. Naturally, there was a follow-up, Spark Joy; then a journal; even a Manga version of the original book. Instead of coming up with yet another iteration of the book, KonMari, as her devotees call her, found another way to reach people: She franchised. You can now take a KonMari Consultant course and become a certified KonMari Method™organizer. Marie has created an organizing army of Mini-Mes.
Her next step is world—well, not domination, exactly, because it's hard to imagine a person who seems to be equal parts fairy and common sense wanting to dominate the world. Let's say the series is the next step in KonMari realizing her vision "to spark joy in the world through tidying," as she states in the intro to Tidying Up. And the show does spark joy. And tears. And sudden fits of clearing, cleaning, and organizing.
While some reviewers say the show doesn't make for great reality television, they may be missing a point brilliantly made by another reality show, The Great British Baking Show. After years of watching contestants cut each other down on Survivor and its backstabbing spawn, Americans weary of fighting each other during an anger-fueled election year sought refuge in a reality show with a twist: The contestants are nice to each other. The Great British Baking Show is technically a competition, but while they compete, these polite Brits help each other out when someone runs out of time or ganache.
Tidying Up capitalizes on the same Power of Nice: Marie never scolds anyone for having too much stuff or refusing to do their own laundry—and neatly folds in a Cinderella transformation. KonMari (with the help of translator Marie Iida) floats into people's lives like a tidying fairy godmother, helping them get their houses in order, literally and also emotionally. As anyone who has done the KonMari Method knows, it's not just about stuff. Our possessions and our emotions are closely linked, emotions being the driving force behind accumulation of said stuff.
In the second episode, "Empty Nesters," the wife half of a married couple regards her mountain of clothes and admits, "Whenever Ron and I would fight, shopping was a diversion. Just calm down, de-stress…and maybe hit Ron where it hurts, in his pocketbook." Truth it out, sister! In "Tidying With Toddlers," a young father confronts the hard fact that his wife and kids aren't getting the best from him because he's frustrated about the disorganization in their house. We can all relate.
And we can all breathe a sigh of relief along with the subjects of Tidying Up once they go through the rigorous KonMari Method and start feeling the lightness of being organized. (If you haven't done it, Kondo-ing ain't easy; I got through phases one and two, clothes and books, but haven't braved phase three, Komono, the dreaded "miscellaneous" category that includes all the papers on and around the desk.) Because of the life-changing magic of relating to people, the core appeal of Tidying Up, I cried when the widow went through her deceased husband's clothes. I cried when the family of four stopped asking Mom where everything was because they actually put it all away themselves. I cried pretty much throughout each episode. I loved it all.
And that may not be just because I'm a KonMari disciple. The idea of watching a reality show about tidying up didn't exactly spark joy for my husband, but by the end of the third episode, he said, "We're doing this on Saturday, right?" Looks like I may get to the Komono stage after all…
Tidying Up With Marie Kondo is available on Netflix now.