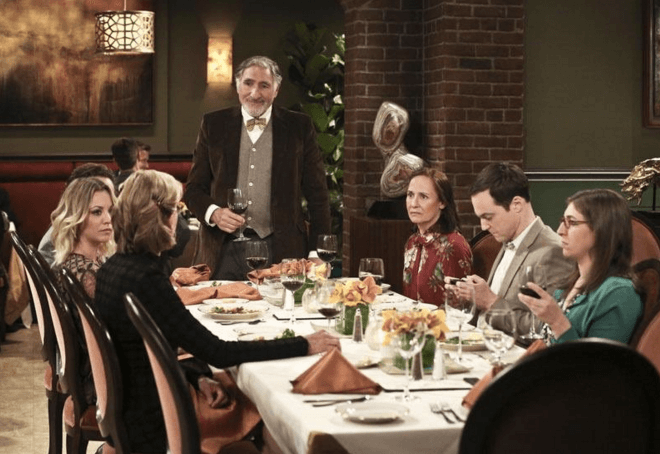 (If you just watched the Season 9 finale and want more Big Bang Theory, we've got Mayim's inside scoop here! – GN staff)
Well, Season 9 is over, and it's been quite a ride, especially for Amy Farrah Fowler! (For some of Amy's big moments, don't miss these posts I've written over the course of the season: Feeling The Big Bang of Heartbreak, Behind The Shamy Scenes: The Earworm Reverberation, Sheldon & Amy & Virginity & Intimacy, Let's Talk About  (Shamy) Sex. And now, I've got five fun things for you about that finale episode.
Surprise! Sort Of. None of us knew before we got the script that there would be a second wedding ceremony for Leonard and Penny!  The episode that aired last week had Penny suggesting it, but maybe I'm dense or something; I didn't realize that was teasing what the finale would be!
Judd Hirsch. Judd is someone I have watched on television literally since I started watching television. I watched a lot of "Taxi" when I was a kid and – although I wish I could have this NOT be true – I used to watch his show "Dear John" with my mom all the time when it aired from 1988-1992. (I say this not because I am embarrassed that I watched the show, but from ages 13 to 17, I probably should've had better things to do on a weekend evening than watch this show with my mom.)  Judd is an extremely talented comedian and a real legend in Hollywood. He is extremely sharp and extremely professional and considering he's technically old enough to be my grandfather, he's pretty amazing.
Christine Baranski. Working with Christine Baranski as closely as I got to in this episode was really special. I've only been in large group scenes with her before and so I never got to see her work up close and personal. She is a "real" actress and she started in theater so she has a very professional and polished way about her. She takes notes in her script and is always really prepared and friendly. I found out that she lost her husband a few years ago and she offered me a lot of comfort surrounding the loss of my dad in between scenes.
Laurie Metcalf. Working with Laurie Metcalf as closely as I got to in this episode was also really special. She has such a natural way of playing Sheldon's mom as this insane religious fanatic but also this really approachable funny person. She's a very reserved person but she is also very friendly and warm and I loved working with her this closely.
Gang's all here. As you saw, this episode was chock-full of group scenes and we had a great time rehearsing and filling those scenes. Whenever the whole cast is in a scene together, our director Mark Cendrowski knows to build in extra time for us to go off and talk and go off on tangents in between scenes.  This episode was no exception. The restaurant scenes in particular made us all laugh, especially Laurie's line that she will read another book when God writes another, and some of Jim's reaction shots – some of which made it to air and some of which may not have – had us laughing so hard all through rehearsal. Kaley remarked that the restaurant scene had one line after another, more absurd than the one before, and we loved playing all of that awkwardness.  When Penny suggests that we need to order the crème brûlée and that we need to get on that, I laughed every single time Kaley said the line in rehearsal.
As you can tell, we really do have a good time making "The Big Bang Theory." We don't take for granted for one second how much our jobs in the success of this show depend on the approximately 20,000,000 people who tune in every week.
We are on hiatus for three months and we'll all be working on other projects (you'll learn more about some of my projects soon!), but before you know it, we will be back to film the best season 10 that we can! Thanks for watching season 9! Bazinga!