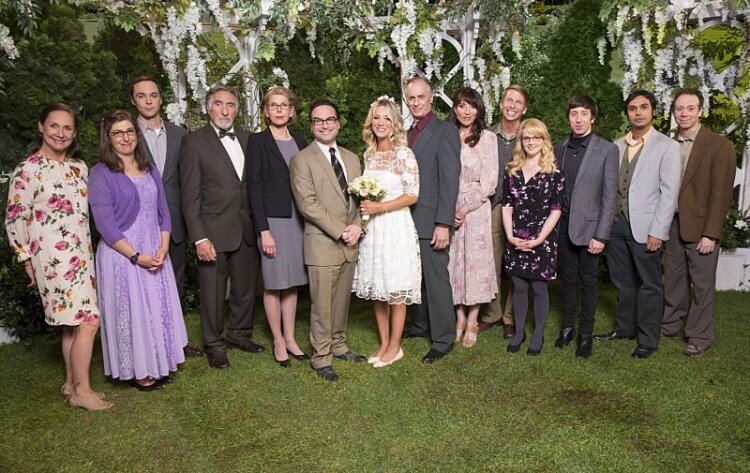 I hope you enjoyed the season opener of Season 10!!! (Spoiler alert if you haven't seen it!)
We are so happy to be back filming another season of TBBT and I hope the wedding ceremony episode made you happy to be watching as well!
Since we picked up from the sort of cliffhanger from last year, we had the pleasure of welcoming back guest stars Christine Baranski, Laurie Metcalf, Keith Carradine and Judd Hirsch. We also added two new fantastic actors to play Penny's mom and brother, Katey Sagal and the hilarious Jack McBrayer. And of course, Kevin Sussman was with us, in his recurring role as Stuart.
Here are some behind-the-scenes tidbits from episode 1.
Fun. Yes, it's as fun to work with everyone as it looks. We are often asked what makes our cast gel so well; it's been a really fortunate mixture of personalities that just gel well, pretty much. Sure, we are all different, but we all work very well together. And the added cast only adds to the fun. We laughed a lot when filming these group scenes in particular. And you don't have to believe me when I say it, but it's true: everyone is nice. There was not one person on our guest cast who had attitude or was too fancy or anything like that. It was terrific fun. Among all of us, the entire cast of 15 people has cumulatively made over 4000 episodes of television; someone added it all up! Wow.
Harp. I pantomimed playing the harp since they needed music to move along much faster than I could manage. I did learn some of the proper hand positioning for Pachelbel's Canon and the Wedding March so it would sort of look like I knew what I was doing (I do know how to play; having learned for "The Infestation Hypothesis" episode years ago where I played "The Girl From Ipanema" and "Everybody Hurts.". Here's a selfie I took of me and my beautiful harp!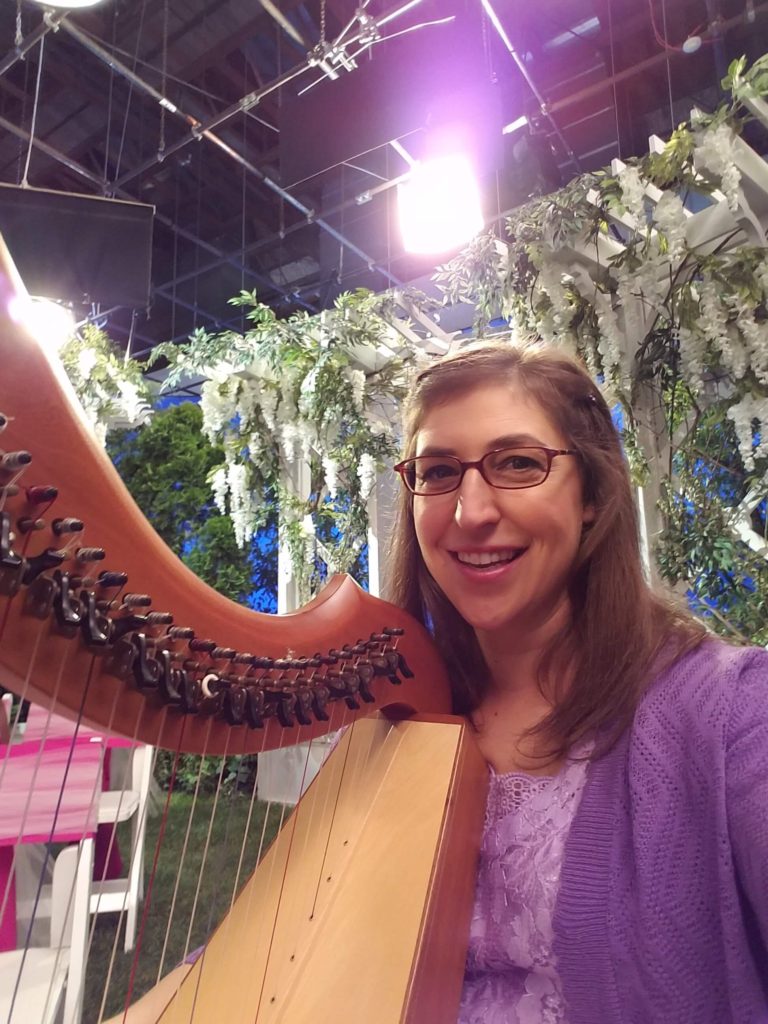 Amy's look. I love being comfortable with Amy's sense of style – or lack thereof. When our wardrobe team brought me in to see the outfit they chose for me for the wedding scene, I was so excited. I loved the modesty of this lavender dress, and I loved how it was both sweet and awkward at the same time. We don't like to tease women who dress like Amy; and I know plenty of women in science who dress like Amy, so it's a real sensitivity of mine. But I really, really love showing a woman who is not trendy and embraces what she likes to wear. A few details you may not have noticed: we chose a sparkly clip for Amy's hair and Syliva Surdu who does my hair did a little twisty braid thing –  just a little excitement for Amy's hair…not too much. Linda Cowan, who does my make-up, let Amy have a little bit of purple eye shadow and super fun bright lipstick with a sparkly gloss over. I feel like Amy looked dressed up the way her 14-year-old self might have thought to dress her up. For a woman who bloomed very late, her look is a combination of juvenile style sensibility an unabashed love for all things sparkly and glittery.
It takes a village. Our show is a product of hundreds of people working to produce one episode. From our writers and producers who literally make the plotlines and jokes to the actors who interpret them and the director and his crew who make the cameras capture it all – and make sure we all show up on time! – this is a group effort. Our Emmy-award-winning camera and crew make everything come to life with the right shots, music, and lighting and our production staff makes sure everyone involved is paid on time, happy, and has everything they need to do their jobs. We have an incredible team at TBBT and we don't take for granted all of the hard work our crew and staff does to make our show what it is.
Season 10, here we go…thanks for coming along on this crazy and wonderful ride with us!