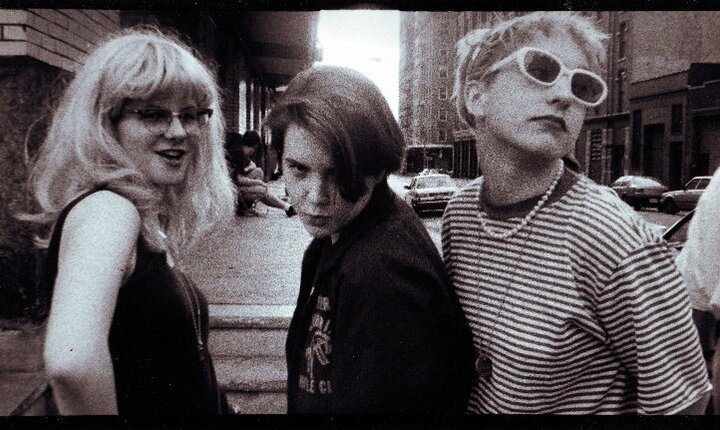 For a certain kind of music fan from the 1990s, Bratmobile needs no introduction. Along with the band Bikini Kill, the three-member band were pioneers of Riot Grrrl, an underground punk feminist movement centered in Olympia, Washington and Washington, D.C. Before #metoo was a glimmer in its mother's eye, there was Riot Grrrl. Singer Allison Wolfe, guitarist Erin Smith and drummer Molly Neuman inspired teens and young fans to start bands and fight sexism with songs such as "Cool Schmool," "Kiss and Ride" and their cover of The Runaways' "Cherry Bomb," off their album Pottymouth, which was released 25 years ago and is about to be reissued.
Full disclosure: I first met the girls at a show that my own silly band played at Bard College in, I think, 1990? Erin and her brother Don had created a fanzine about The Brady Bunch called Teenage Gang Debs, and she later interned for me at Sassy magazine. My band actually played a show with Bratmobile, which was super fun! So I was really excited to hear that Kill Rock Stars, which released Pottymouth, has put out a podcast named Girl Germs (also the name of Molly and Allison's fanzine at the University of Oregon).
I listened to the first of the five installments, which was released yesterday, and was so excited to hear the insights of Tae Won Yu of the band Kicking Giant (who also created the illustration of Mayim on Grok Nation's home page). I knew I had to interview the girls on the occasion of the podcast. And they were nice enough to answer my questions. Erin is the world's most enthusiastic person.
GROK NATION: How did the podcast come about?
ERIN SMITH: Portia Sabin, who now runs Kill Rock Stars, has been doing her Future of What? Podcast for a while now. KRS realized the 25th anniversary of Pottymouth was coming up and wanted to do something awesome to commemorate it, and we all loved the idea. Ben Parrish from Kill Rock Stars was very instrumental in getting this idea off the ground. Future of What? has done series on other rad topics like Elliott Smith. We all worked together as a band on brainstorming people that were important to our history that we wanted to include in the podcast—especially people who aren't always the most obvious ones to be interviewed! I think it's really, really cool how the podcast combines us, our peers from back in the day, and new bands that are influenced by us. I love that!
MOLLY NEUMAN: Portia is a master podcaster, and Allison is, too. It made total sense to use the anniversary as a chance to wax nostalgic and do a bit of documentation at the same time. Having been a band that existed pre-media disruption, our archives are more analog..
What was it like revisiting the history of the band 25 years after Pottymouth was released?
ERIN: This is funny, but I have photographic memory, so I'm reliving it all the time anyway! I know that's not everyone's experience. I've only heard the first episode of the podcast, but it's really, truly amazing to hear other people's recollections and hear what the record means to people I admire so much. I cried about it today listening to episode 1! Tears of joy and really disbelief. It's really, really incredible to have been a part of an album that still matters and resonates with people 25 years later.
MOLLY: I'm fortunate I guess to have the chance to talk about Bratmobile somewhat frequently when I go to schools or other places to speak about music and my career. Also, Allison has been working on an oral history of Riot Grrrl, so we've been thinking about where we fit for a bit now. It's wild to have an anniversary of this length. though. Many people on my team at work weren't born when it came out!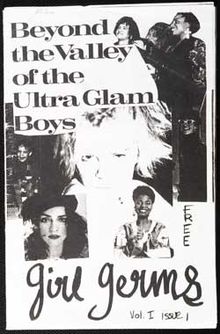 Are you ever, like, how could it have been 25 years? Because I am!
ERIN: It's bizarre. It's totally cliche to say it feels like it was just yesterday, but it feels like it was about five years ago sometimes! I live right up the street from where Pottymouth was recorded. I have a very special moment when I pass the house where it was recorded to this day! It was recorded at a punk group house in Mt. Pleasant, D.C. called The Embassy, where several members of Nation of Ulysses lived as well as members of Autoclave, etc. A total hotbed of late '80s/early '90s creativity.  
MOLLY: 100 percent!
What will fans learn from the podcast that they didn't know before?
ERIN: Probably a lot! We usually get asked the same questions about Riot Grrrl all the time! This time is different—we're being asked about the history of this record—women aren't often asked to talk about recording their records!I think the stories of how we all met and came together are pretty cool—and our shared history with our peers from that time like Corin Tucker (Heavens to Betsy, Sleater-Kinney).
MOLLY: I think it's really interesting to hear other people's perspectives alongside ours, and maybe even our own different recollections!
What is your favorite Bratmobile song?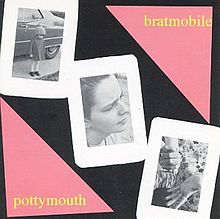 ERIN: SO many! From Pottymouth, the one that's really special to me is "Kiss & Ride" because it's the first song I ever wrote. I wrote that and "Love Thing" in high school, so I brought those fully formed to my first practice with Molly and Allison. "Cool Schmoo" I think has a timeless, genius message. I also love "The Real Janelle" from The Real Janelle E—it's super fun to play live. My favorite Bratmobile song from after we got back together is "90s Nomad."  So powerful to listen to and play!
MOLLY: Hmmm…too hard.
What is your favorite memory of the band's time?
ERIN: Our first tour, a full U.S. tour in the summer of 1992 with Heavens to Betsy. So many firsts!  None of us had ever been on a U.S. tour before. We met so many people in each town that ended up starting their own bands and became lifelong friends and part of our punk family. Having that camaraderie with each other and with Heavens to Betsy was completely life-changing. None of us have ever forgotten it!
MOLLY: Being part of a gang. Having shared values, different opinions but common language of defiance and action. I think it's just youth!
What is your most painful memory?
ERIN: We broke up on stage in May of 1994 in New York at Threadwaxing Space. (You saw this happen!) It was a super, super painful situation, and there's video of it that I refuse to watch to this day. So many people I admire were in that room and saw it happen—Kim Gordon, Julie Cafritz, Jon Spencer, Joan Jett. Thurston Moore was there and even wrote about it for Art Forum! The one upside is Joan Jett was behind my amp as it all went down and was giving me a back rub on stage as the band broke up. If you're going to go out, you might as well go out with Joan Jett giving you a back rub on stage.
MOLLY: Breaking up in 1994. It was tragic and dramatic and not necessary, but we didn't have anyone to guide us or tell us it could be OK. I'm glad we were able to come back together for a few years and most importantly, remain friends all these years.
What do you miss most about Bratmobile?
ERIN: Molly and Allison are the funniest people I know. I think we'd all say that—we think we're the funniest people we know! It's important to be really great friends if you're going to be in a band with people. You spend A LOT of time together. I miss that togetherness! There is also nothing like the complete power of playing electric guitar on stage.  
MOLLY: I am totally at peace with it! I get to see Allison and Erin regularly, listen to the tunes and have the memories.
Any plans to play together again?
ERIN: Never say never! It would have to be the right situation, though. We live in three different places.
Molly: Nope!
What's your favorite band today?
ERIN: I consider myself a fan before anything else. I take fandom seriously! I love SO many bands SO intensely right now—I can't do anything halfway. Way more than one favorite! It's an incredible time for music in D.C. right now—I'm going out all the time seeing bands, way more than 10 years ago. One of my most favorite bands is the D.C. band Priests, who are incredible and run a local label called Sister Polygon. They put out lots of incredible music and generally foster amazing community here. They have changed the entire feeling of the town for me. Shopping are my favorite British band and one of the best live bands going. Screaming Females I also love—Marissa Paternoster is a special genius who is just amazing to watch. I am incredibly proud of Snail Mail. I've known Lindsey since she was 15 and to see the well-deserved success she's had so early after starting at tiny basement shows is super emotional for me. I LOVE LOVE LOVE EX HEX—Mary Timony, Betsy Wright, and Laura Harris are just incredible people but also true complete pros. Watch them to see how it's done! I'm truly lucky that many of these bands I admire so much took part in the podcast! I might flip out when I hear what they have to say.