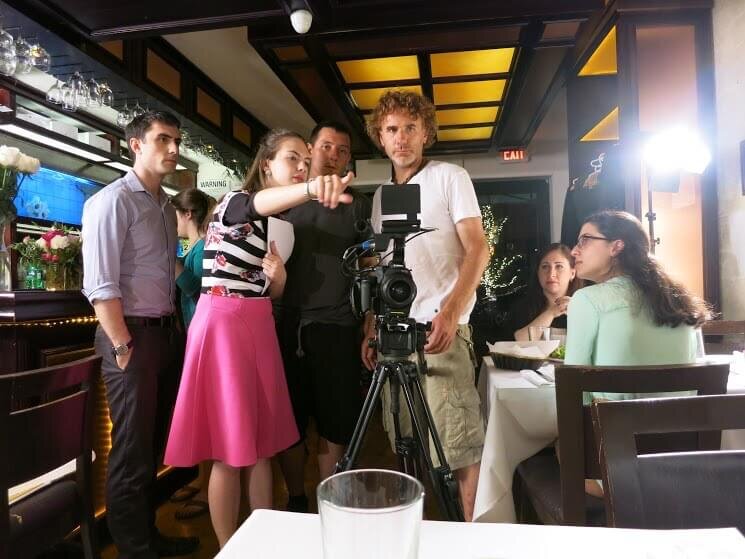 [Featured image by Leora Veit]
When I was 8 years old, my favorite teacher assigned the class a project: write about what you want to be when you grow up. I answered the truth: I want to be a movie star.
The next day my teacher handed my project back to me with my words sloppily covered in white-out. "You can't be that."
Even though my teacher was simply echoing the sentiments of the Orthodox Jewish environment in which we lived, her words still stung. Hollywood was seen as a dangerous place that corrupted the values of modesty our community held so dear, but it was still a world I so desperately wanted to be in. I deeply valued my faith but didn't believe that I would have to give up my observant lifestyle in order to work in the business. There had to be a way.
I heard "you can't be that" and "you can't do that" throughout my childhood. Relatives, teachers and random strangers would tell me that it was just a phase or that I was being silly and impractical, that it was not possible to be both religiously observant and a successful actor. My only saving grace was my mother who saw how serious I was and decided to support me. After a few years of begging, she finally took me to an agent and drove me around New York City to countless auditions. As I got older I became more determined than ever, especially after I got my first real booking – an incredibly fun Time Warner commercial. After that taste, I became obsessed. Instead of doing my homework, I would sit on the floor of our living room and staple hundreds of headshots and resumes together to mail out to casting directors. I felt most alive when I was acting.
When I was 15, my family had moved to Los Angeles; a bonus for me was that it wasn't that hard for me to sneak out of my Orthodox high school to go on auditions. I'd change out of my stiff blue uniform as my mother drove the getaway car. Knowing I had acting class or an audition coming up was all that got me through each day.
During my sophomore year I booked a starring role in a TV show. Nervously, I told the producer about my weekly scheduling conflict every Saturday and to my relief, he was fine with it. I finally proved all the naysayers wrong. I was an Orthodox working actor. I still had to hide my success for fear of being kicked out of school, though I let a few friends in on my secret.
I remember writing in my diary after my first day on set, claiming it was the best day of my life. I immediately bonded with the other actors who played my on-screen family and felt a boost of confidence as I held my own among them. It felt so gratifying to be doing what I loved especially after working so hard to get there.
The joy carried over and high school became a little more bearable. A few weeks later we got news that the show hired a new director who switched around the shooting schedule. Almost all of the shoot days were now on Shabbat and holidays. I would not work on Shabbat and so I was fired.
My world came crashing down. The worst part of it all was that the girl they hired to replace me went on to have a huge career and I started seeing her everywhere. She was in all my favorite TV shows and her perfect face grinned down at me from billboards that seemed to follow me wherever I went, a constant reminder of what I almost had.
I felt rejected. Rejected by the people of my faith who told me it wasn't possible to be an Orthodox actor. Rejected by a Hollywood system that gave me that same message. And yet I loved both worlds and couldn't imagine living my life in just one of them. I took some time to reflect and explore what I really wanted and what I really believed. Something told me that God wouldn't have given me this passion for performing if He didn't want me to use it. I realized that I didn't have to choose one world over the other but that there was a way to merge them and create something greater. I just didn't know how yet.
As the rejection still came from all sides, I started taking matters into my own hands. During senior year of high school I wrote and directed a short film for English class and discovered I loved working behind the camera as a creator as much as I loved acting. I started writing scripts with roles for myself since there weren't many out there that felt meaningful to me. I wanted something deeper than the scantily-clad-girlfriend-type – a role I could sink my teeth into, that would challenge me as an actor. I found a mentor in an Orthodox writer/director and interned on her sets and acted in her projects, soaking up everything. She too had fought to maintain her values and observances in the industry; watching her command a set in her fully Orthodox garb opened my eyes to so many possibilities.
After high school I wasn't sure what path to take or how to go about pursuing a career. I chose to attend Yeshiva University, where I felt at home in the more Modern Orthodox environment. I took classes in various subjects but realized quickly that I wanted to study film: together with the art professor I fought to create the first Film Studies major. The school was very hesitant at first because it had never been done before and they didn't have a film department. I worked relentlessly on creating a program by combining classes from different departments with independent study and internships. Eventually the administration allowed it and supported the major. In 2014 I graduated as the first Film Studies major.
After graduating, I founded my own production company. Even as I started seeing success, it still was a fight every day and the naysayers didn't quiet down. Many people I met seemed baffled by my choices. "But what are you going to do with a degree in film?" "How can you make money?" "Isn't it a really hard business to break into?"
Yes it's really hard. And I still face rejection every single day, whether it's about fundraising or a project that falls through or people who still don't believe in me. But it would be much harder not to do this.
And now there is something a lot more powerful than all the rejection. I created a web series about Orthodox Jews dating in New York City. Along with a team of other Orthodox artists, I get to do everything I love; direct, produce, write and act, all in one project. Since we released the first episode on YouTube in May 2016, viewers all around the world are enjoying, relating to and feeling inspired by the show. Those who are going through the painful dating process have told me the show makes them feel less alone. The day of our screening party – with a standing-room only crowd and so much laughter you could barely hear the dialogue – was one of the best days of my life.
As much as my faith influences my work, I also feel more connected to God when I am creating. After all God is the ultimate creator. At 25, I have brought my faith and my art together, creating entertainment for a higher purpose – something that is meaningful and inspirational. There is a concept in Judaism of repairing the world and I like to think I've begun to do my part with this show. While TV shows in particular will often have token Jewish characters, usually one-note and without much depth, seeming more like caricatures, and usually there to be the butt of a joke. My writers and I aim to provide more nuanced characters who reflect the real Orthodox Jewish people around us. Many viewers who have never met a Jew before, have noted that the show helps them understand how much we all really have in common simply as human beings searching for connection.
Recently, I was invited back to speak to the film class at YU about my work. Two young women approached me and told me that they were now majoring in Film Studies, that the major I created allowed them to see that their dreams didn't have to remain just dreams. I told them that being a religious artist can be a beautiful combination and not to be discouraged by anyone.
I feel so grateful that 8-year-old me didn't listen to her third grade teacher. Somehow she knew that despite the fact that what she wanted wasn't usual or normal, it was possible. And if she couldn't find the right path, that didn't mean she couldn't create it.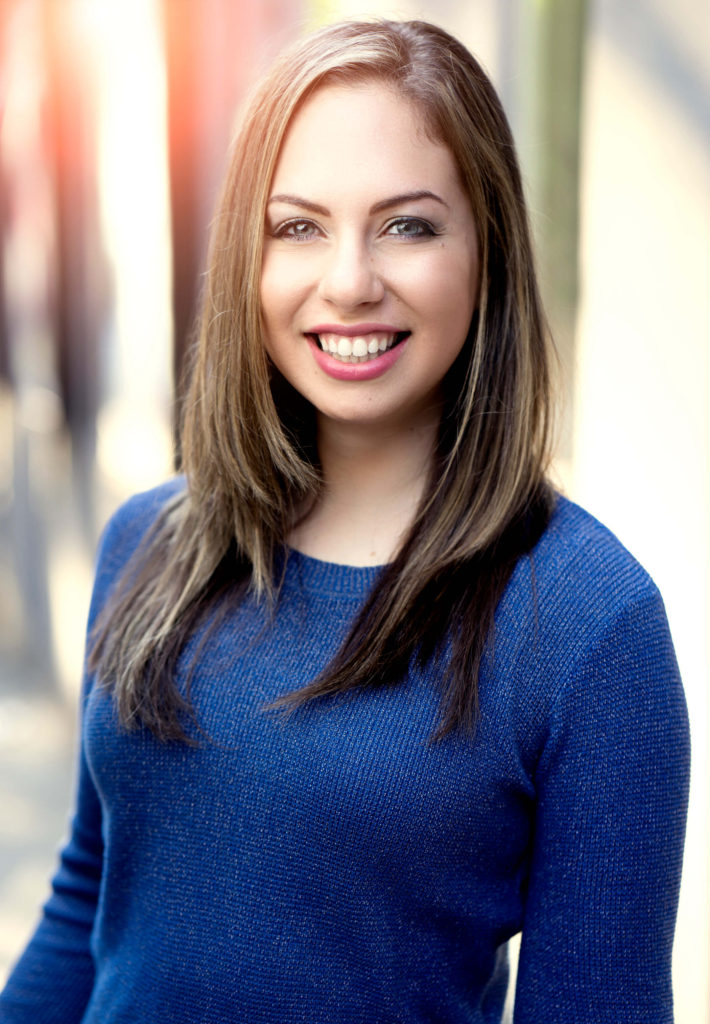 Leah Gottfried is an award winning director, writer, producer and actor, and founder of the production company Dignity Entertainment. She is the creator of the hit comedic web series Soon By You, which centers on young Orthodox Jews dating in NYC, and is currently running a crowdfunding campaign to produce new episodes of the show. Her short film "The Setup" won Best Short Film at the Washington Jewish Film Festival 2016 and has screened in numerous film festivals all around the world.