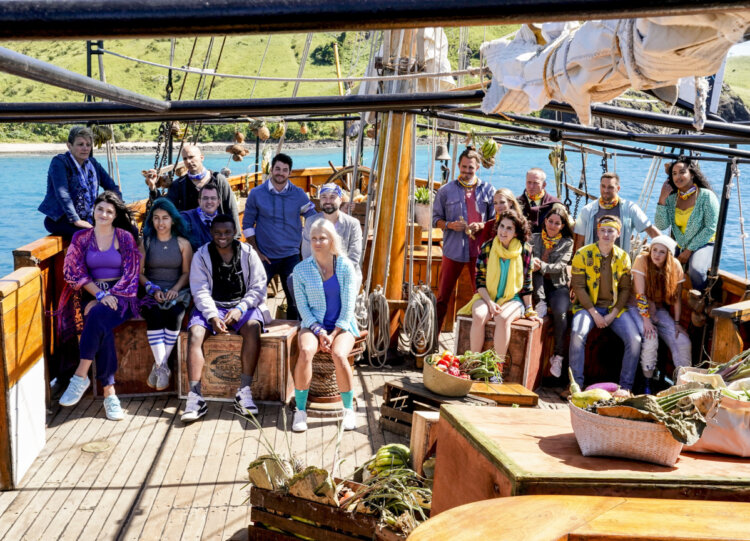 When I started this column for Grok Nation, the idea was to create a condensed pop culture calendar for readers. There are a lot of entertainment options to remember—on top of already busy lives. Creating a one-stop shop for all things TV, movies, and books comes with its own issues though. Namely that there's so much to sift through each month that offering up simple release dates and short blurbs doesn't allow much in the way of recommendation and analysis.
So, we're switching things up with these monthly columns. They're going to be shorter and contain fewer entries, with a more focused approach to recommendations. This isn't just a space for listing what's coming up. It's a column that will hopefully guide you to what we here at Grok Nation believe is the best or most promising work coming from the worlds of TV, movies, books, and music.
Without further ado, let's get to what we recommend diving into during the month of February.
TV
Russian Doll (Netflix, Feb. 1)
It may only be February, but if you want to see one of the best performances of the year, you have to check out Russian Doll. Natasha Lyonne (Orange is the New Black) is outstanding in this Groundhog Day-style comedy that sees Lyonne's character stuck at a never-ending party, one that ends with her death before it starts all over again. It's weird and funny (and co-created with Amy Poehler and Leslye Headland), but all you'll want to talk about is how great Lyonne is.
One Day at a Time (Netflix, Feb. 8)
Is there a better family sitcom out there? Okay, there are quite a few good ones out there, but One Day at a Time feels special. It's charming and old-school in its approach to the sitcom format, but complex and contemporary in the themes it tackles. It's equal parts heartwrenching, angry, vibrant, and full of life. We can't wait for the third season to drop. Read more about why we love One Day at a Time here.
Survivor (CBS, Feb. 20)
It's still the best reality competition on TV, even as it heads into its 38th (yes, seriously) season. The last few outings have been a little too heavy on twists, but the 37th season was a nice bounce back, one defined by a great cast and even better gameplay. That gives us hope for Survivor: Edge of Extinction, which will feature four returning players.
Better Things (FX, February 28)
Finally, Pamela Adlon's dramedy is back. It's one of the best shows on TV, a sometimes-weird, always inspired, consistently moving and hilarious look at a single mom raising three kids while also navigating her career in Hollywood and what it means to age as a woman in the business. There's nothing else like it on TV, and after a somewhat lengthy hiatus (by today's standards at least), we're glad to have it back.
Movies
The Lego Movie 2: The Second Part (Feb. 8)
If you didn't like the first Lego movie, there's just no hope of redeeming your cold heart. It featured great animation, killer songs, and a flurry of jokes that appealed to both kids and adults. We have hope that Phil Lord and Christopher Miller can strike gold again.
Cold Pursuit (Feb. 8)
The latest in the "Liam Neeson hunts down people who did him wrong" genre. February is cold, so why not sit in a warm theater and watch Neeson, bundled up in all sorts of outerwear, play a snowplow driver who's after the drug dealers who killed his son.
Books
Merchants of Truth by Jill Abramson (Feb. 5)
The former Executive Editor of the New York Times takes a look at the state of media by following four companies (The New York Times, Washington Post, Buzzfeed, and Vice) across 10 years. Considering it feels like the very institution of journalism is falling apart, this a very timely, important read. Pre-order on Amazon.
Black Leopard, Red Wolf by Marlon James (Feb. 5)
James follows up his incredible, Man Booker-winning novel A Brief History of Seven Killings with an epic that's being dubbed "the African Game of Thrones." The first book in a planned trilogy, it blends mythology and fantasy with African history and magical realism. James' work has always had a sprinkle of the fantastic, but this setting should allow him to really let loose. Pre-order on Amazon. 
The White Book by Han Kang (Feb. 15)
Both The Vegetarian and Human Acts are masterpieces, so to say we're excited for Han Kang's next book would be an understatement. Kang writes sentences that will knock you flat, and they create this very abstract, heady feeling. You can grasp the plot, but the atmosphere is key. This novel follows a writer in residence who contemplates the color white as a symbol of grief, so expect something meditative and piercing from an author who has a knack for getting under your skin and inside your head. Pre-order on Amazon.
The Uninhabitable Earth by David Wallace-Wells (Feb. 19)
Wallace-Wells wrote the staggering, terrifying, 7,500-word essay "The Uninhabitable Earth," which is all about our dying planet, for New York Magazine, and it still haunts me to this day. Now he's expanded that essay into a book. Don't come looking for anything cheery here, but this is a necessary read. Pre-order on Amazon.
Music
Thank U, Next by Ariana Grande (Feb. 8)
You've all been spinning that single for months now, right? It's so, so good. Can you have a Song Of The Summer in February? Who cares, let's do it anyway. Now, we get the full album, and we're pretty hopeful it'll be pure pop bliss.