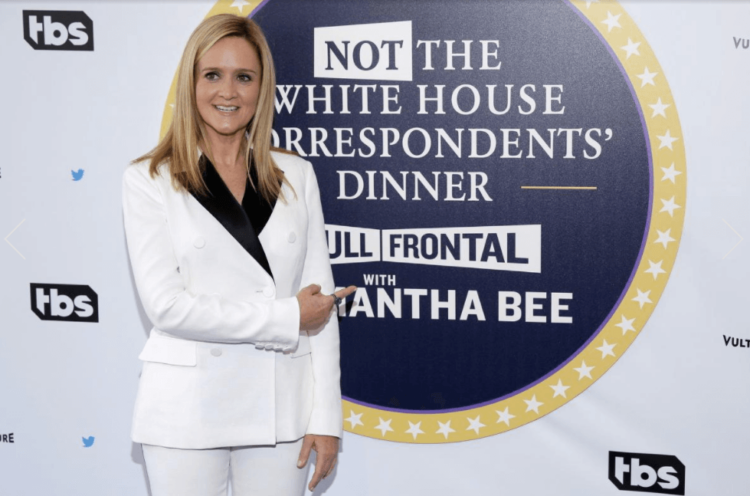 [Image: Daily News Photos]
This past Saturday the annual White House Correspondents' Dinner took place Saturday night with Daily Show comedian Hasan Minhaj acting as host. Instead of attending that event, Donald Trump decided to skip it – the first time a sitting President has done so in 30 years – in favor of talking about the "fake media" at a Pennsylvania rally. But the politics-meets-media event with real buzz was Not The White House Correspondents Dinner, an extra special show put on by Full Frontal With Samantha Bee. And I was there!
I am a HUGE fan of Samantha Bee and her show; the Daily Show alum has found her niche on TBS with a weekly show that skewers politics and the news of the week in a clever, hilarious and super-sharp way. (Full disclosure: My friend Ashley Nicole Black (see photo!) is a writer and correspondent for the show, so in addition to knowing I was in for a special treat just for showing up, I was also there to support my phenomenal friend, who wrote some of the jokes for the special and did some extra bits as a correspondent.)
Full Frontal went all out for the event, which took place at the beautiful DAR Constitution Hall in the heart of downtown Washington: lots of free booze and snacks for all the guests (while the fancy guests — aka celebs and journalists from big outlets like CNN and MSNBC — got actual meals down on the main floor of the venue).
While the show that aired later that evening was only an hour long and — available to watch online now — there was around two hours of filming and some stuff didn't end up making it fully to air (more on that later!).
After a hilarious intro clip parodying a White House press conference starring Allison Janney (as her "The West Wing" character White House Press Secretary C.J. Cregg), we were treated to a live version of Full Frontal's theme song by the one and only Peaches, backed up by an all-woman band. It set the mood for the rest of the show — high-energy, heavy on the ladies, and kick ass.  
The rest of the show alternated between taped bits (including reenactments of what it would have been like if Sam had hosted Correspondents Dinners of past presidents) and live segments. Bee, in a custom white suit with black tuxedo stripe, took well-earned shots at various aspects of the press from Fox News Bill O'Reilly and Roger Ailes to CNN executive Jeff Zucker.
In the end, while comedy was a big focus, it was really all about the journalism. Event staff wore t-shirts that said "Free Press," and there was a segment extolling the virtues of local press (with shoutouts to papers like the Flint Journal, which broke the story of lead-pollution in the Michigan city's water supply). And proceeds from the night went to the Committee to Protect Journalists.
Throughout the event, Bee referenced the empty podium set up on the right side of the stage, joking that the national news orgs present should keep an eye on it, alluding to the time multiple outlets aired an empty podium where Trump was scheduled to appear. We all wondered just who would be showing up (rumbles of everyone from Michelle or Barack Obama to Alec Baldwin as Trump were heard) but in the end it was Will Ferrell as George W. Bush that came out. His bit went on for around 15 minutes (much was cut for what eventually aired), and it felt like the perfect ending: had  Trump impersonator come out, it would have conveyed that Bee and company thought that he was worth that time and effort. Having Ferrell up there as Bush sent a stronger message: even a fake ex-President is more important than you are.
One of the more stand out recorded clips was a spoof of "The Man in the High Castle," which presented an alternate reality where Hillary won. She's surrounded with a staff of women and men take to the streets to march for their rights (wearing knit blue ball hats and everything). It was a dark comedic moment that stung as much as it entertained.
I saw some familiar faces in the crowd: CNN anchor Van Jones, actress Ali Larter (who sweetly got in line behind us when entering the building before we let her know that she didn't have to get sweaty with us but could use the celebrity entrance around the corner), LadyParts Justice founder (and Daily Show co-creator) Lizz Winstead, and former MSNBC host Melissa Harris-Perry, who indulged me in the most ridiculous selfie ever.
The Not The White House Correspondents Dinner came at just the right time. We have a President who is considering limiting the freedom of the press, journalism outlets that don't hold the President accountable for "false truths" he utters or tweets, and everyday people who are honestly frightened about what it all means. In the midst of that, however, we have Sam Bee and Full Frontal merging politics, comedy, journalism and activism, providing us with the ability to laugh about it and the fire to power the resistance.