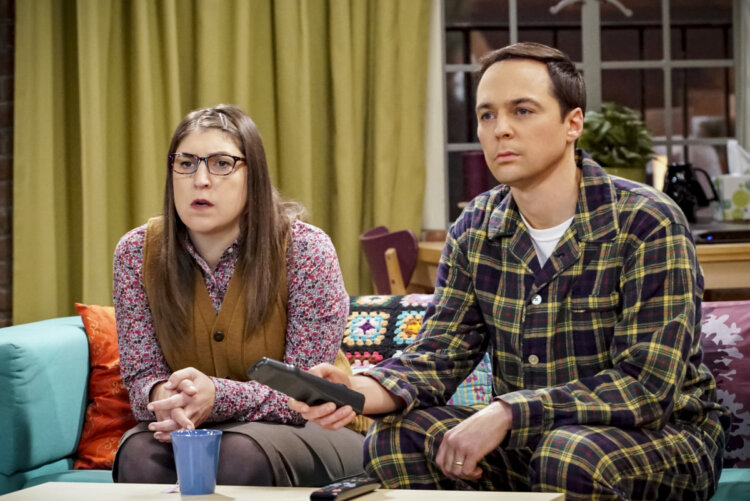 Sweet, sweet episode tonight, right? In "The VCR Illumination," Sheldon is paralyzed by the failure of his and Amy's paper on super-asymmetry, and he can't snap out of it. That's where an emergency pep talk he recorded for himself as a kid to try and inspire him comes in.
This allowed for a really nice crossover with the cast of Young Sheldon, the CBS spin-off show about Sheldon's childhood. Our director Mark Cendrowski spent time with Iain Armitage, the young actor who plays Sheldon, along with Lance Barber and Montana Jordan, who play Sheldon's father and brother. We got to play back this adorable speech young Sheldon makes in real time. In the episode, the speech has been recorded over. But Sheldon and Amy end up learning so much from the snafu, and it turns out they have more physics to engage in together.
I loved this episode because I got a lot of time with Jim. It was a technically complicated episode because we film in front of a live audience and we had to practice a lot to get all of the timing right to play back those scenes to the audience so they could react in real time. It's a lot of moving parts over here!
I also loved the Bernadette/Wolowitz plot so much! I am Simon Helberg's biggest fan, which I think I have told him 1,000 times. He tolerated it for the first 300, but now I think he's a tad creeped out by me. In all seriousness, him doing magic is hilarious to me. And him being honest with Bernadette about how he doesn't want for him what she wants is so touching and wonderful. Melissa Rauch playing stage mom to him made me laugh so hard; she reminded me of "Leona" in Beaches, cheering my character on from the audience. I think Melissa and Simon together are so, so, so good.
It was really a joyful episode to film, and I can't wait to see what's next for Sheldon and Amy and their new revelations. And I really hope for more Wolowitz magic, too!