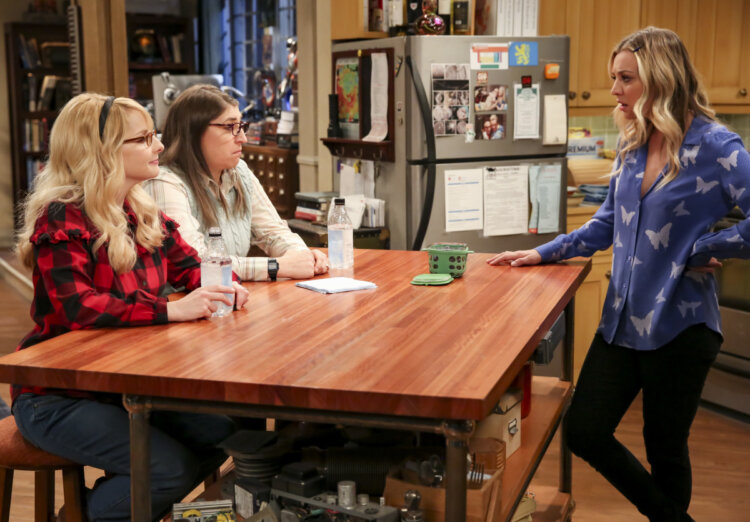 Although I didn't have a lot of scenes in this week's Big Bang Theory, it was a special episode because it was the last one we filmed before our winter break. It was our "last" winter break from the show and that brought up so many emotions!
But, first, let's discuss the episode, "The Propagation Proposition." Raj tries to get back together with Anu and it ends up really sweetly. (By the way, have you read my interview with Rati Gupta, who plays Anu, yet? Do it now if not!) Leonard and Penny spend an evening on a fancy boat with her ex Zach and his adorably dorky wife. They ask Leonard to be a sperm donor for them to have a baby, and Penny doesn't like it. There were lots of laughs in both of these plots for sure.
My scenes are with "the girls," as they call us. We meet Zach in a bar at the beginning of the show and discuss Penny's frustration with Leonard considering donating his sperm to her ex.
Let's get back to all of the feelings, though. I have 10 years of holiday memories while filming this show. 10 birthdays celebrated here. I was married when I started on this show. I had a nursing baby and a toddler who cried when I left for work. Now they are 10 and 13, and they barely seem to notice me a lot of the time. I am 43 years old and a heck of a lot wiser than I was 10 years ago.
What hasn't changed in 10 years of holidays here, though, is the distinct feeling that this work environment is something very, very special. For the day we filmed this episode, our entire crew dressed up in Christmas-wear. Jacob Murray, our technical director, came as a lit-up Christmas tree (he's Jewish, but still: so cool!). Many people on stage wore Santa hats and elf ears. There was a Mariah Carey sing-off between Kaley Cuoco and our first AD, Nikki, and everyone joined in and danced to Christmas songs aplenty. It's joyful to be with a group of joyful people all year-round, but this time of year especially.
Next year, I don't know where I will be at the holidays. I may be working, I may be between jobs. I may be writing or directing; who knows. What I know for sure is that I will forever remember the holidays with my Big Bang family. Whether it's lighting Hanukkah candles with the Hanukkah-celebrators among us or watching Kaley and Nikki sing their hearts out to Mariah, this place is special because of the special people who are a part of our lives here.
So when you think about this episode, know that there were many a moist eye as we filmed it. Because we love to work together, we love to make you laugh together, and we love to bring joy to you all together.