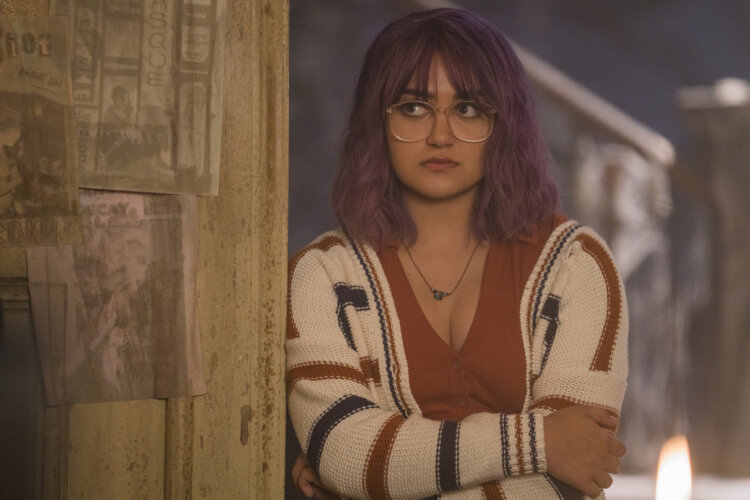 Gertrude Yorkes is a feminist, a champion of social justice, a sarcastic joke maker and Jewish. She almost sounds like someone who might work for Grok Nation, but she's actually a character on Marvel's Runaways, Hulu's hit drama series, based on the comic series and created by Josh Schwartz and Stephanie Savage. Oh, and did we mention Gert can control a dinosaur? Yeah, she's pretty cool.
Also cool? Ariela Barer, the 20-year-old actress who portrays Gert. She's been acting since the age of 3, with her share of TV and movie roles. Aside from Runaways, she most recently appeared as Bailey Bennett on Atypical and Carmen on One Day at a Time, both on Netflix. But music has always been a big part of her life. Her father is a classical composer and she plays in an alternative punk, feminist L.A.-based band, The Love-Inns.

Because music is such a big part of her life, when we asked Ariela about her favorite hand-me-down (typically a fashion item), she told us about her mother's guitar.
"I've had it my whole life," Ariela tells us. Her mother, who was born in Mexico, had two guitars. "My sister kept one, and I kept the other," she says. "I have very early memories of this guitar being around our living room and just sitting around all the time, so finally someone started playing it."
That someone was Ariela. As a child she took lessons for a little while, but confesses to be a "really, really stubborn child," so they didn't last too long. Thankfully, her love for music and playing instruments in general remained. "I knew the basics of music theory in general and reading sheet music and stuff like that. Then I forgot for a while and now I'm relearning it."
The guitar now lives with Ariela, and while it mostly stays in her house, the actress has occasionally brought it to the set of Runaways. "I kept it in my trailer because we have a lot of time waiting around on set, so I brought my ukulele and my guitar," Barer shares. There she can relax and play some music, including some jam sessions with costar Allegra Acosta (who play Gert's sister, Molly).
"I don't think Allegra plays guitar, but she plays piano and she sings, so it's just fun," says Barer of the times the two get to play together. "And I've been teaching her ukulele, so it's been fun on set to have instruments."
In between rocking out in her trailer, Barer has been hard at work on season 2 of Runaways (which premieres on Hulu Dec. 21), and she can't wait for fans to check it out. "I'm so excited about it," Ariela says of the sophomore season, before revealing a little tease. "If you love the characters, you're gonna love how the relationship dynamics grow throughout the season. And if you love the action, there's way more of that."