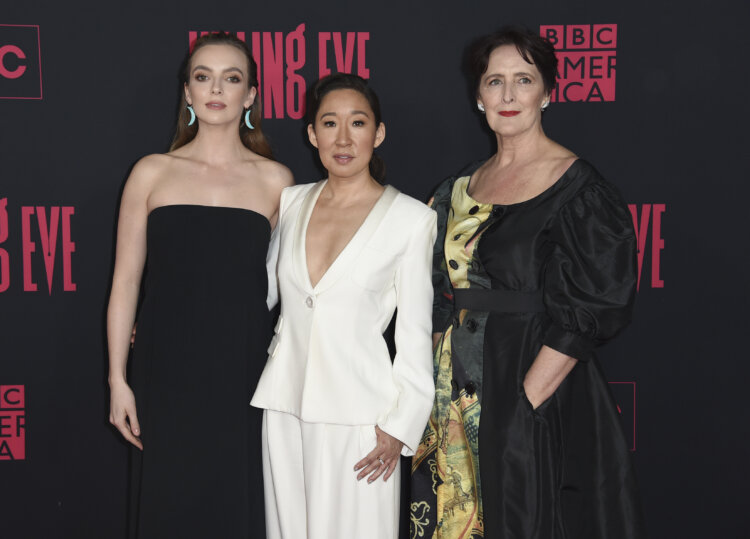 I got turned onto BBC America's Killing Eve by one of the only other people I know who is as cynical, critical, and Scrooge-like as me. His name is Don Reo, and he created Blossom. But he didn't make me this way; I was this curmudgeonly when I met him at 13. Then he wrote a TV show for me. Life's funny.
Anyway.
Don and I both hate when people say, "OMG you're going to LOVE [insert name of show they love here]!" Oftentimes, people are just telling you what they enjoy without actually thinking about what you would enjoy. Like, if a well-meaning friend buys me a gift certificate to get a massage, how much thought did they actually give it, knowing I'm super weird about strangers touching my body and that I have sensory issues?!
But when Don told me to watch Killing Eve, I took his suggestion because he gets me. And he was spot on. Boy, did I love season one! I haven't read the books the series is based on, but I love a good mystery. I also love strong female characters and solid actors. I love absurdity and the mixture of tragedy and comedy. I love this show.
I'm not really a big TV watcher, so completing an entire season of a show was kind of a big deal for me. Once I finished, it hit me: I have to wait for the second season! Fortunately, I only watched season one about four months ago, so I didn't have too long to wait.
I just started season two and I have to say, the first episode was kind of rough for me. There's some heavy emotional stuff surrounding a boy in a hospital that kind of took me off guard, but the story is still as riveting as ever. Sandra Oh is such a pleasant discovery for me. Having never seen one episode of the very famous show she was on (Grey's Anatomy), I didn't really know who she was, but I'm happy that's changed. She's wonderful. And the "villain," played by Jodie Comer is also a delight. All of the supporting actors are incredibly good and seemed really natural as performers. I occasionally find myself wondering if instead of actors they're actually real people with these professions. Not because they aren't good, but because they're so believable!
Eve's husband, Niko Polastri (played by Owen McDonnell) gets a special mention because based on his name the character is Greek (awesome!), and he also has a beautiful English accent, which is doubly awesome, and now I'm wondering how many attractive, talented, Greek men there are with English accents because I kind of want to make friends with one…
I find Killing Eve powerful in its showing of an unconventional relationship, which is still being revealed to the audience. I commend the writers and directors for tackling murder and romance without it seeming seedy, creepy, or gratuitous. There is violence and some gore, but it is really discrete and I don't find it offensive. The plot is wild. This whole show is wild. But it's my kind of entertainment for sure.
I can't wait to see episode two of season two! Who's watching with me?