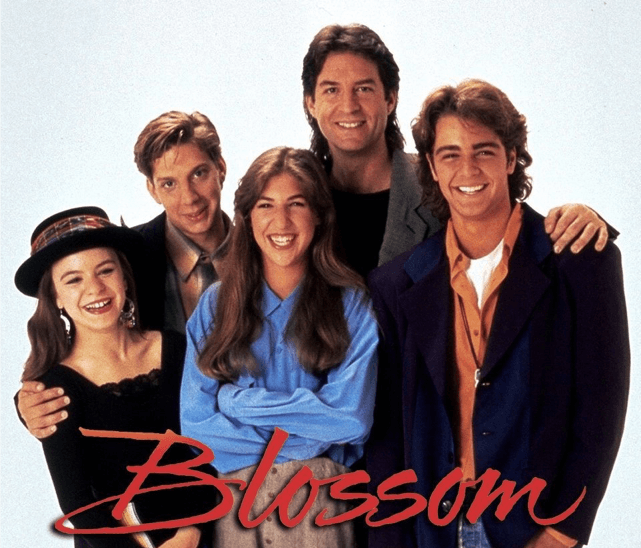 From the ages of 14 to 19, I spent pretty much all of my waking hours playing "Blossom" on the NBC series of the same name. These were very good years of my life, even though it was difficult growing up in the public eye. (It was difficult growing up being me anyway, since I was the kind of teenager who liked reading French philosophy and thinking about our mortality.)
As Blossom begins to air on Hulu and as Thanksgiving approaches, I am thankful for my "Blossom" years, especially for these five reasons.
Working on a "clean" set.  I get asked a lot how I stayed "normal" and how so many child actors got into drugs and alcohol and "trouble." While I have no answer for this, I am so grateful that the Blossom set was clean. I never saw drugs or alcohol on set, and our staff and crew respected that there were young people around and they acted accordingly. Jenna von Oy, Joey Lawrence and I all agree that our set was a really wonderful place to grow up. So thankful for that.
Being directed by Bill Bixby. Our show was directed by Zane Buzby for the first years but the bulk of our episodes were directed by Bill Bixby. I knew Bill as The Incredible Hulk of my youth, and it was a real honor to have Bruce Banner directing me! Bill was a fiery, committed and passionate director. He worked on our set until days before he passed away (on November 21, 1993, making today the anniversary of his death). I did not have any direct exposure to someone with cancer at that time, and it was a very complicated thing to process as a teenager. In my family, if you have both parents living, you are not encouraged to attend funerals unless it is close family members. I was disappointed I was not at his funeral. I am grateful to have known him and worked by his side throughout his cancer treatment.

Meeting (and learning from) the Playboy Bunnies. Blossom was never a big network hit. We were up against Monday Night Football, and were the only network prime-time show based around a female character. Our writers were churning out amazing scripts but, in those first years, our ratings were not yet high enough for people to know about us! To boost ratings, some network executives decided to play up the male aspect of the show, since historically, boys and men are the main subjects of TV shows. This entailed diving into the fantasy world of Joey Lawrence's character, with many episodes featuring Playboy Bunnies. Some of these women seemed a tad annoyed by the role they were expected to play. Some men simply wanted a photo with them, and treated them like real-life photographs. Once, a celebrity came onto our set with an entourage for the express purpose of meeting and taking a photo with a certain Bunny; then he left in a fit of giggles. In the few scenes that I shared with these women, I came to understand that even though most people around them were treating them like objects, they were humans who didn't just exist for visual pleasure. I always made an effort to introduce myself and be nice to them. I am grateful for these experiences, because they solidified the belief system I hold, which rejects treating women like objects.
Knowing Don Reo. The man who created Blossom has gone on to produce and write for many other shows including Two and a Half Men. He currently is the executive producer of The Ranch with Ashton Kutcher. I am so grateful that this man took a chance on making a show about a girl when everyone else told him he was crazy. I am so grateful he saw in me a muse and a possibility for creating something special. (Editor's note: Read all about Blossom's origins in this excellent oral history piece at Uproxx.) Don was one of the most influential people in my life. Sometimes you meet people from a completely different background, and you wonder how genetics can make you so alike. I am so grateful Don found me when I was 13 and has seen me through my life as an actress.
Understanding that, for many, Blossom was an inspiration. So many women—and some men too—sought guidance and comfort from Blossom. We made you laugh, we portrayed a divorced family, we showed you a girl who was able to be both smart and have a cute boyfriend. We talked about drugs and sex and condoms and sexual assault. We showed a friendship between two girls that looked so real. Some of you tell me you had never seen a girl on TV who looked like you—because for the most part, they don't put girls like us on TV, I know. Many people have shared that our show got their dads through parenting them without a mom around. Many have told me they came to America and learned English from our show. I am touched by all of the stories you have shared when you stop me in malls, in synagogue, in classes at UCLA, and in restaurants and bars. I know we never aimed to change the world or cure cancer with Blossom, but we mattered to so many of you. And for that I am so grateful.
I cannot wait to hear from more of you as you watch Blossom again. I don't think I am ready to watch it just yet. I stopped watching myself in season 3, so there are two and a half years of episodes I have never seen completed. Maybe when my boys are the age I was then, we will start with episode 1 and see where it takes us.
Don't fight the feeling; you know you want to have a good time! Watch on Hulu now! (Don't have Hulu? You can sign up here!)