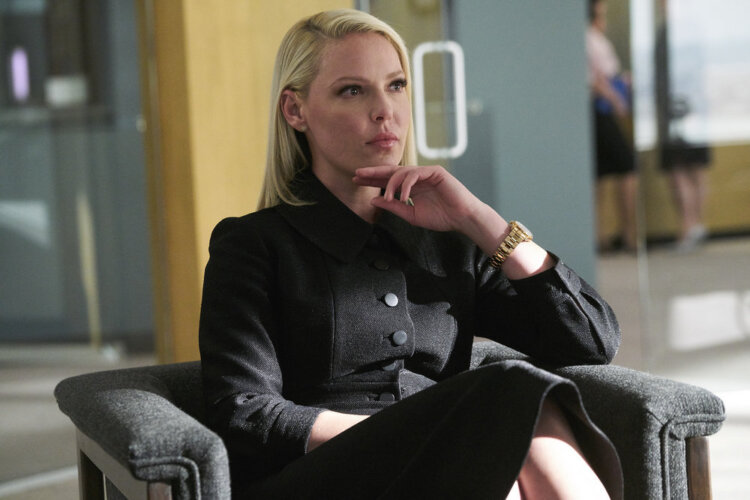 Katherine Heigl is no stranger to media attention. From her time (and exit) on Grey's Anatomy to marrying singer Josh Kelley and adopting children, much of what Katherine does—professionally and personally—becomes news. Whether she is acting or being a mom of four (including her teenage niece, Madison), she does it all with the whole world watching.
Most recently, the 39-year-old actress has moved her family from Utah to Toronto to join the cast of USA's wildly successful Suits as fixer Samantha Wheeler. Season 8 is the first season of the show without original cast members Meghan Markle and Patrick J. Adams, so Katherine certainly has high heels to step into.
Ahead of Wednesday's premiere of Suits, we caught up with the actress to discuss her role on the show, the hazards of social media, returning to work post-baby, and how having kids changed her acting.
GROK NATION: We're so excited for you to join Suits! What was it like joining such an established cast in season 8 versus being there from the beginning like you were on Grey's?
KATHERINE HEIGL: Very different because they have a rhythm and a routine. They've known each other for eight years! I was pretty nervous about it and just didn't know what I'd be walking into. I was having all those middle school flashbacks of the popular kids being really mean. So, I was so grateful they all reached out to me individually to just say hello and welcome me after it was announced that I'd be coming on. I had a two-hour conversation with Rick Hoffman, who plays Louis Litt, and it was like full-on therapy. I told him my entire life story, and it was great. And they've all been like that from the moment I stepped onto set—even though I was a little star-struck and a weird fan about it. [laughs]
GN: Has that made it easier to go back to work?
KH: If you're going to go back to work, you have to want to. If you choose to and leave your kids and you're taking on all that delicious mommy guilt, then it's such a blessing when it's worth it and the people you're working with are cool. The stories [being told on the show] are cool. The job itself is cool—thank God for that. Then I feel like, "Okay, it's worth it."
GN: You had your youngest son, Joshua, in December 2016. How has the transition back to work been now versus with your two older daughters?
KH: The biggest difference was after the girls I didn't have to lose weight, and this time I did. [Katherine's daughters Naleigh and Adalaide were adopted.] So that was a little rough, but I really started focusing on it a good three months before the show started, thank god.
I also realized that every year it gets harder and harder for me to go back to work. But the thing that I found really interesting was that the moment I walked onto the Suits set, there was this incredible relief that I knew what I was doing there…. Because as a mom, all I do is second guess and question my choices and my decisions. "Am I doing this right? Am I doing this wrong?"
GN: Speaking of second guessing, how do you handle social media criticism?
KH: I tend not to read a ton of the comments. It's just a—knock on wood—real blessing that 90 percent of the first ones that come up are always really positive and lovely, so I generally respond to those. I'm not going to respond to the negative ones. In my 20s, I'd be like, "I have something to say to this!" And now, I don't engage.
RELATED: Mayim shares Moby's tips for dealing with online haters
GN: Even though social media can open you up to criticism, you started a blog, Those Heavenly Days, a few years ago.
KH: I'm so grateful I did because I feel like the blog community is a much gentler community. I've gotten so much beautiful positive feedback. It's really made me feel so good to know that people are so positively influenced by just simple things that I'm sharing about my life and what I'm going through.
GN: On your blog, you're very honest and real—but as often happens on the internet, people can take offense. How do you handle this?
KH: I have always taken a lot of pride in being able to apologize. I think that that's an important quality that we all should have, and I know a lot of people really struggle with it. It makes me feel stronger that I can acknowledge when I've crossed the line or done something wrong, and then I feel like we should all just move on, right? …  As much as you can, authentically just be you and hold true to that no matter what people say about that authentic self. That's the only thing you can do. It's not easy.
GN: How has your approach to acting changed since you became a mom?
KH: It's changed everything. [Motherhood has] changed me, and because I have changed so monumentally, my performances have changed. My perspective on what really matters has changed. So, I hope it's lending a depth to my characters that I probably didn't have in my 20s. When I played Izzie Stevens on Grey's, I was 25 or 24 when we started, and I wasn't married. I certainly didn't have any children. I just had a lot of dogs, and it was like the first time my career really took off. I was a totally different person.
By now I do feel a little bit like I've got some experience under my belt… now I can play a character like Samantha on Suits with the confidence that I do, with the gumption, with the ambition, and with the wry sense of humor, because I found a place in my life of more confidence and more stability in my own skin, and less caring about everybody else's opinions and judgments.
Suits airs Wednesdays on USA at 9 p.m. ET.