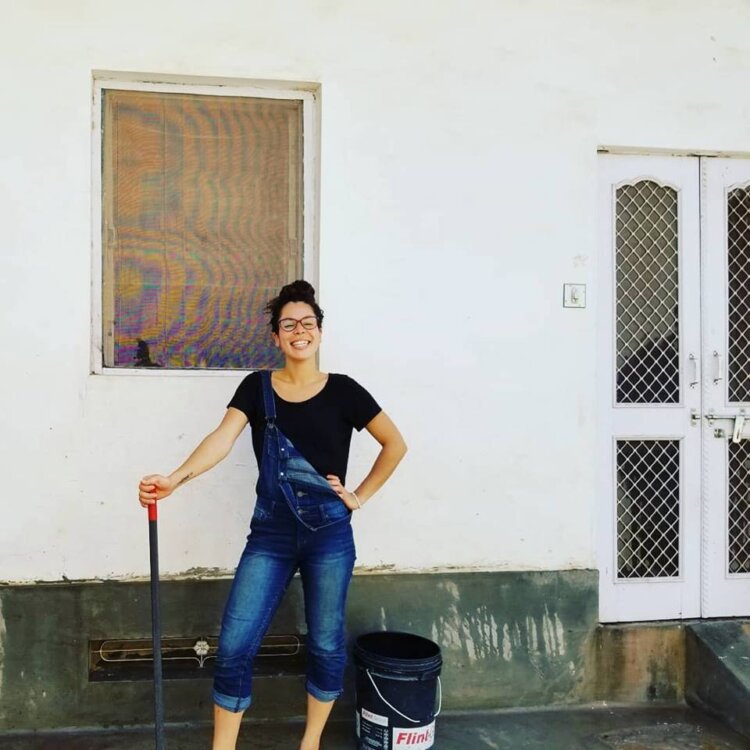 Jazzmine Raine, a grassroots activist and entrepreneur, is working for women's health improvements in Bikaner, India. Originally from Toronto, Canada, Raine spent a year speaking with young women from Bikaner, as well as migrant women workers from lower castes in the area, to learn about the kinds of issues they face on a daily basis before starting some of her own initiatives.
In Bikaner, a small city in northern India, girls who travel 30 miles to attend school face daily sexual harassment on the bus. There, societal norms seem stacked in favor of men. Women and girls have earlier curfews than males. Marriage is expected of all women, and careers for married women are rare.
Raine moved to Bikaner for a job at a local NGO, but wanted to work more directly with young girls and women, providing them with the resources they need to live better lives. "In order to do that, I needed to talk to them, and have them open up to me about the kinds of issues they face," Raine says.
Health education for women is limited. Women who contract STDs from their cheating husbands avoid local clinics for treatment for fear that they may be seen as promiscuous. Despite outdated traditions persisting in areas like Bikaner, women's health is starting to become more of a mainstream topic in India overall. In 2017, a bill was proposed that would entitle working women to have 2 paid days of leave each month during their periods. The bill remains benched, but the conversation it has spurred is critical.
One issue Raine discovered was a lack of education around menstruation. Working with a collective of young girls, she collaborated with them to make reusable sanitary pads, a commodity in the area. They quickly realized that selling their creations in a store wasn't going to work. Women's health is still a taboo subject in the area. "Women weren't going to go to a store and seek out reusable sanitary pads," Raine says. As a result, the collective sold the pads door-to-door in their community, providing information about how to use, clean, and repair the material.
They also provided basic education about menstruation through image-based leaflets. "People just don't go to a doctor to learn about these kinds of things," explains Raine. So they brought the information directly to the women in the community. While this particular program is no longer running, Raine hopes to have it back up in the future as she mentors more female leaders in the city through several initiatives.
Together with her business partner, Raine runs Hara House, a zero-waste hostel that aims to use tourism funds to bring the community together. "As part of our mission, 20% of the profits we make through guided tours and guest stays goes directly into the Community Hub," Raine explains. In the basement of Hara House, they have created the Hub — a safe space for youths to hang out, talk, learn, and just be whoever they want to be.
"Bikaner only has one public library, other that what is in the schools," Raine says. The Community Hub now has a small library where young men and women can access reading materials in English for free. "The goal is to provide resources and guidance to the young people of the community so they can start their own initiatives to further the lives of women."
For the young women that come from the villages to study in Bikaner, Hara House employs them to run guided tours of the city. The shifts work around the girls' school schedules so they are still able to devote time to their studies while earning a living.
The tours do more than just provide employment, however. "It's a chance for the young women to practice their English and to gain a global perspective from the tourists. Most of all, they gain confidence," Raine explains. "They now feel they can talk about anything, even subjects that were previously thought of as taboo. That's important. That's empowerment."
When asked how women in other parts of the world can support those in Bikaner, Raine doesn't hesitate to say it should be by making connections. "Women need to know that it's important to spend time to understand and be passionate about the lives of other women." She states, "It's critical to learn about the basic challenges that the women here face. But it's also important to know that those challenges are being addressed. The work is on the ground at a grassroots level."
Raine is exploring developing a pen-pal project where women from other parts of the world can write those she works with. She also runs an annual #WritesForWomen campaign during women's month in March. "We engage people all around the world to share motivational words and statements on social media, and we collect women's empowerment-themed art and poetry from youth in nearby cities to create a massive girl power installation out of all the work," says Raine.
Those interested in participating can contact Raine directly through Hara House.