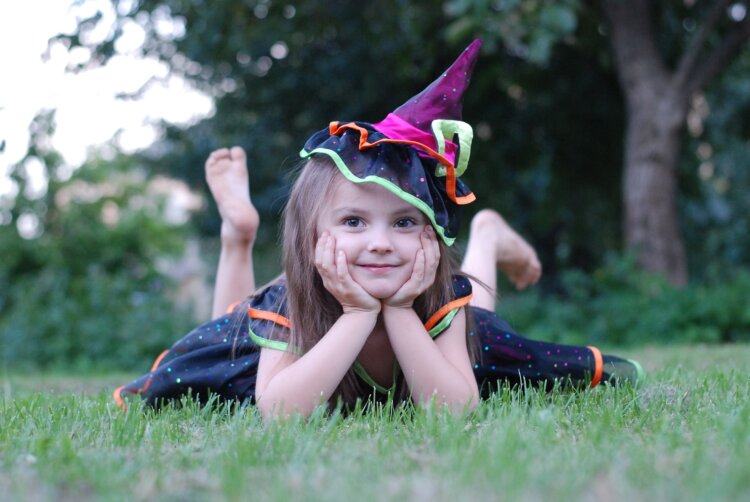 I wasn't even really searching yet. Barely September, I had just started to think about what my daughter's first Halloween costume would be. Born in January, she would be a perfect roly-poly by the time the holiday came, old enough to sit up on her own for pictures, smiling and giggling at the camera but young enough that there'd be no protestations against whatever costume I chose.
I had a running list in my head that oscillated between classic adorable (a pumpkin? A mouse? A lamb?) and adorable feminist (Baby Rosie the Riveter? Baby Ruth Bader Ginsburg? Baby Scout Finch?). A lifelong feminist—I've spent my career in various all-girls institutions including teaching in one of the only all girls public schools in New York City, doing academic counseling at a women's college, and most recently working for a nonprofit focused on expanding abortion access and increasing reproductive justice—I was well aware of the fine line a parent has to walk when it comes to girls' clothing: one side the trapping, baggage, and gendered expectations that accompanied tutus, sparkles, and the worship of passive princesses; another side, just as dangerous, shunning princesses and pink completely, sending  the message that there was something wrong with traditional femininity.
When Carter's, a favorite children's brand, popped up on my Facebook page with a one-day sale on baby Halloween costumes, I thought it would be an easy option. Just scroll through the offerings, choose my favorite, purchase at discount.
But in the center of the ad, prominently displayed, were two rows of costume options, divided into Boy and Girl.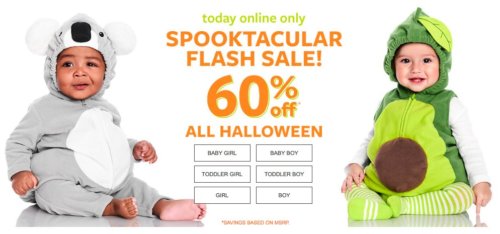 On Carter's own website as well as their Amazon offerings, pink and fluffy fell into the girls category (a bright pink strawberry, a pig with a bow, a sparkly unicorn) while beasts seemed to dominate the boys category (a dinosaur, a skunk, a lion). Though the offerings have dwindled as we've gotten closer to Halloween, the remaining costumes are still segregated by gender. Filter by Girls and you get the option of a parrot or a koala (with the accompanying description "Dress her up as…"). Filter by Boys and you get to choose between the giraffe, the skunk, or the gnome ("Dress him up as…"). Why parrots and koalas are girls costumes, and giraffes, skunks and gnomes are boys, is anyone's guess.
Trying to avoid sorting by gender all together? There is a Neutral filter, but its offerings don't include any costumes. Turns out, if you don't want to pick a gender, you're stuck with generic onesies that proclaim, "My 1st Halloween" or sport a picture of a jack-o'-lantern.
At 9 months old, my daughter's gender, like most babies', is indistinguishable on sight. Dressed in hand-me-downs from her boy cousins, people stop and exclaim what a "handsome little man" or "cute baby boy" she is. She gets the opposite ("sweet girl!") if dressed in hearts or flowers. I understand why companies create easy search categories for the vast amount of day-to-day clothings babies have—sometimes you just need some burp cloths or rompers and I get why many parents don't want to wade through every possible option to find the one the fits the gender aesthetic they prefer.
But Halloween costumes feel different. It feels like policing imagination, policing creativity, policing fun, boxing fantasy play into rigid categories that have been proven over and over again to be detrimental to both girls and boys development and understanding of gender, creating branded expectations and narrow definitions for both genders that allow for little to no fluidity based on interests or desires. (Do little girls want to be the damsel and little boys want to be the knights because it's in their hearts, or because it's the only trope we've shown them?)
The more I searched, the more I realized this was the norm. All Halloween-related apparel at Gymboree can be filtered through a gendered search that errs active for boys (skateboarding skeletons) and sweet for girls (skeletons in flower crowns). "Uni" (neutral) like Carter's, skewed traditional and unexciting: a white skeleton onesie, an orange pumpkin onesie—though I'll admit, the grey onesie with a ghost that says "Little Boo" is adorable.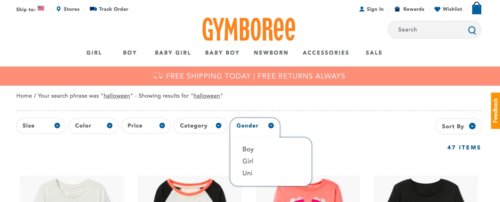 Target is better at expanding search possibilities. Though the most prominently displayed categories are the typical Boys and Girls, there are also several subcategories including Action Hero Costumes, Animal & Insect Costumes, and just Plush Baby Costumes. And while the searches still filter through the stereotypical (applying the Boys filter returned firemen, dragons, and lumberjacks, while the Girls filter returned butterflies, angels, and a "fancy witch") the Gender Neutral filter offers a smorgasbord of possibilities, including pineapple, shark, unicorn and bat. Best of all, even the descriptions for these costumes are neutral, using the ungendered moniker of "little one" as a stand in.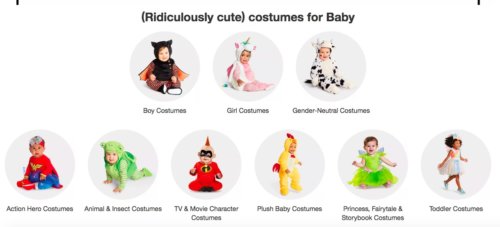 Walmart is also a surprising winner in the fight against gendering. Its Halloween website features no gender search categories. Instead parents can use broad requirements such as Size, Brand, Age, or Color, or more specific, like Animal Halloween Costumes or Superhero Halloween Costumes. And though individual costumes are sometimes still described with gendered language (a boy can be a ladybug, okay?) the search criteria will make parents consider what their true expectations are when searching for costumes (do I want a Girl costume or do I want a Cartoon costume?).

Primary, a kids clothing line that defines itself by providing basics without "logos, slogans, and sequins" is perhaps the most progressive. It sorts its do-it-yourself costume options into criteria ranging from Wear Again to Pop Culture to Group Costumes.

In the end, my daughter is going to be Rosie the Riveter (I found matching mother/daughter red polka dot headbands and, well, that pretty much settles that). But I know as she gets older, the trappings of gendered clothes, and gendered costumes, will only intensify, especially when girls' options morph from plump pumpkin to sexy fill-in-the-blank. I hope when that happens, I can remind my daughter that Halloween isn't just a night for dressing up, but a night where a person can be anything they want to be, when someone gets to embody their craziest dream, when, for one night, you can actually be a superhero or an Olympian or even an avocado. I hope when she's old enough to have a voice in the costume decision, before we sit down at the computer to search or stroll down the aisles of a costume shop, before we narrow down any possibilities, before we even start to wade through the available selections for that year, that I remember to ask her, without any expectations: What do you want to be?