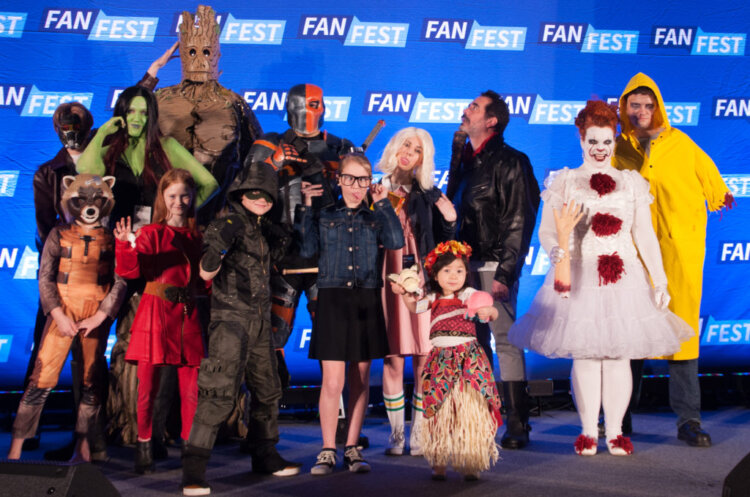 Photo credit: Amanda Szentesy for FanFest
We're huge fans of pop culture in my house. My husband and I both grew up in the '80s and we have an 11-year-old son, so what else would you expect? But, despite our love of various TV shows, comics, and superheroes, none of us had yet to step foot into one of the ultimate bastions of fandom: the convention (or the "Con" for the uninitiated). In mid-January, that all changed as my family descended upon Portland, OR and the Heroes and Villains FanFest.
The Fest's tagline is "It's not just fandom. It's family." And if there's one thing I learned over the weekend, it's that these events are truly about community. We were drawn to the con for its focus on the CW's Arrow — a show about a rich playboy turned archer vigilante who saves the city each week with his intrepid team. All three of us love the various DC-related shows on the network (like Supergirl!!), so the chance to attend panels with the show's stars, and possibly even meet them? We were sold!
The other focus of the con was dedicated to the very popular show, The Walking Dead. None of us are fans of horror or zombies (though you better believe I do have a zombie preparation plan in place… just in case), but I loved seeing fans come as their favorite killer of the undead, or patiently waiting in line to get some very realistic zombie face paint. The appreciation and love of zombies and those they attack was palpable. 
Upon entry, it was a bit of sensory overload — the sights, the sounds, the sheer amount of fans. A faint hum of hundreds of conversations peppered with beeps and bings from various cosplay weapons and the occasional roar of applause was the soundtrack to entire event. Thousands of people descended on the convention center, eager not only to meet their favorite actors, but to connect with fellow fans. All around me I saw folks who most likely only run into each other at these types of events reconnecting and playing catch up.
Other folks — some decked out as Wolverine or everyone's favorite anthropomorphic tree, Groot — could hardly walk more than three steps without being asked for a selfie. The default facial expression here was definitely a smile (unless you had zombie makeup on, then it was more of a blood red scowl).
After getting our bearings, we kicked off the con with a panel featuring the villains from Arrow, and it was neat to see the actors out of character, talking about what it's like to work on set. It was clear from their on-stage interaction that there is a true sense of camaraderie between the actors. And it's always fun to hear about the pranksters on set.
The vendor area was where the action truly took place. Cosplayers of all kinds were milling about, causing excitement. While most folks stuck to costumes inspired by the shows promoted at the fest, some went outside that box, to great response. We saw a quadruplet of Disney princesses that had an almost permanent crowd of fans surrounding them for pictures. A bunch of old school Batmans would have made Adam West proud. Some folks wore store bought costumes, but the majority of people were clearly in the homemade camp, and looked phenomenal. Seriously, the craft-envy was real. 
I happened upon a family that creates intricate group looks (they were Arrow-verse characters the first day and Marvel characters the second!).The son's Flash outfit looked like it was handcrafted with some red craft store pleather and a thermal shirt! I loved that this was a family activity that they all enjoyed — even their young teen daughter! I wonder if the parents got the kids involved, or if the kids turned their parents into fans.It was amazing to see parents with infants in baby carriers (sometimes as part of an elaborate costume!) in the same space as giddy teens being trailed by a very patient father.
There was also a strong feeling of "fans helping fans" throughout the weekend. This could be as simple as folks cheering on choked up fans who were trying to ask questions to more hands on fan to fan experiences.
For instance, there were movie-worthy cosplayers would take photos in exchange for a small donation to various charities. They knew that their glamourous garb would attract folks for selfies, but instead of cashing in, they decided to raise money for those in need.
One of the vendors that combined fandom and family to perfection was Magic Wheelchairs, which creates amazing mobile costumes for kids who use wheelchairs. The company, which was founded by two parents who made kick ass wheelchair costumes for their own kids, helps children and fans feel included (and special at the same time) in events like FanFest, by showing them that costumes can definitely include wheelchairs — and are usually the better for it. Plus, they work on volunteer power, so the costumes are free for the kids and families that apply! Each time I passed, the booth was busy with curious kids and adults alike.
Not only did I attend the con as a consumer and lover of pop culture, but I was reporting on it as well (Stay tuned for an exclusive interview with Agents of SHIELD's Ming-Na Wen!!!). So imagine how close to bursting my heart was when my son asked a question of his very own. We were at the Felicity and Diggle panel, which was packed. Before it even began, folks were lining up on either side of the area to ask questions. Without any prompting or pre-talk, my son took it upon himself to go ask a question. He must have waited about a half hour in line, but he did it. He asked a really thoughtful and sweet question (prefaced with an explanation of how fast his own heart was racing at the opportunity!). He received some "awwwww's" and claps from the audience, and got some excellent answers from Arrow stars Emily Bett Rickards and David Ramsey. I may have some competition for this job…
We left exhausted, happy, and still in disbelief. This may have been our first con, but it definitely won't be the last!
[interaction id="5a68c7feeea0ff000166b84b"]