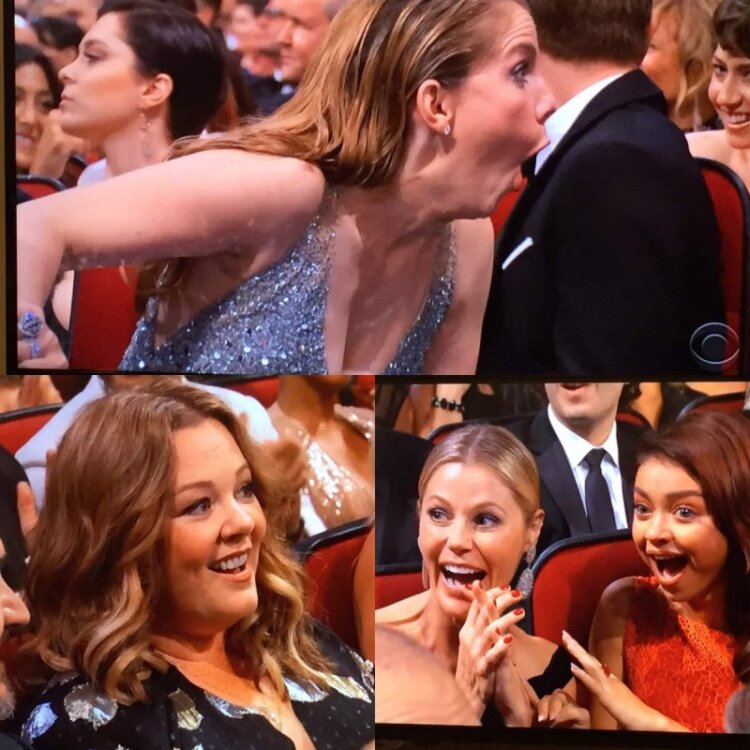 The Emmys are always interesting, but this year's awards show is being called "the most diverse" Emmys in history, with many women and people of color nominated and winning. Donald Glover ("Atlanta") became the first African-American to win Outstanding Writer in a Comedy Series. Sterling K. Brown was the first black actor to win the Outstanding Lead Actor in a Drama Series since 1998, for "This Is Us." There was a lot of sisterhood from the "Big Little Lies" and "The Handmaid's Tale" casts, and appreciation of Hollywood's willingness to tell diverse stories. Host Stephen Colbert pulled together a few great sketches – which were just as long as they needed to be and no longer (see Rachel Bloom's musical number about the best part of the show) – and one politically themed stunt. If you haven't seen it already, we'll get to it below.
But there were also a lot of moments for us – and the celebrities themselves (you can read celebrity tweets about this year's Emmys here) – to geek out over.
Celebrities react to the arrival of Sean Spicer. Yes, THAT Sean Spicer. The former White House Press Secretary made an appearance to overestimate the attendance at the Emmys. The internet blew up, with some lauding the appearance as showing he has a sense of humor and perhaps as a sign of penitence and severing of ties with the current administration. Others were sickened or indignant, scolding the Emmys and Colbert for trying to normalize and forgive the unforgivable things that Spicer was privy to during his tenure. But the celebrity reactions to this unexpected appearance were what made it one of the most memorable moments of the evening. Let the photo below speak for itself.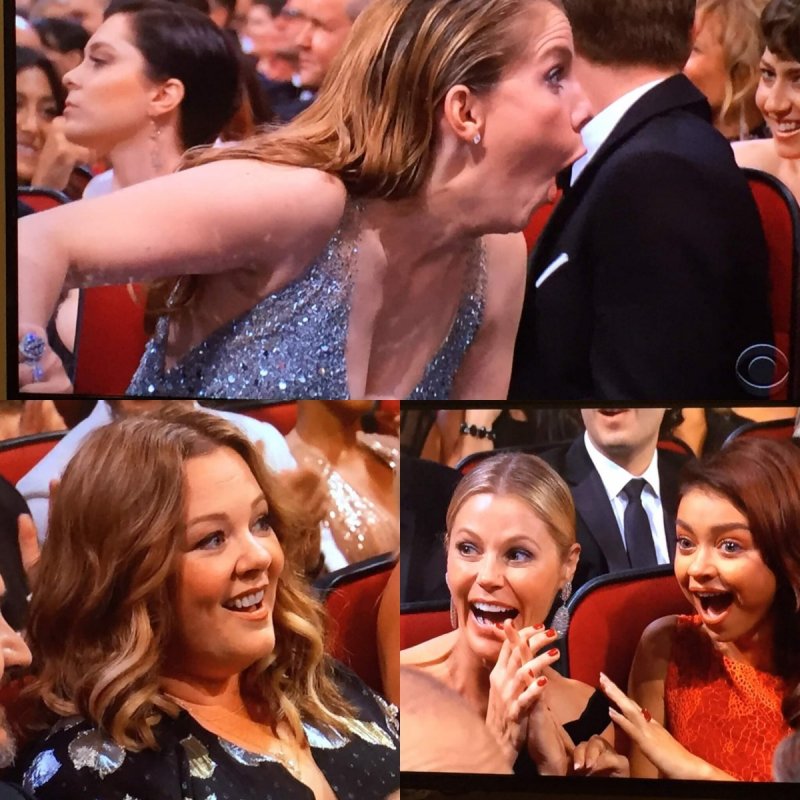 Sterling K. Brown makes his Best Actor in a Drama Series ("This is Us") speech about being a fan of television. As he gripped the statue, he recalled people who had "held this joint," including shoutouts to characters Walter White (Bryan Cranston in "Breaking Bad") and Dick Whitman (the alternate identity of Don Draper, played on "Mad Men" by John Hamm) and Frank Pendleton (Andre Braugher). He was only halfway through his speech when the orchestra tried to play him off – he kept talking and they had to turn off the mic. He got to finish the speech backstage for the press, calling show creator Dan Fogelman "the Hebrew Hammer with which our house is built…he makes me laugh and cry in equal parts and keeps me coming back for more." Us too. (PS, we think that #ThisisuscryingwhilewatchingThisIsUs should be a viral Instagram of people ugly-crying while watching this tearjerker of a series.)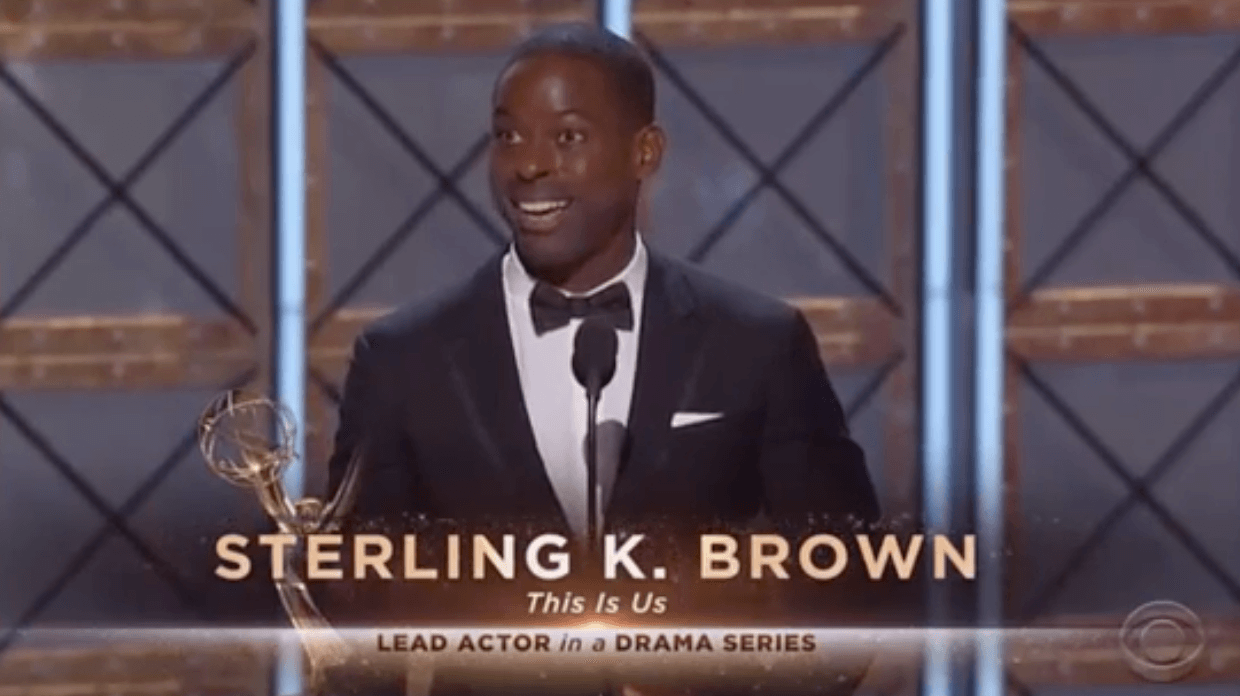 "Stranger Things" fans rejoice! We found Barb! Or at least Shannon Purser, who played Barb on the Netflix series. And her dress is beautiful. And kudos to the designer Sachin and Babi, for making a dress that's not in a typical sample size (see story in above link).
Jackie Hoffman's Twitter thread over losing to Laura Dern. The phenomenally talented actress – you may have seen her in "Hairspray," on "Difficult People," or in a thousand other things on Broadway or TV –  was nominated for Best Supporting Actress in a Limited Series for "Feud," but Dern took the prize. We'll just let Jackie's tweets (which, she says at the end, the media shouldn't have taken seriously) show you (in the order they appeared):
Laura Dern had famous parents. Forgive me for being from real people #elitism #Emmys2017

— Jackie Hoffman (@JackieHoffman16) September 18, 2017
I hear that Laura Dern runs a child porn ring #soreloser Emmys2017

— Jackie Hoffman (@JackieHoffman16) September 18, 2017
I hear that Laura Dern looted art from Nazi victims

— Jackie Hoffman (@JackieHoffman16) September 18, 2017
I hear the media actually taking my reaction seriously? Are you kidding me?

— Jackie Hoffman (@JackieHoffman16) September 18, 2017
Aaaaand, that's over. But maybe here's the real reason she lost?
Forgot my card with the Hebrew prayer for travelers. I'll lose for sure now #Emmy2017

— Jackie Hoffman (@JackieHoffman16) September 17, 2017
What were your favorite moments from this year's Emmys?